Is your landing page copy part of the 30% that has too much copy that doesn't convert? Well, the good news is, you can change that!
Get Started with Converting Lead Pages
With One Of Our 200+ Templates
Writing an engaging landing copy is not rocket science. All you need is the proper technique to ensure a high conversion rate. As a conversion copywriter, all you need is to craft your copy to suit your prospect's needs.
Craft your copy to help readers process information, understand the benefits you offer, and convert.
So, how do you create an engaging landing page copy? Let's have a look at the process.
1. Create Headlines That Stand Out
The headline is the first thing a potential customer sees, so it must stand out. Readers scan and skim content, and the headline is no exception. Readers are more likely to read your copy if you grab their attention with a clear, convincing headline.
Here's a great landing page with a clear headline from Systeme.io. The headline "Steal all the pages from Tai Lopez's Radioshack Crypto Funnel!" captures the audience's attention. Tai Lopez is a leading figure in the world of cryptocurrency, and an offer like the one on the landing page promises to give the reader an inside look at what makes Radioshack Crypto work: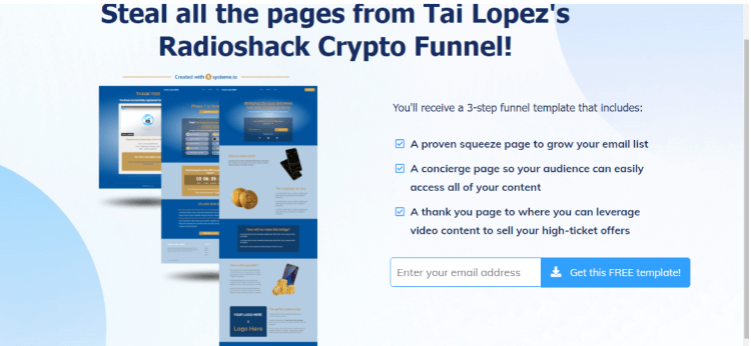 To ensure your headline stands out, use clear words, a more prominent font, and a maximum of fifteen words. In addition, you should optimize your copy for Google searches. If you feel this is a challenge, you can engage an SEO agency to create copy that attracts organic traffic.
When you focus on these suggestions, you can drive traffic to your landing page, and your site visitors will get a good idea of your products.
2. Keep the Copy Simple
When writing a compelling landing page, simplicity is key. Readers understand better when you use simple words that are easy to digest. Avoid using complex and irrelevant words because they cause the readers to leave the page.
You might be a proficient writer with great literary prowess, but that does not matter when writing conversion copy. Instead, use precise words and have a solid call to action. This way, more readers are likely to convert.
Afineparent.com is a parenting blog that gives parents tips on raising their children effectively. The blog also arranges workshops and seminars for its subscribers. Here is a simply done landing page for one of their programs this year.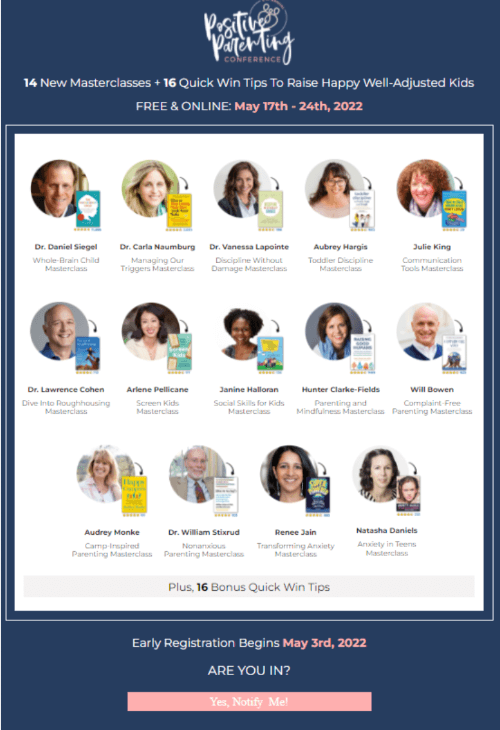 Using long words that aren't common will put off the readers. The landing page copy should be simple and easy to understand. However, if you need to elaborate some information further, you can use an email sequence that allows you to explain your product or service in more detail.
Keeping the copy simple makes it easier for the reader to understand what you offer them. When the reader has a better understanding of your product, they are in a position to make informed purchase decisions.
3. Emphasise the Benefits
What comes to mind when looking for a service or product online? Most people are more concerned about a product's benefits than its features. That's what potential customers will be looking for when reading your copy.
Landing page copy needs to dwell on the benefits users will derive from the products or services. For example, if you sell online courses, you need to highlight what your customers can expect to learn.
Jorden Makelle offers copywriting services and courses to her clientele through her business called Writing Revolt. Here's an example of her landing pages for a course.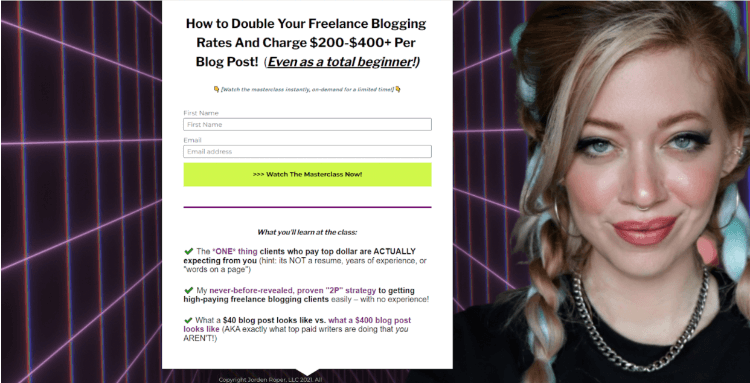 The information on the image promotes their services. She outlines what her customers stand to gain by taking her course. The points are outlined in clear bullet points.
4. Use An Engaging CTA Button
The perfect copy will be useless unless you use a call to action button. You do not want to leave anything to chance when you write any copy. Using a call to action button is a great way to ensure you lead the reader to take action.
The CTA button appears at the end of your landing page. The goal should be specific to avoid confusing your readers. You should think about it before you begin working on the landing page.
One of the mistakes that can hurt your conversion rate is using multiple objectives in your CTA. Focus on one objective to ensure most of your readers convert. You can use various software to track CRO to ensure you are on the right track.
Choose words that make the readers want to take action. You can do this by:
Creating a sense of urgency

Indicate the benefits.
Creating a sense of urgency makes readers convert because they don't want to miss out. For example, a statement like "If you want to lose 7 pounds in one week, then sign up for our weight loss program". Here, the reader will weigh the options of losing 7 pounds in a week or staying at the same weight and decide to sign up.
Additionally, indicating the benefits of your products or service will compel more readers to sign up.
Transcribe Anywhere is a transcription company with a vast network of transcribers to help their clients. The company offers different pricing plans. Here's an example of a landing page the company created when they simplified their packages.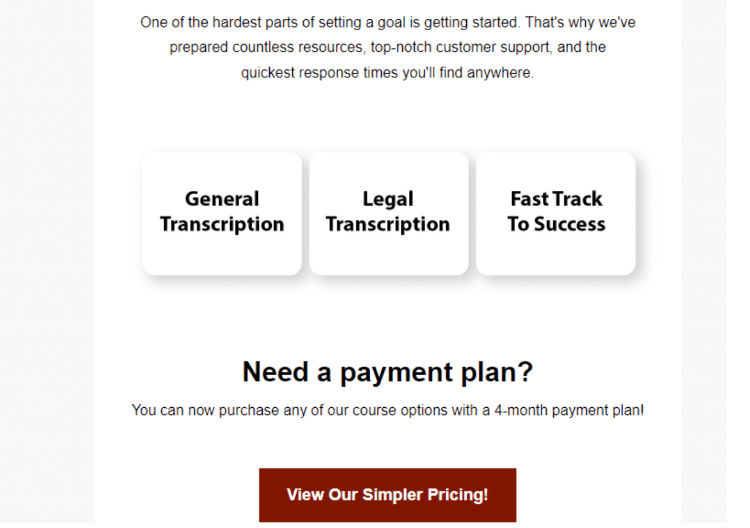 The CTA button is red with white text, allowing it to stand out from the rest of the page. The copy gives the reader an idea of what they can expect when they click on the button. In this case, the CTA promises simpler pricing compared to similar products.
5. Test Your Copy
When you choose an ecommerce platform and create a compelling landing page, you have to test to ensure that your efforts bring in customers.
Use A/B tests on your landing page copy to assess the results. The tests can focus on CTA copy, benefits, headline, and subheadline variations. After running the tests, choose the outcome that indicates the highest conversion rate.
Use different word variations to determine the one that produces the best results. A simple change of words can increase or decrease the conversion rate. For example, using "Try for free" as the CTA button text can yield more sign-ups for a software trial than "Start 15-day trial now".
Wrapping Up
Overall, creating landing copy that converts starts with engaging copy. Prospects need to understand what benefits they will get from the product or service you offer to convert.
Try using simple copy that your prospects will understand easily, and emphasize on the benefits your product or service offers them. A consumer will only respond to your business appeal if you offer solutions to their problems.
You can also create attention-grabbing headlines that your prospects can't refuse. Know your prospect's pain points and use headlines that assure them that you have the solutions they need.
Test your copy before using it on your landing pages. The feedback you get should help you improve it and customize it to your prospect's needs.
Always have a clear and convincing CTA button to lead your prospects to the next conversion step.
Get Started with Converting Lead Pages
With One Of Our 200+ Templates
Author
Jimmy Rodriguez is the VP of eCommerce for Shift4Shop, a completely free, enterprise-grade ecommerce solution. He's dedicated to helping internet retailers succeed online by developing digital marketing strategies and optimized shopping experiences that drive conversions and improve business performance.