As the summer season draws near, involve.me team is working tirelessly to take your productivity to new heights. In response to the valuable feedback and suggestions of our users, we are excited to announce a series of updates to our product.
Explore the following list of updates to discover how to make the most of your favorite tool:
Calculator: Advanced Functions and Conditional Operators 
Our custom calculator has been a trusted application for quite some time, but we're not content to rest on our laurels. We're happy to announce the introduction of several advanced functions + conditional logic operators that take this tool to the next level.
What Does It Mean in Practice? 
With the introduction of advanced functions, you'll have even greater flexibility to create customized calculations. For instance, you can now implement a Coupon Code Checker that allows your leads to receive a discounted price based on their coupon. To achieve this, we've included a new conditional operator logic 'IF', which can be used in the following formula: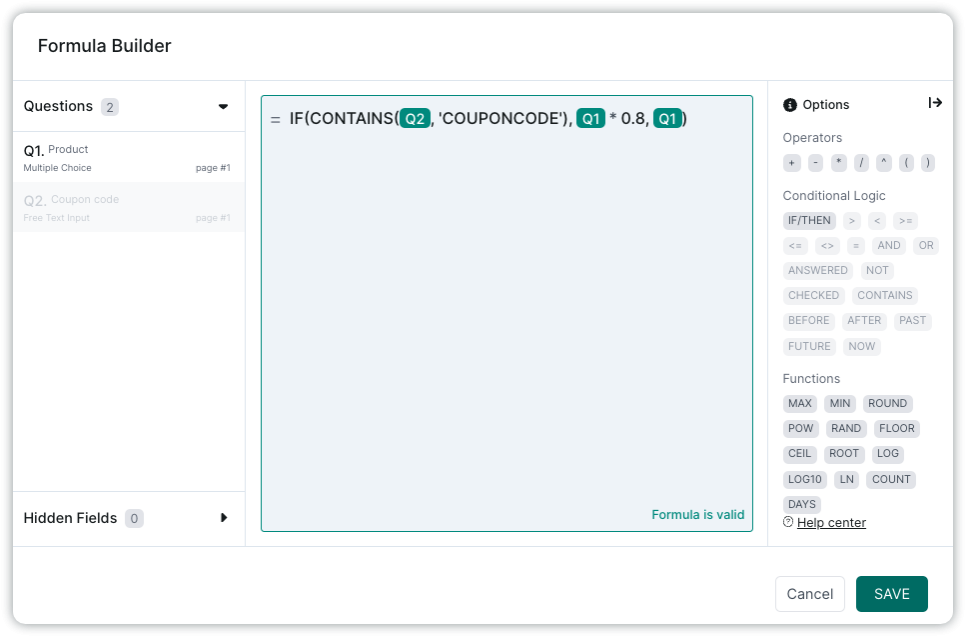 Calculator formula: IF(CONTAINS(Q2,'COUPONCODE'),Q1*0.8,Q1). Where Q1 is the price of the selected product, and Q2 is the coupon code entered by the participant.
There are so many other operators for you to do even more with our calculator than ever before. 
Find the full list of new functions here.
Who Can Benefit from This Product Update?
E-commerce&Retail companies

B2B companies

Financial institutions

Insurance companies

Health and fitness companies

Real estate 
Read our post on 5 essential custom calculators for businesses to find a type that will work best for your company.
Trello Integration 
By using the native Trello integration, you can automatically transfer your participants' submission data to a designated Trello board. Learn how to set up your integration here.
💡 When you duplicate a project that has a Trello integration configured, the integration settings will also be duplicated. This means you won't need to set up the integration from scratch again. However, you can remove the connection for the duplicated project and establish a different one at any time.
Airtable Integration
The Airtable native integration allows you to effortlessly synchronize submission data to a table of your choice. All data, including both answers and personal information, will be sent automatically to your Airtable table. Learn how to set up your integration here.
💡 Since the synchronization process is automatic, you won't have the option to choose specific pieces of collected data to be transferred to Airtable. However, if you don't want certain data to be displayed in the table, you can easily hide the field containing that data.
Zendesk Sell Integration
With Zendesk Sell integration, you have the option to automatically add participants to your Zendesk Sell account as either contacts or leads. Furthermore, you can update their properties as needed. It's also possible to configure the integration to create deals for each participant who completes your project.
For more information on this integration, please click here.

Don't Have an Account Yet?
You can now sign up with Google hassle-free. 
With a free account you can have up to 100 submissions a month, LPs, embeds, pop ups and test many helpful paid features!
Don't know where to start?