Have you ever had the feeling that you're doing everything you can, and it still doesn't seem like it's enough? That's how businesses feel when they're trying to convert leads into sales and it just doesn't happen.
Capturing and converting leads is no easy feat these days. In fact, some businesses might even argue that it's a downright nightmare.
Visitors are no longer blindly handing over their contact information to anyone who will take it. Today's consumers are smarter than ever. They guard their data fiercely and do their homework before making a purchase.
And even if they do give up their information, you'll likely be expected to offer something of incredible value in return for it or else you won't get a second look.
As a result, businesses need to have a wide selection of useful and actionable lead magnets at their disposal if they ever wish to attract good-quality leads.
But before you go whipping up content to drum up new leads, let's understand the fundamentals of a lead magnet.
What Are Lead Magnets?
A lead magnet is basically an irresistible bribe that delivers your desired content (like a cheat sheet, checklist, or PDF guide) to people who supply you with their contact information.
Think of it as an incentive to keep the conversation going.
The objective of a lead magnet is to provide a helpful resource or an engaging experience to a specific audience. A great lead magnet should:
address a specific pain point for your audience

be relevant to the topic of your brand

provide value to the reader

be instantly accessible

establish you as a expert in your industry

compel prospects to return to you for more value
How Can Lead Magnets Help You with Conversion?
As with any lead generation technique, the purpose of a lead magnet is straightforward: to supercharge your sales funnel. While different businesses have different purposes, all are looking for the same thing: more customers. However, it's pretty hard to snag good-quality leads that turn into long-time customers.
Over 60% of marketers cite generating traffic and leads as their biggest challenge, according to HubSpot.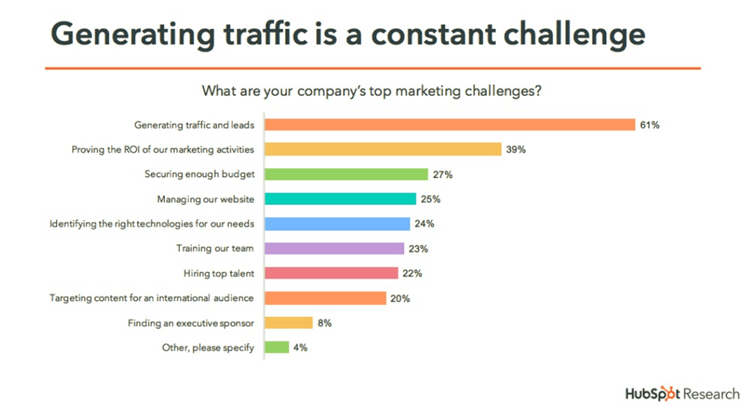 Lead magnets are an effective way to get your audience's attention, build brand loyalty, and generate leads at scale. If a lead magnet promises value and you deliver on that promise, you're already building rapport with a potential client.
When done correctly, lead magnets can turn bored browsers into paying customers and occasional shoppers into dedicated followers.
What Are the Different Types of Lead Magnets?
Lead magnets come in all shapes, sizes, and colors. From e-books to worksheets to videos, there are many ways to entice your audience. Here are ten popular lead magnet ideas that might help boost your conversion rates:
1. Lead Generation Quizzes
Take a page from BuzzFeed's marketing playbook and introduce quizzes into your marketing campaign. It might seem silly, byt BuzzFeed style quizzes have a 96% completion rate, while sign up forms average at 10%.
BuzzSumo calls quizzes Content Marketing's Secret Weapon, and for good reason. People love learning about themselves and have no qualms about handing over their data to do so. It's a win-win situation.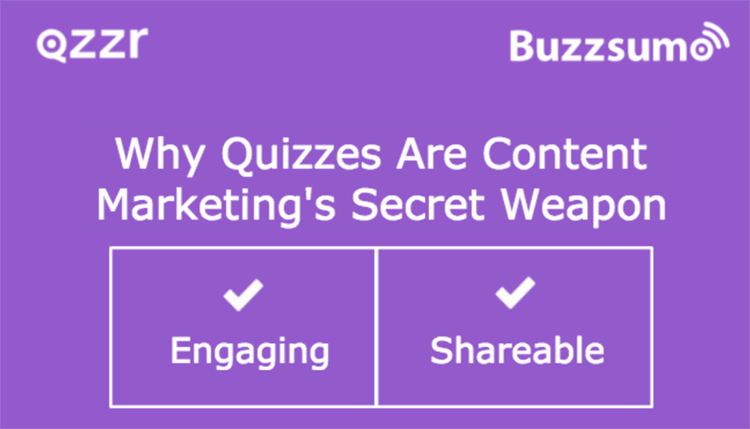 By taking part in the quiz, people leave behind valuable personal information that you can use in your future marketing efforts. A quiz not only collects leads, but it also segments them.
Get Started: Make A Lead Generation Quiz
Using One Of Our 300+ Templates
2. Survey
Surveys aren't just for collecting market data. They can also be used as an effective lead magnet to help you build your email list.
You can ask visitors for their viewpoints on your products or their preferences and needs. Everyone loves to share their two cents and opinions about a product or service. And it's always worth it to have a prospective client's input.
For example, you can implement a survey at the end of a user's experience to gather feedback and see how they felt about the website as a whole. With almost no effort, you can learn what your customers want from your business.
Get Started with Online Surveys
With One Of Our 300+ Templates
3. Coupons/Discounts
Offering exclusive discounts and coupon codes to customers is one of the most tried-and-true ways to garner new leads.
Kate Spade's sign-up discount is an outstanding example of a sweet deal that'll make visitors divulge their email addresses.
By giving sign-up rebates, you're creating a sense of exclusivity, thus providing prospects with more motivation to make purchase decisions.
4. Templates
Templates are among the most popular lead magnets.
The reason?
A well-crafted template provides visitors with a solution right off the bat. It means that they don't have to do any research or come up with ideas. They can simply copy, paste, and customize a few words.
Digital Marketer's Ultimate Facebook Ad Template Library is a great example here. Digital Marketer's target audience likely comprises marketers looking for ways to ease their workload. And this lead magnet manages to deliver just what the visitors need.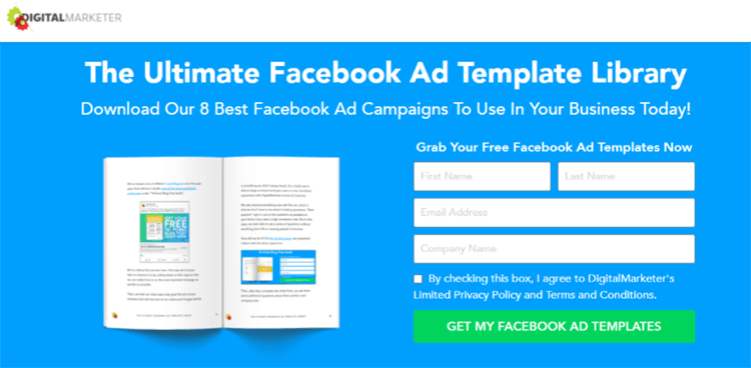 5. Video Tutorials
Video tutorials are a stellar lead magnet since they create a high level of pre-purchase interest and provide customers with an extra layer of product education. This creates a more informed customer base who keeps coming back for more.
Tableau uses short, concise explainer videos to educate the audience and get them up to speed with its services.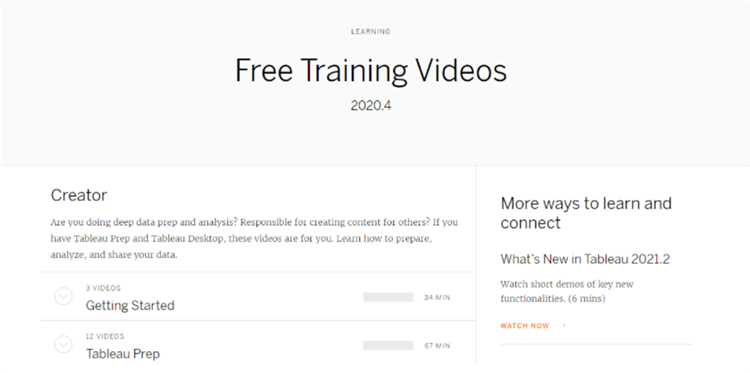 Video tutorials allow customers to see your product in action, which is a fantastic way for them to get a feel for what you're offering. The more confident the viewer feels about their understanding of your product, the more likely they are to make a purchase.
6. White-paper
A white-paper is a detailed and neutral analysis of a specific topic or product, usually written by an expert in the field. It's a terrific way to share your knowledge with your target audience and illustrate your expertise.
The best part about white papers is that businesses can also highlight their USPs and point out why a consumer should buy from them.
But if you're still unconvinced, take a look at Tableau's lead magnet offer.
White-papers can help your customer learn more about the problem they're facing, and how you're able to aid them in resolving it. It can explain what your product or service is, why your product is worth the price, and why customers should choose you over your competitors.
As a bonus, white-papers can also help you strengthen your B2B SEO efforts. Not bad, right?
7. Webinar
Webinars offer an innovative way to educate customers about your brand.
Through a webinar, you can communicate with your audience directly. You can talk about things that are important to your audience. You can connect with them on a personal level.
It's a chance for your customers to learn from you, perhaps hear a few of your own thoughts, and determine if they can trust you to solve their problems. With a webinar, you can show potential clients that you're the real deal.
Plus, webinars can also be recorded and distributed for later viewing.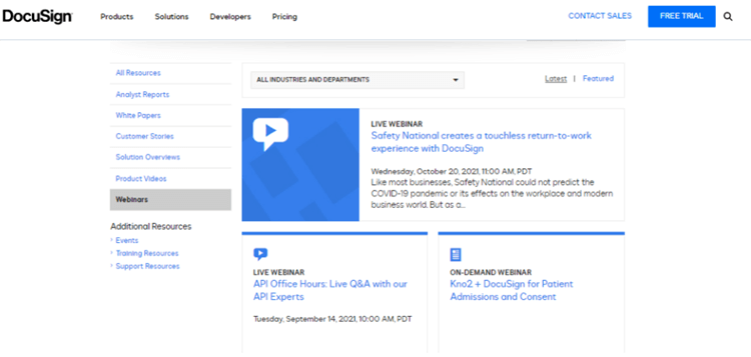 DocuSign allows people to view archived versions of its webinars anyplace, anytime. This feature allows users to watch the webinar again whenever they want to — even if they missed it or couldn't make it live.
8. Ebook
E-book? More like ehh book.
At least, that's how much people care about them now.
An ebook used to be a great lead magnet to offer in return for a potential customer's email address. However, nowadays, e-books are little more than a bunch of recycled blog posts strung together.
That is not to say that e-books have lost all their lustre. In fact, when done right, e-books can make the prospect feel like they got something really valuable for free.
But with so many of them available online, you need to ensure that your e-book is not just good, but the very best it can be for what you are trying to achieve. It needs to solve a problem or answer a question — one that's worth taking the time to read the book.
Much like the ebook offered by The Sales Evangelist.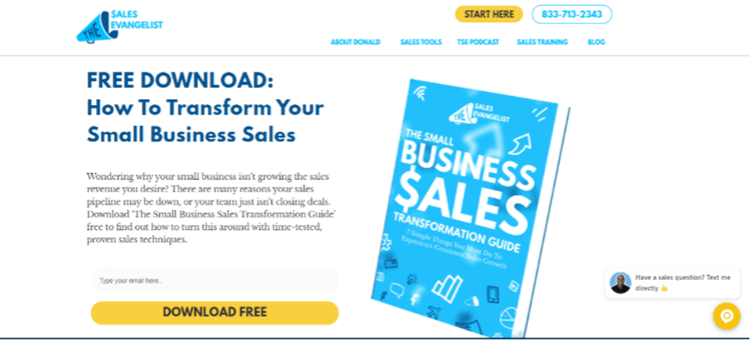 The Sales Evangelist caters to new and struggling sellers. That's why this e-book, which is particularly targeted at small business owners who lack an efficient sales process, can be an invaluable resource for their readers.
As another example, Social Trigger, a website dedicated to providing effective marketing advice, offers an irresistible yet practical offer of gaining 5000 subscribers through its e-book.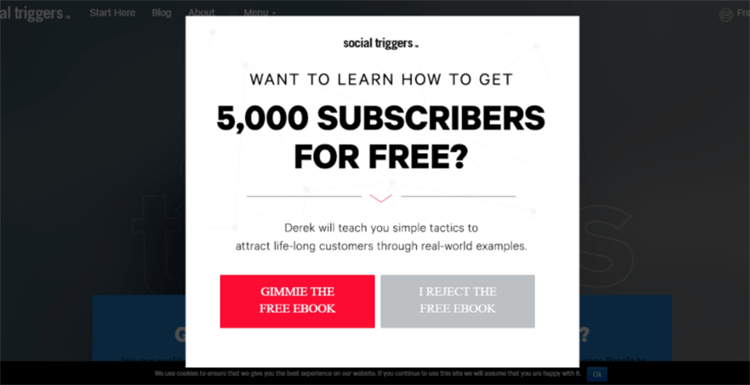 8. Infographic
As marketers embrace the value of visuals, infographics have become a powerful tool to spread information and attract new customers.
Why?
Because people who follow directions with text and illustrations do 323% better than people following directions without illustrations.
Infographics have had the biggest increase in usage among B2B marketers in recent years, according to the Content Marketing Institute. They are eye-catching and do well in Instagram or Facebook ads.
Infographics break information into easily digestible bites and can be paired with written content to further bewitch your audiences.
9. Checklists
People love checklists. They're short. Creating them is simple. And they eliminate the guesswork. That's why checklists are incredibly efficient as lead magnets.
By being concise and focused, checklists allow prospects to decide quickly. Viewers won't have to read long paragraphs to understand how they can benefit from using your product. Checklists cut through the noise by giving them all the information they need in one place.
Checklists are flexible, too. They can be applied across different industries and for different purposes. You can literally turn anything into a checklist.
Quality Bribes That Convert
High-quality lead magnets are the most effective way to build an email list that can benefit your business in the long run. After all, email marketing is still one of the most effective channels when it comes to customer retention and acquisition, so it's important to have a large and relevant contact list that will deliver sales.
Today's sophisticated customers won't put up with generic deals, boring newsletters, or irrelevant offers. Quality content is the only way to make your business stand out among competitors and inspire action. With the help of a well-thought lead magnet, you can instantly gain audience trust, prove your brand's credibility and make your CTR go through the roof.
Author
Ahmad Benny is a London-born lover of technology, e-commerce and digital marketing in general. Loves learning, researching and curating value nuggets to save you time, money and help you achieve your goals. More of him at benguonline.com.