Have you ever found yourself scrolling through social media and suddenly realized an hour had passed without you noticing? Or maybe you've eagerly opened an email from your favorite brand just to see what kind of rewards or discounts they're offering this time? If so, you've experienced the power of gamification in marketing - the use of game-like elements to make content more engaging and interactive.
I'll be honest: as a marketer, I used to be a bit skeptical of gamification. I thought it might come off as gimmicky like I was trying to trick people into spending more time or money on my brand. But then, I started noticing how much I enjoyed playing games or completing challenges that my favorite companies had set up. I realized that gamification wasn't about tricking people - it was about giving them a fun, rewarding experience they actually wanted to participate in.
That's why I'm excited to share some of my insights and experiences with you today. Whether you're a seasoned marketer or just starting out, I believe that you can benefit from learning how to use gamification to make your content more interactive, engaging, and ultimately more effective. So, let's dive in!
What is Gamification?
At its core, gamification uses game-like elements to make non-game activities more engaging and enjoyable. Gamification in marketing could include anything from point systems to badges, leaderboards, and progress bars. The goal is to tap into people's natural desire for competition, achievement, and recognition and use those motivations to encourage certain behaviors or actions. 
For example, a fitness app might reward users with points or badges for completing workouts or reaching certain milestones. A retailer might offer discounts or freebies to customers who refer friends or leave product reviews. A book summary app may unlock points for listening to a certain amount of books. 
The possibilities are endless, but the key is to make the gamified elements meaningful and relevant to the user's goals and interests. 
When done well, gamification can turn an otherwise mundane or challenging task into a fun, rewarding experience that keeps people coming back for more.
Why Does Gamification Work?
Gamification works because it taps into our natural human tendencies and desires. We're wired to enjoy challenges, seek out rewards, and crave social recognition. 
By incorporating game-like elements into non-game contexts, gamification triggers those innate motivations and makes the activity more enjoyable and engaging. Plus, when we feel like we're making progress or accomplishing something, we get a sense of accomplishment and pride that further motivates us to continue.
Gamification can also create a sense of community and social connection as users compete or collaborate with each other and share their achievements on social media or other platforms. 
All of these factors combine to create a powerful incentive for users to engage with and stick with the gamified activity.
The Benefits of Gamification in Marketing
There are many benefits to using gamification in marketing, including:
Increased engagement: Gamification can make your content more fun and interactive, increasing the time users spend on your social media pages or website. When people stay longer on your site, it serves an SEO ranking factor that will make your content appear even more in searches.

Improved brand loyalty: By providing users with a fun, rewarding experience, you can strengthen their connection to your brand and encourage them to become repeat customers.

Higher conversion rates: Gamification can motivate users to take specific actions, such as filling out a form or making a purchase, which can lead to higher conversion rates and, ultimately, more sales. It can be especially useful when you aim to sell products on your social media platform aka social shopping!

More user-generated content: Gamification can encourage users to create and share their own content, such as photos, reviews, or testimonials, which can help spread awareness of your brand and generate buzz.

Better data collection: Gamification can be used to collect valuable data on user behavior and preferences, which can be used to improve future marketing efforts and tailor content to specific audiences.
Gamification can be a powerful tool for marketers looking to engage with their audience in a meaningful, memorable way.
How to Use Gamification In Marketing
Step 1: Define Your Objective
Before incorporating gamification into your content creation, you need to clearly understand what you are trying to achieve. Determine what steps you want your audience to take and how gamification can help. Some examples of objectives include increasing engagement, generating leads, or improving brand loyalty.
Step 2: Identify Your Target Audience
Identifying your target audience is essential in creating an effective gamification strategy. Consider demographics such as age, lifestyle, and interests as you design your gamified content. Knowing your audience will help ensure that the gamification elements you choose resonate with them and motivate them to engage with your content.
Step 3: Choose the Right Type of Gamification
There are various types of gamification, such as quizzes, puzzles, and interactive stories. Consider the nature of your content and select a gamification type that will complement it. For example, a quiz might work well for educational content, while an interactive story could be more effective for brand storytelling.
Create Your Own Quiz Code Free
Start with a template
Step 4: Integrate Gamification into Your Content
Once you have established the type of gamification you want to incorporate, it's time to integrate it into your content. Ensure it aligns with your objective and is interactive enough to engage your audience. This could involve creating a game-like experience, such as a scavenger hunt or treasure hunt, or adding game-like elements to existing content, such as points, badges, or leaderboards.
Step 5: Test and Refine Your Gamification Strategy
Before launching your gamified content:
Test it with a small group to gather feedback and identify any issues or bugs.

Use this feedback to refine your gamification strategy and improve the user experience.

Consider conducting user testing to better understand how your audience interacts with your gamified content.
Step 6: Promote Your Gamified Content
Once your gamified content is ready, it's time to promote it. Use social media, email marketing, or other channels to get the word out. Encourage your audience to share the content and compete with each other. Promoting your content will help increase engagement and generate buzz around your brand.
Step 7: Measure Your Results
After launching your gamified content, track and analyze your metrics, such as engagement rates, number of shares, and time spent on the page. These insights will help you refine your gamification strategy and create more engaging content in the future. You can use tools like Google Analytics or other analytical tools to gather data and make informed decisions about future content creation.
Real-world Examples of Gamification From Top Companies
Example 1: Sephora Beauty Insider
Sephora's Beauty Insider program is a loyalty program that gamifies the process of buying beauty products. Customers earn points for their purchases, which can be redeemed for free samples and other rewards. The program also offers exclusive events and promotions to keep customers engaged.
Example 2: BuzzFeed Quizzes
BuzzFeed is known for its quizzes, which use gamification to engage users and drive traffic to their website. The quizzes are usually lighthearted and fun, but they also help BuzzFeed gather data on their audience and create more targeted content.
Example 3: Nike Run Club App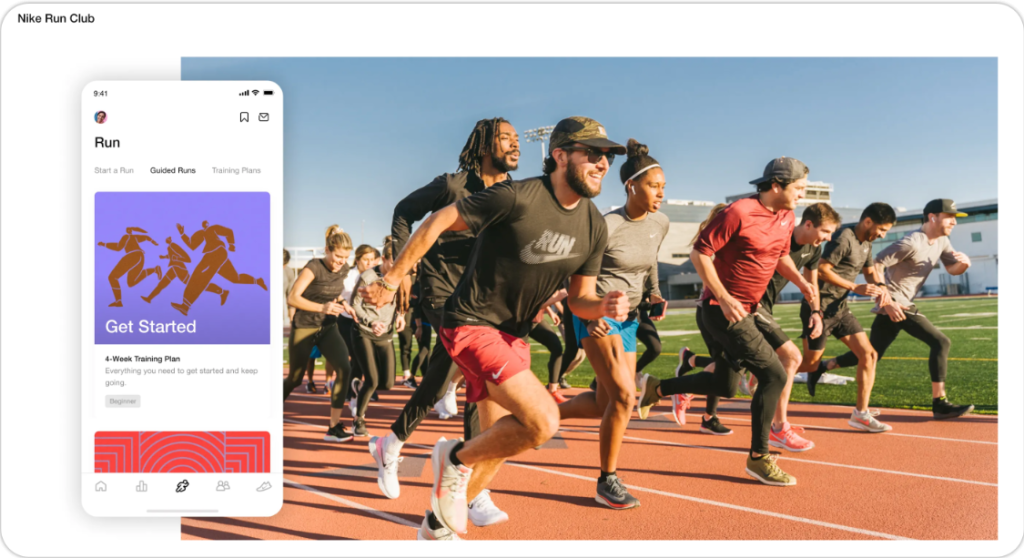 Nike Run Club is a popular running app that uses gamification to motivate and engage users in their fitness journey. The app provides users with personalized coaching, customizable training plans, and detailed tracking of their runs. Nike Run Club offers various gamification elements to keep users engaged and motivated, including:

Leaderboards: Users can compete with friends and other runners on the app's leaderboard to see who can run the farthest or fastest.

Badges: Users can earn badges for completing specific challenges, such as running a certain distance or achieving a personal best time.

Streaks: The app tracks users' consecutive running days, which can help motivate them to continue running every day.

Rewards: The app offers rewards, such as exclusive products or experiences, for completing certain challenges or achieving specific milestones.
Example 4: Lego Life
Lego Life is a social media app for kids that gamifies the experience of building with Legos. Kids can share photos of their creations, participate in building challenges, and earn badges for completing tasks. The app also includes games and videos to keep kids engaged.

Potential Pitfalls of Gamification
Pitfall 1: Overcomplicating the Game
One common pitfall in gamification is overcomplicating the game mechanics. If the game is too complex or difficult to understand, it can lead to frustration and disengagement from your audience. Instead, keep the game simple and intuitive to increase engagement and avoid overwhelming your users.
Pitfall 2: Lack of Motivation
Another pitfall is a lack of motivation. Users may lose interest quickly if the game does not offer meaningful rewards or incentives. Ensure that the rewards or incentives align with your objective and are valuable to your audience.
Pitfall 3: Failure to Connect with Your Brand
Gamification can be an effective tool for building brand loyalty, but it can also backfire if the game does not align with your brand values or messaging. So make sure that the game reflects your brand and connects with your audience on a deeper level.
Pitfall 4: Ignoring User Feedback
Ignoring user feedback is another common pitfall in gamification. User feedback can provide valuable insights into how the game is perceived and help refine your strategy. Make sure to listen to your users and make changes accordingly.
Pitfall 5: Lack of Consistency
Consistency can ensure the effectiveness of your gamification strategy is maintained. Ensure the game is consistent with your brand and messaging across all channels, from social media to your website. Inconsistency can lead to confusion and weaken the impact of your gamification efforts.
Conclusion
I hope this article has convinced you of the power of gamification in marketing and how it can make your content more engaging. Following the steps outlined above, you can create gamified content that resonates with your target audience and helps you achieve your marketing objectives. However, it's also important to be aware of potential pitfalls and stay mindful of your users' feedback. Remember to track your metrics and make adjustments as needed to optimize your strategy.
If you're ready to start incorporating gamification into your content, I recommend checking out involve.me's content builder: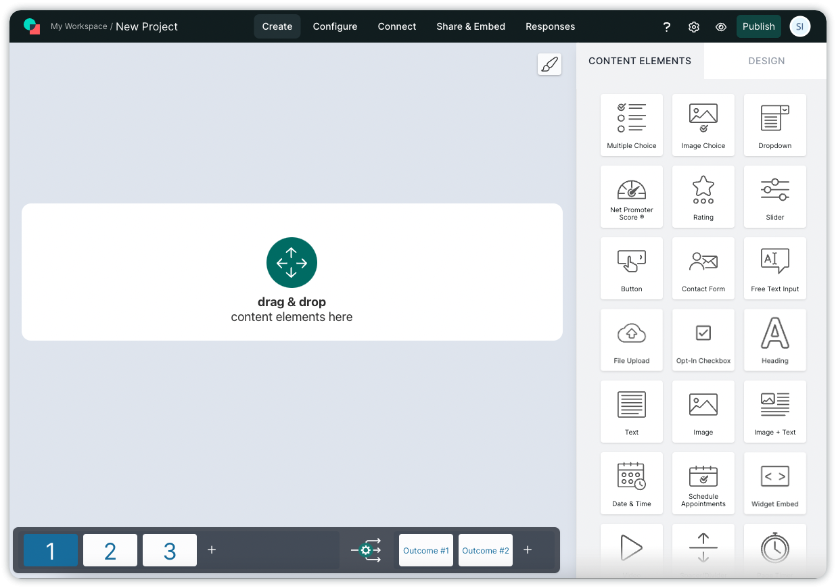 With its user-friendly interface and various customizable templates, you can create engaging gamified content that aligns with your brand and objectives. Give it a try and see the difference gamification can make in your marketing efforts!
Author Bio
Alanna Gerton is a tech industry leader and visionary entrepreneur. With a wealth of experience in data science and engineering, Alanna has made a name for herself as a top executive, previously serving as the Lead Data Scientist at Roche and currently serving as the VP of Engineering at PinPoint Analytics. Her passion for empowering others to reach their full potential led her to found LANA, an innovative blogging platform that combines trendy technology with practical career development resources. Contact her at lana@lanagerton.com for inquiries or collaborations.