Interactive content is digital content that incentivizes active engagement from its viewers. It invites people to complete little activities. They can explore various scenarios, answer questions about themselves, make choices.
Humans live for interactions. We have an innate instinct to poke things just to see what happens. Remember Facebook's "poke" feature? Back in 2007 Facebook looked like it was made in MS Paint, but it had a poke feature, because priorities.
"We live for interaction and the Internet lives to give it to us." Neil Patel
Interactions with other humans are perhaps the most complex and stimulating. Which is why marketers have been trying to make their automated one-to-many campaigns feel more personal. But that's easier said than done.
Logically, we know engaging, memorable and relevant interactions are where the money is, but when it comes to implementing it, we fail. Why?
Here's why you haven't implemented interactive content into your marketing strategy:
You're not sure what exactly interactive content is

You don't have the technical skill

You can't think of any specific cases where it could help
Let's address these one by one.
What is Interactive Content?
Interactive content is digital content that incentivizes active engagement from its viewers. It invites people to complete little activities. They can explore various scenarios, answer questions about themselves, make choices.
Interactive content is not just a trend - it's the new norm. Digital content consumers now expect everything online to be engaging, relevant and accessible on any device.
Whatever you're using to communicate with your audience, you'll have to make interactive sooner or later. Is your contact form short and fun? Does your landing page have an emotional impact? Will people remember your surveys?
Interactive Content Examples
Before we dive deep into how exactly can you use interactive content for your business, let's have a look at some masterfully executed interactive campaigns.
An Immersive Storytelling Device
Same ways video games require actions to progress the story, interactive content needs viewers to make choices and progress through various levels to complete their journey.
Its immersive quality makes interactive content an impactful storytelling device. We can't help but feel emotional when we're involved in a story even if it's in a minuscule way.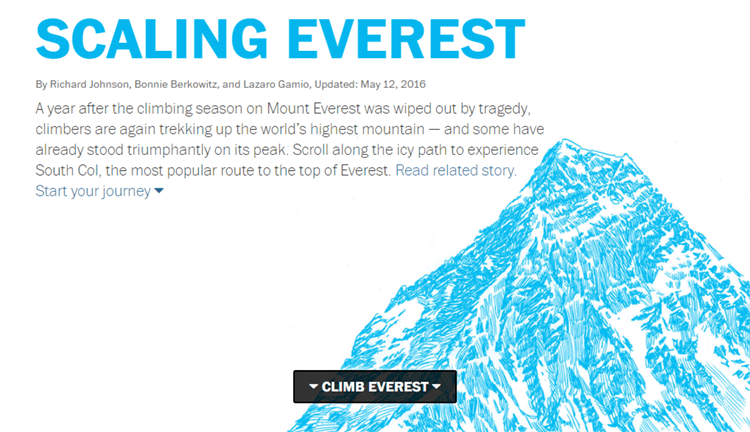 Scaling Everest is the only article I read every single word of this year. It's an emotional journey created by old-school journalism, interactive marketing, and stunning web design. This long stand-alone page tells the stories of three mountaineers, taking you along the South Col path climbing to the top of Mt. Everest.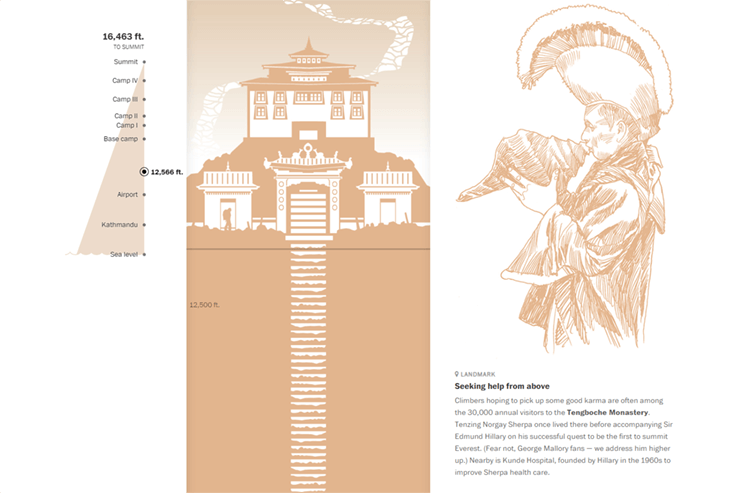 Page design gets colder and the climbers' stories become increasingly more worrying as we ascend up the mountain. Scrolling up the page we're as amazed as we are terrified.
We hear voices guiding us through the climb, taking a rest to learn about Tibetan culture, admiring the beauty and destructive power of restless glaciers and showing us the curvature of the Earth that can be seen from the top.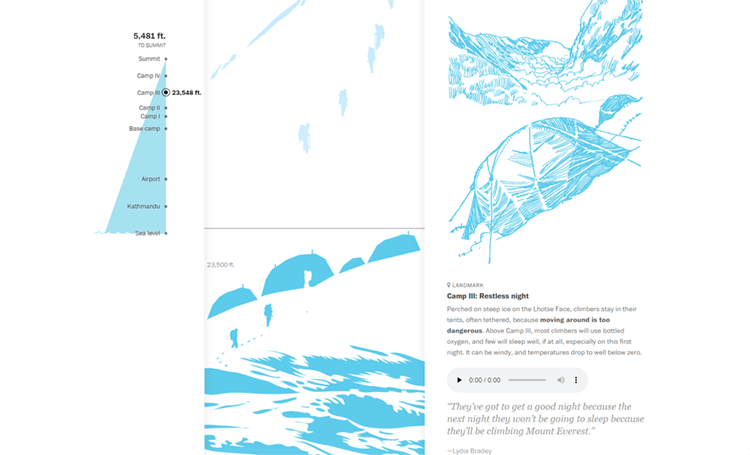 That's how you tell stories. Scaling Everest is a brief glance at what journalism can be with interactive content. It drafts a new way for brands to educate their website visitors and ad clickers about their mission and make people care.
Scaling Everest has no share, like or comment incentive on the page itself and yet it has 1.7k shares on social.
A Fun Brand Interaction
Fashion retail raises many polarizing questions. "Which pair of elephant pants are you?" is one of them.
In 2014, The Elephant Pants successfully launched their business, pledging $8,426 surpassing their $5,000 goal. How did they do it? With a quiz.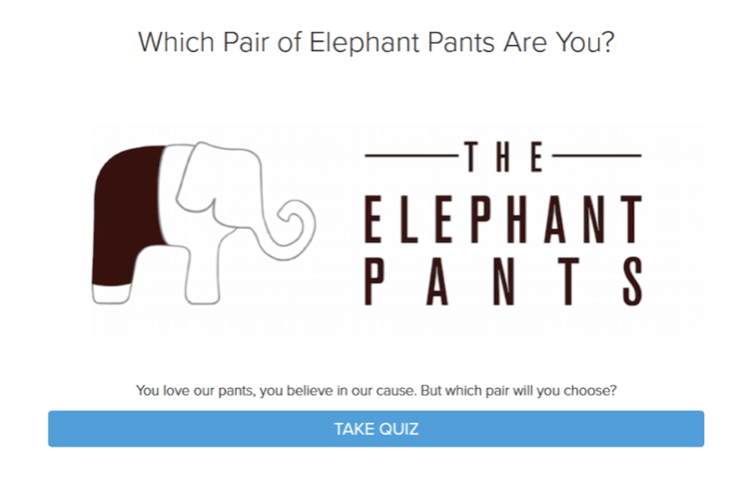 The Internet loves a self-aware brand open about their marketing scheme and that's what happened with The Elephant Pants. Their 5 question quiz would direct people to their Kickstarter to order the perfect pair of elephant pants.
The beauty of this sales pitch is that it doesn't feel like a sales pitch. It answers a simple question: Which pair of elephant pants are you? Yes, it does prompt people to buy the pants that match their soul and I'm ok with that. Partially because a dollar from each purchase goes to the African Wildlife Foundation.
The public needed to know which pair of elephant pants to identify with and know it does. Whether people buy the recommended pants or not is up to them.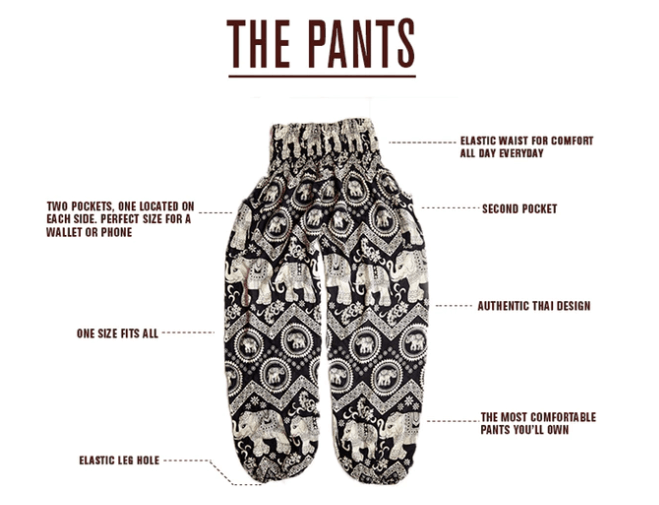 Ecommerce is a fun place for quizzes. They help you find out what your audience wants. You can look at the results as a whole when planning what to stock up next.
What pair of elephant pants did most people end up with? Make more of those. Data-based decisions are easier when your audience tells you what they need more of.
Identifying individual product preference is even more powerful. After somebody tells you they like blue elephant pants, show them more of that. Shoot them an email every time you have a new blue pair in their size.
A Powerful Lead Magnet
Interactive content helps you attract and educate people who might become future buyers. As a marketer that's your entire job and interactive content can do it for you.
Both content syndicating B2B businesses and trending on social B2Cs have successfully implemented interactive content into their strategy. User engagement matters on social as much on your blog or in your emails.
The earlier you provide and communicate value to your prospects, the higher the chances they convert. Interactive embeds on your website are a great way to do that. They serve as:
A conversation incentive

A lead capture mechanism

A way to communicate value

A quick way to connect pain points to solutions

An early segmentation tool
Have a look at this BMI calculator embed. It captures website visitors curious about how their weight is affecting their health. Their results are sent to you along with their contact information so that you can set up automated funnels for a variety of responses. Or just follow up manually but knowing your prospect's starting point.
Another fun example of pain point spotting is this lead capture quiz embed. It's on a business coach's website and it helps casual browsers identify their revenue roadblocks. Each roadblock has a marketing persona attributed to it, so you'd know what content will convert them.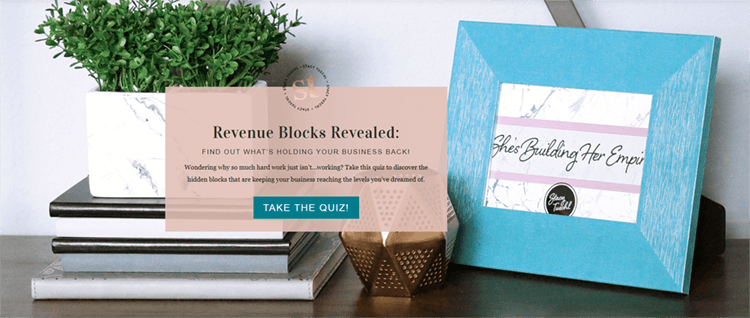 Interactive content makes lead capture non-intrusive, personal and helpful. Try making your contact form into a quiz. Instead of "What kind of service are you looking for?" ask "What's holding your business back?"
Let your website traffic self identify why they're here and provide solutions on the spot. Drag & drop a quick survey.
How to Use Interactive Content in Your Marketing Strategy?
User Acquisition
Interactive Content In Ads
Marketers are obsessed with metrics, some less relevant than others. (Looking at you, clicks!) Everything about your ads is constantly being tested and optimized. But what happens after the ad?
Make a quick landing page for each ad. It takes two minutes. This is the first time your ad clickers are meeting your brand, so make it count. Create fun, original and immersive experiences for your TOFO users.
Why not land your ad clicks on a survey? Give people something to play with. Ask them meaningful questions and skip the irrelevant ones, like a person would in conversations.
It's called "logic jump" and it will save your survey participants time, automatically skipping illogical questions while giving you the same amount of data.
Interactive Content On Social Media
Everyone and their mom loves a good quiz on social media. It's the perfect medium to capture both causal and pro procrastinators. Plus it's free and that's a great price.
Masterfully executed immersive interactive content campaigns like Scaling Everest do great on social. Almost 2,000 shares with no share incentive on the page is proof that emotional impact combined with an impactful story is sure to get the word out without an advertising budget.
Campaigns like The Elephant Pants go viral because they're what millennial internet's like - random, fun, with a slither of a good cause. Create interactive content that communicates what you stand for in such way.
If you're on board but still have no idea how to make a quiz, here's a free tool.
Lead Nurture and Segmentation
Need help reviving dead leads? Are your emails boring? You're on the same boat with literally everyone else. Which makes it more of an ark, not a boat, I guess.
Interactive content can help you navigate this Biblical apocalypse. Here's how:
It segments your leads as soon as you acquire them

It engages your leads to tell you more about themselves

It makes interacting with your brand fun and rewarding
Finding you what your contact base wants is hard. You need to track their click behavior, set up auto-triggered remarketing mechanisms, analyze heat map data and pour all that information into a conversation strategy that you need to A/B test a few times.
Or you can just ask them. Asking them is a lot easier.
Run a survey every now and then. Ask people if they are getting too many emails. Are they missing any product features? Are they happy with the service they are getting? Is there anything you can improve?
Embed a survey at the bottom of your blog posts, put it in a retargeting ad, email it to people, make it pop up on your website. Offer a discount to people who complete it.
And now you know what your customers want.
Here's how to make a survey. No coding, just a quick drag & drop.
How Can You Make Interactive Content?
Interactive content is everything you make it to be. It doesn't even matter if you know how to code. It's 2020, if there isn't a drag & drop editor for it, you don't need it.
I get lightheaded when I see HTML and I just launched a calculator on Product Hunt. You can drag & drop anything. It's really quite amazing how much work people who know how to code put into creating these tools so the rest of us doesn't have to.
Give it a try. Make something.
User Engagement Use Cases
One platform, many applications