Insurance agencies, like any other business, require creative marketing solutions.
That's why we've compiled a range of actionable ideas and pre-designed templates suitable for various stages of the marketing funnel, from creating awareness to fostering customer loyalty.
Explore these widgets that can be seamlessly embedded into your website, just as in our provided examples. To understand how to effectively use these templates and, in turn, generate more insurance leads for your company without a huge marketing budget, delve deeper into the insights shared in this article:
Insurance Finder Quiz
When describing different types of insurance, companies often compile comparison lists. However, you can take it a step further by creating an insurance quiz, as shown in the example below.
💡 Design an insurance finder quiz to encompass any type of offering you have. For instance, here's a travel insurance finder:
Grab this Insurance Finder quiz form here. 
The templates featured in this article are highly customizable. This means you can incorporate your own questions, colors, logos, calls to action, and outcomes without the need for coding. All it takes is dragging and dropping content elements onto the canvas. It's that simple!
Why Should Insurance Businesses Consider Using a Quiz?
The results that your target audience receives are personalized based on the answers they provide. This saves them the time they would otherwise spend sifting through extensive written documentation on your website.
Another significant benefit, especially for the marketing team, is that such an insurance product finder acts as a lead magnet. You can collect the contact information of potential clients by email-gating the results.
We've demonstrated this in the template that asks for the contact details before displaying results: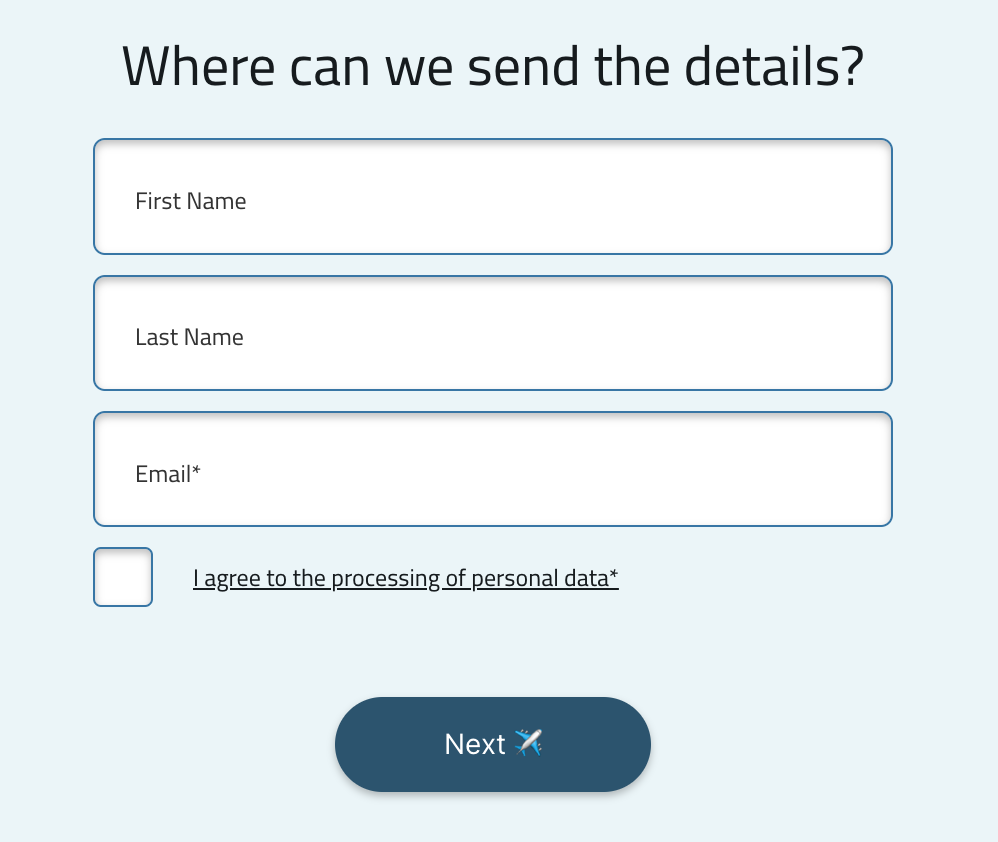 involve.me has pre-designed templates for finding the right Travel Insurance, Life Insurance, Dental Insurance, Car Insurance, Home Insurance, and more.
Select the template that best suits your target customers and customize it to align with your brand and offerings.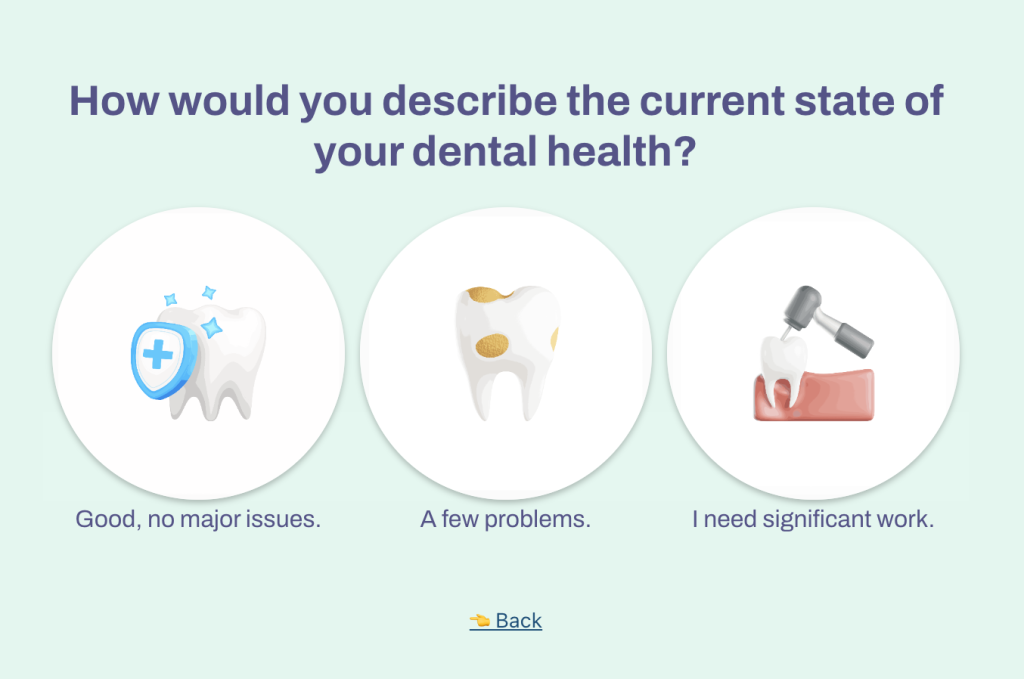 In addition to delivering personalized recommendations and collecting lead data from ideal customers, you can elevate the template's usefulness by encouraging users to schedule meetings with an insurance agency. Easily integrate online tools like Calendly or other meeting scheduling solutions at the end.
Pro Tip: Think about embedding Insurance Finders across different landing pages and blog posts to encourage more website visitors to use it. This not only extends their stay on your site but also signals to Google that your insurance website provides high-quality content, thereby enhancing your search engine optimization.
Newsletter Signup Form
A high-quality mailing list is essential, so it's best to start building yours as soon as possible. For insurance companies, we've created this form:
Grab this Newsletter Signup form here. 
This form can be embedded into a website, just like in the example above, or it can be displayed as a pop-up to encourage more people to sign up for the newsletter.
Inside involve.me, you can send out automated confirmation emails saying, "Thank you, you're now on our newsletter list." It's a small detail that can contribute to building a professional image.
Pro Tip: Instead of manually transferring the contact details of your new subscribers to your email marketing tool, consider integrating it with involve.me.
involve.me integrates with email marketing tools, CRMs (customer relationship management), Notion, Google Sheets, Excel, and more. Find the tool you actively use and connect it for seamless data transfer and building efficient email campaigns. 
NPS® Survey
During the loyalty stage of your customer journey, it's important to solicit ongoing feedback in a non-intrusive manner. For instance, you can use NPS® (Net Promoter Score) surveys to achieve this.
Here's an example of how an insurance company might ask for feedback:
Grab this NPS® Survey form here. 
NPS® categorizes customers into promoters, passives, and detractors based on their survey responses. This segmentation assists the marketing team in concentrating their efforts on retaining promoters, addressing the concerns of detractors, and potentially converting passives into promoters.
The template featured in this article includes a link to the calendar, encouraging dissatisfied customers to schedule a call with customer support right away.
For passive customers, they are directed to a form where they can submit their ideas on how to improve the service. As for promoters, they are asked if they would be willing to leave an online review on Google (or any other platform of choice). Find more information on filtering positive reviews and negative reviews in this article. 
NPS® surveys frequently incorporate an open-ended question, enabling customers to offer detailed feedback. Use the "Long Answer" content element in involve.me to encourage your customers to share even more feedback with you on the spot.
It's recommended to conduct regular surveys, and with NPS® surveys containing only one question, it's not overly complex for current customers to complete.
'Schedule a Meeting' Form
Make it easy for your potential customers to schedule a call with you. You might want to consider creating a similar form that can be shared via a link, QR code, or embedded in your landing pages.
Grab this 'Schedule a Meeting' form here. 
To create a business card for your website, use these involve.me contact elements:
Contact Form - for gathering their full name, address, phone number, email, and any other necessary details.

Text Answer - to collect detailed information about the type of insurance the visitor is seeking.

File Upload - to allow the uploading of photos or documents relevant to their case.
For an enhanced branded form experience, it's advisable to send a custom email confirmation upon receiving the results, assuring the customer that their inquiry will be addressed within the next two business days.
To set this up within involve.me, navigate to 'Configure' > 'Email Notification' > and choose 'Send custom email to participants'. Here, you can compose your email copy.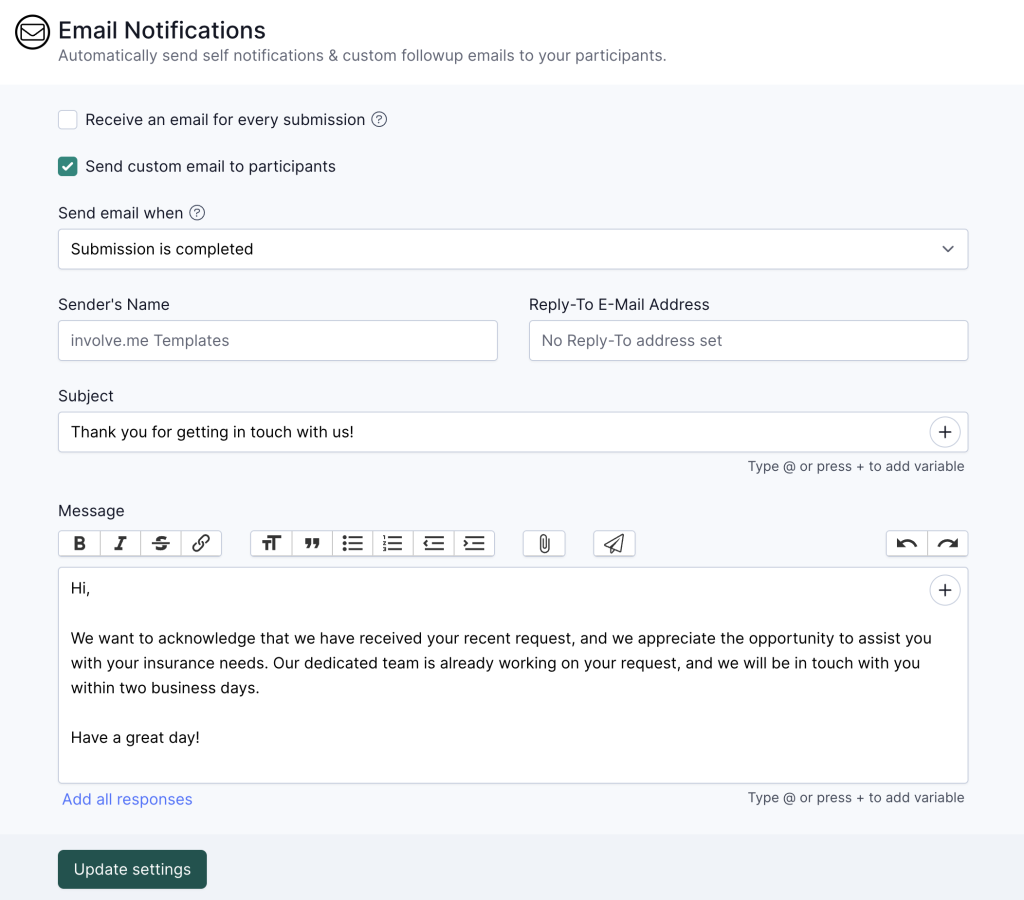 Pro Tip: Type "@" or press "+" to incorporate variables such as the contact's name or the form's outcome (if there are multiple outcomes). This way, you can personalize your email copy.
Contact Form
Consider adding a straightforward contact form for both current clients and potential ones:
Grab this Contact form here. 
You can easily share this form via email, social media platforms, through your professional network, or embed it into your website. Enhance your personal connection by using the contact form to ask more questions, helping you better grasp your clients' specific needs and categorize leads based on their insurance requirements.
Giveaway Form
Whether you aim to revitalize your existing customer base or attract new leads, consider using this giveaway template in your insurance marketing campaign:
Grab this Giveaway form here.
Engage your target audience by posing a few questions to refine your buyer persona, customize informative content for your subscribers, and boost brand awareness.
Here are some tips to make the most of your giveaway:
Enhance participation by incorporating social media sharing buttons. These buttons encourage participants to share the giveaway with their networks, extending your reach and driving increased lead generation.

Tailor your follow-up and marketing efforts by including a question that aids in segmenting your leads. This approach allows you to categorize participants based on their specific insurance needs.
Claims Submissions Form
Introducing a ready-made form within your company can save time for both customers and insurance agents.
Take a look at this sample form:
Grab this Claims Submissions form here. 
Depending on the specific insurance customers require, they'll be directed to tailored pages. For example, those looking for car insurance will be asked for details like their license plate number and incident information.
Traditional methods, such as explaining cases over the phone or sending disorganized emails, are outdated in the insurance industry's customer experience.
To streamline the submission process in your insurance company, think about creating a similar form or customizing pre-made templates with your own questions, types of insurance, and a logical flow.
Final Words
Your insurance agency's current marketing strategy can be enhanced by incorporating the pre-designed widgets featured in this article. These widgets not only improve your online presence but also lower customer acquisition costs by serving as lead magnets targeted at your desired audience.
Explore other articles that delve into insurance marketing strategies in greater detail.
involve.me is an excellent platform for implementing marketing strategies for insurance agents. You can create custom forms, calculators, quizzes, and surveys for your prospective clients using the ready-to-use templates available: