Shopify is the e-commerce platform to beat. It has provided businesses big and small to reach out to their audience with their products. This is more important than ever considering that the pandemic won't be going anywhere.
Therefore, the goal of businesses now is to put more eggs into their Shopify basket. In other words, they must double-down their investment in Shopify so they can generate even more sales from their Shopify stores to compensate for the losses from their physical stores.
One of the best ways to do this is by ranking on top of Google search. By implementing the best search engine optimization (SEO) strategies on your online store, you can increase brand awareness that could lead to increased revenue.
In this article, you will learn the best tips on how to develop and roll out a Shopify SEO strategy that'll help your online stores increase search engine rankings.
How to Get Your Shopify Store to Rank Higher - 6 Useful Tips
1. Optimize Your Site Structure
You want to establish order in your online stores. Nobody wants to shop at a place that has no logical order where the products are in disarray.
The best way to organize your Shopify site is to create categories for the product you sell on your site. For instance, if you are a guitar store, you must structure your site to categorize pages related into collections such as electric guitars, acoustic guitars, and so on.
Normally, it's possible to create subgroups under each category to help you organize your products even more. Under each guitar type, you may consider grouping them into brand or price ranges.
If you simply feature all your products in a single category, you make crawling and indexing your site pages harder for search engines. More importantly, visitors will find it difficult to find the product they want to buy from you. As a result, they might end up leaving your website instead.
Harron Custom Guitars is an example of an eCommerce site with an unoptimized site structure. All its products appear on the same collection page even though each one is a different type of product than the other.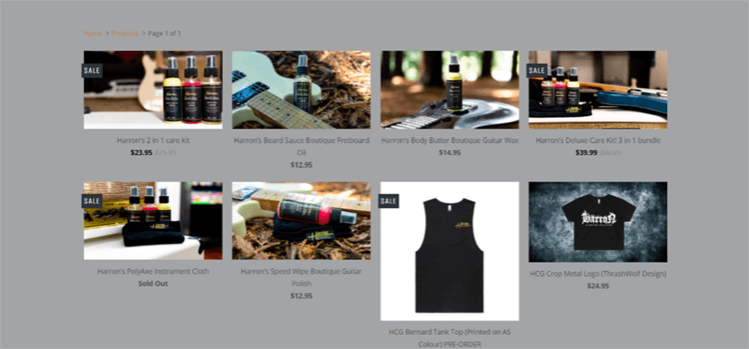 Therefore, you should group similar products together into categories and subcategories to improve the user experience.
At the same time, don't go too granular with your site navigation. The goal is to make your pages as near to the homepage as possible to maximize crawlability. The more clicks it takes for people to visit your pages, the harder it'll be for Google to rank those on top of search results.
Thankfully, Shopify isn't complex enough to handle many subgroups in an online store. However, This limitation could be seen as a good thing for store owners especially if they want to keep things simple.
To organize the collections you want to appear on your store's menu, go to Online Store > Navigation from the admin page. From here, you can create and add the most relevant categories that you want to appear on the menu.
You can also show breadcrumb navigation on all your pages. This shows to visitors and search engines how your site is structured.
A great example of a well-constructed Shopify store is The Music Zoo. Each music instrument or product is grouped as a category on the menu. Specific products will also appear when you hover over a category to help you narrow down your choice.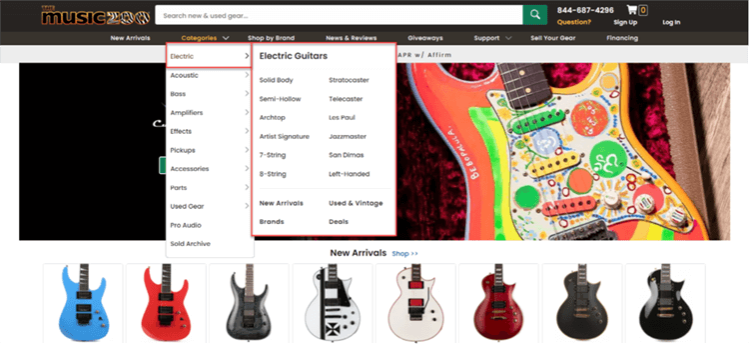 Upon clicking on a page, you will be brought to the collections page that shows the products for that category. To help find the exact product or instrument you're looking for, you can use the faceted navigation on the page to filter the results that meet your specifications.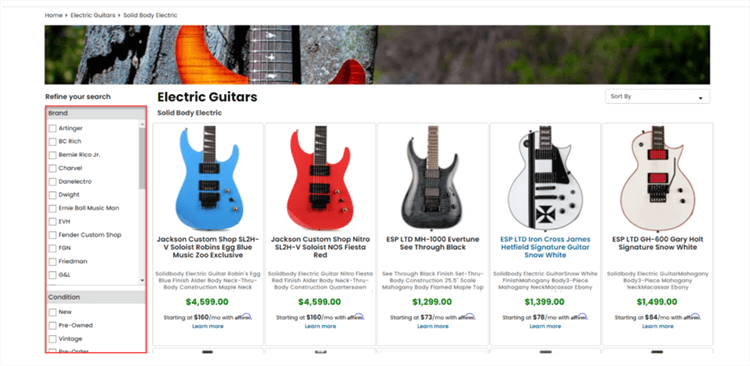 For good measure, there's also a breadcrumbs section to help show visitors which level they are on the site.
2. Perform Keyword Research
The keywords you will be optimizing your content with will be critical to your SEO's performance over time. In fact, it's easy to get keyword research wrong because of the many factors involved in the process.
To make things simple, below are the variables you must be aware of when researching for keywords:
Intent - Determine what the goal of the users is for typing that search query; are they interested in buying a product that your store carries (commercial) or do they want to gather information about a topic (informational)?

Search Volume - Find the approximate number of times the search query was searched in Google. The higher the number, the better.

Difficulty - This metric dictates how easy or difficult it is to rank for a keyword. Normally, the higher the search volume, the harder ranking for it will be.

Long-tail keywords - These are mostly informational keywords with low volume but are easy to rank for. They are best optimized for blog posts.
Keeping these factors in mind, you should have a much clearer understanding of what keywords to search for in your online store.
For instance, optimize your product pages for commercial keywords, i.e. search terms with "buy," "discount," "deals," etc. Also, since keywords with high search volume and low competition are rare, you have to strike the balance between the two considering that not all industries produce the same keyword metrics.
To help you find commercial keywords to optimize for your site, use Ahrefs.
From the Keyword Explorer page, type in the keyword of your niche or industry on the text area and click on the search icon.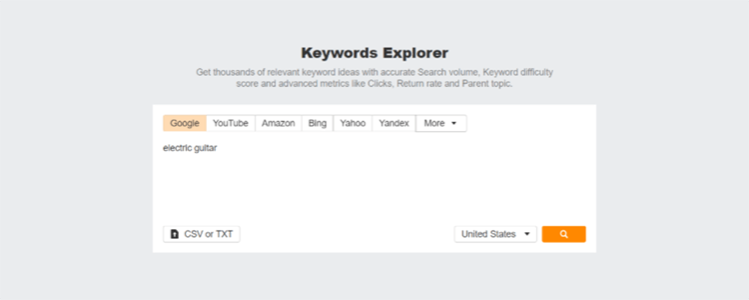 On the next page, scroll down the Keyword ideas section and click on View all under Terms match.

You will be able to see all the keyword suggestions that match the term you entered. Next, on the left sidebar, search for the words "best," "discount," and "deals," to name a few. These are words associated with commercial intent keywords.
Upon clicking on them, the tool will narrow down the results to terms that contain your chosen word.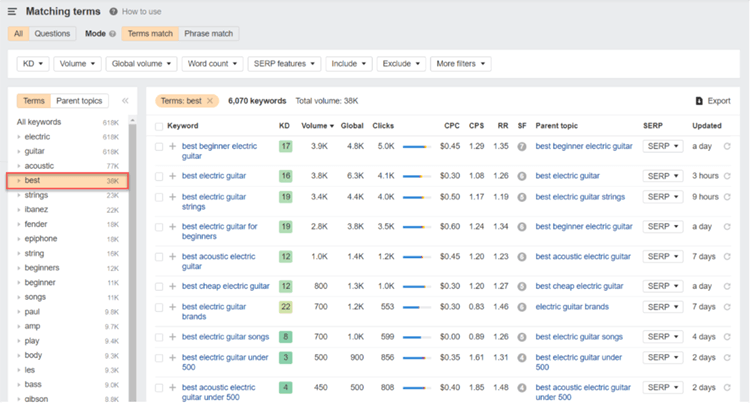 From the results, you will see columns KD (keyword difficulty) and Volume (number of times users search for the keyword every month). Use both metrics to help you decide which keywords to prioritize in your content creation.
Ideally, you want to select a keyword with a low KD and high volume. That means you can easily rank for this keyword and generate organic traffic from it assuming that your page is ranking at the very top of search results.
To help you find these keywords, you can filter the results to show terms that meet a certain range of KD and Volume to your liking.
To do this, click on the KD and Volume drop-down menu on the top and set them to your desired ranges.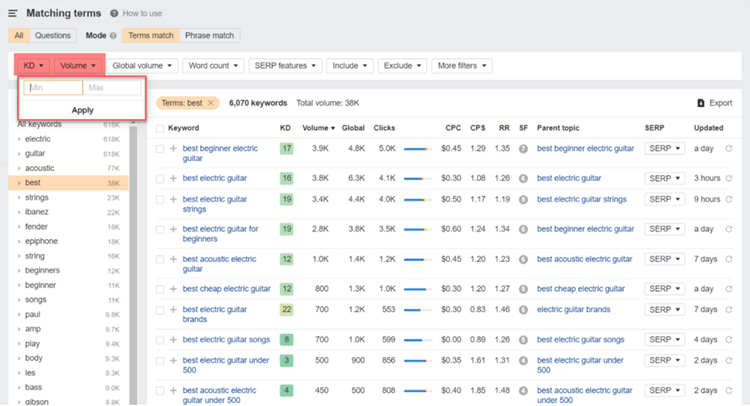 For this example, we can set the KD from 0 (minimum) to 5 and the volume from 250 to 1,000.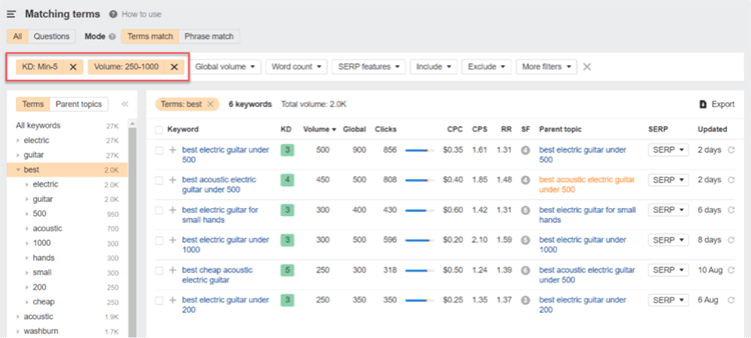 You can change the ranges for KD and Volume to expand the results and show you more keywords you can target. The goal here is to help you come up with low-hanging fruit keywords that are easy to rank for on search engines results pages (SERPs) and will yield you the most traffic upon ranking for them.
3. Write Unique Product Titles and Descriptions
Once your page is ranking on Google, the first thing users will see on your site are its page title (or meta title) and meta description.
The meta title is one of the most important ranking factors to get your page on top of your target keyword. In this case, you need to include your keyword in the title aside from writing a compelling headline.
Meta descriptions, on the other hand, are no longer ranking factors like before. However, you can use them to increase the click-through rate from the search engine results pages (SERPs). Make sure to write a thorough description of the product or post within 160 characters.
4. Optimize Your Image File Sizes and Alt Text
Since e-commerce sites rely on images to showcase their products, you must find a way to deliver them to visitors efficiently. Since Google's Page Experience update prioritizes optimal browsing for users, loading speed is more important than ever.
The last thing you want is for Google to drop your site's rankings because your store loads very slow no thanks to the image you use on your pages.
Thankfully, Shopify apps like Image Optimizer and Crush.pics let you compress the file size of your images without compromising on quality. This way, the images on your site will require less time to load, thus improving the browsing experience of users.
Using Image Optimizer, upload the images that you'll be using on your Shopify store. Then choose the size of the images once optimized.

Once optimized, upload the images to your site.
However, you're probably thinking, "How about the images I've already uploaded to my site? Should I download them, optimize them using the tool, and reupload them again?"
That's probably what you must do using Shopify's free image optimizer. However, if you install the Crush.pics app on Shopify, you can set it to automatically compress not only all the images uploaded in your store but also all those that you'll upload moving forward.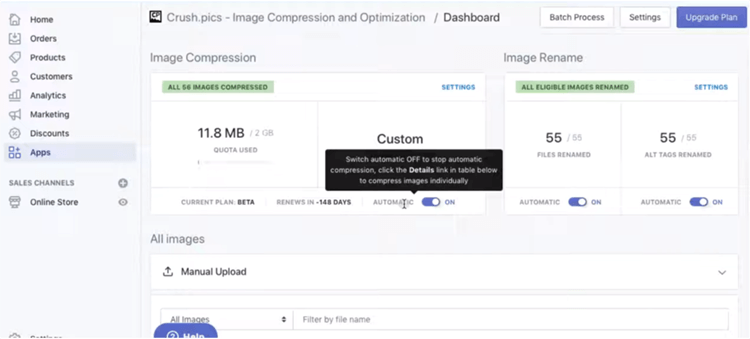 This makes decreasing the file size of images and increasing loading speed much simpler!
Regarding alt tags, you need to write them as if you're describing the image to a visually impaired person. Being able to include your keyword here is a bonus. However, the purpose is to help search engines understand what the image is about since they can't read visual content.
5. Rank Higher With Content Marketing
One of the unheralded tactics among store owners is content marketing.
To be fair, creating content is a long-term investment that requires proper budget allocation. You can't just write or order a few articles for publishing and expect your audience to
Therefore, it's a matter of planning your content strategy in advance and finding ways to get the most out of the pages you publish. There's really no way around it.
First, your content strategy must span months, if not years, of implementation. By building supporting content to your pillar posts and product pages, you get to increase your ranking on Google as well.
It all starts with your content creation process. What your standards for your content are and how you plan to proceed will dictate how your pages will perform over time.
For example, MADE.com is an online store for designer furniture. There's only so much you can discuss about the industry, but the site has found a way to create content that not only increases brand awareness but also sales.
If you look at the Ideas section of the site, you will see interior design inspiration to help visitors come up with their own styles.

And if you open any of their posts, it contains images showcasing the different products available from their store.
Using content to tie in their products without being sales-y allows the brand to create unique and compelling content. As a result, people who enjoyed the design inspiration are more likely to purchase from the store because of how the products are integrated into the content.
Once you have your content, you also must promote them on social media along with your product pages. Since ranking your page on top of Google search will take months, if not years, you need to find other channels where you can get immediate traffic to them. Therefore, sharing them on Twitter, Facebook, and Pinterest strategically will help you get traction on your site pages.
Also, think outside the box with your content marketing strategy. Aside from articles, you can hold webinars to engage with your audience in more meaningful ways. Since the format is different, you must approach webinars differently to generate lots of attendees to it. The same thing goes if you are to pursue different content formats like videos and podcasts.
Aside from webinars, videos are a great way to establish brand awareness and create buzz without relying on SEO or social media.
For instance, REI, an outdoor gear company, has created its first character-based show "Miranda in the Wild" with new episodes airing every week. It chronicles the life of Miranda who experiences the outdoor using REI products.
Everything I Bring BACKPACKING and How I Pack! | Miranda in the Wild
The concept allows the brand to features its line of outdoor goods as Miranda shows how to use them.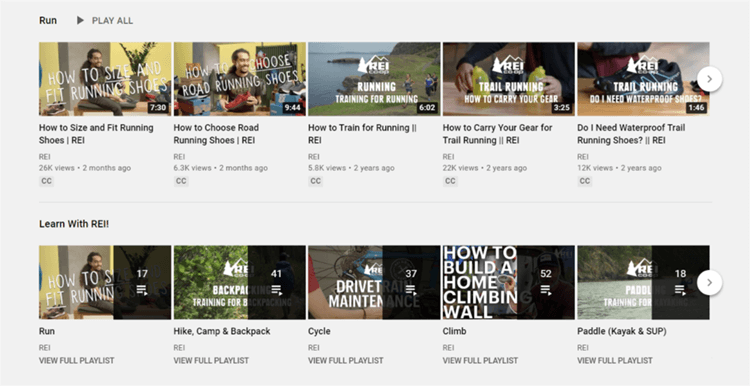 There are also other videos and playlists in the channel that puts the spotlight on REI products like running shoes, camping gear, and others.
However, the success of Miranda in the Wild, with episodes amassing tens and thousands of views in a week, is perhaps responsible for the 316k subscribers it currently has.
Another type of content you can publish on your site is interactive quizzes. You can use them to generate more leads for your business and send them email campaigns to convert them into customers.
Unlike forms, interactive quizzes using tools like involve.me allow your brand to make an impact with your audience. You can also create personality tests, calculators, and payment forms to expand its use cases outside of lead generation.
Once you've created them, you can publish them on your online store optimized for their respective keywords.
6. Build High-Quality Backlinks to Your Shopify Store
The factors discussed above pertain to on-page SEO or variables that you have full control over.
To help your Shopify store to reach the top of SERPs, you need to do off-page SEO as well, which is where you'll find link building. This applies to all industries, even SaaS marketing.
In theory, e-commerce sites are difficult to build links for because product pages have no value outside of turning people who are already interested in the product into sales to your Shopify merchant account.
But if you implemented a content marketing strategy, it would be much easier to generate links naturally. The reason is that people are much more inclined to link to informational content, i.e. blog posts because they provide value to their target audience.
To build links, you can launch a blogger outreach campaign asking people to link to your existing assets.
A much better approach is the Shotgun Skyscraper technique, which is currently a module taught in the Authority Hacker Pro membership.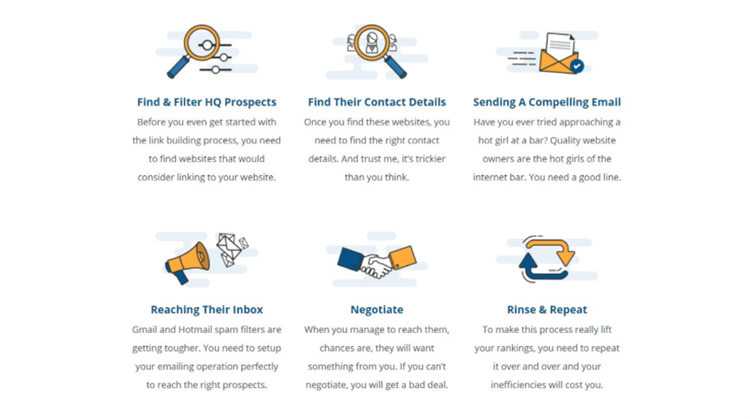 Essentially, you want to find competitor pages with the most backlinks, create a better version of that, and reach out to those linking to your competitors and ask them to link to yours instead.
Unlike most outreach strategies, this technique focuses on sending out as many emails as possible to prospective link partners. Instead of sending on a handful of target, you must scrape as many websites you can find that meet your requirements and send them a templated message asking each for a link to one of your high-quality posts.
Due to the sheer volume of emails you will send, it's impossible not to get backlinks this way.
Conclusion
Building e-commerce sites is made much easier now with platforms like Shopify around. Now, the bigger challenge is rising among the sea of online stores selling the same products as you.
Since some of your competitors have deeper pockets they can use for their marketing budget, you can outsmart them by going all-in with your Shopify SEO strategy. The tips above should be more than sufficient to get you up and running. Or if you have an existing website, consider getting your site audited to see if there are improvements you can implement now.
At the same time, just as important is monitoring your progress over time. For instance, checking your Google Search Console and Shopify Analytics will help you see which pages are performing well and the ones being left behind. From here, you can unearth insights on how to improve your SEO campaign moving forward to generate better results.
Interactive Templates
300+ Editable Drag & Drop Templates