You have your customer's email addresses, but that's not enough for your marketing game, right? You need more information.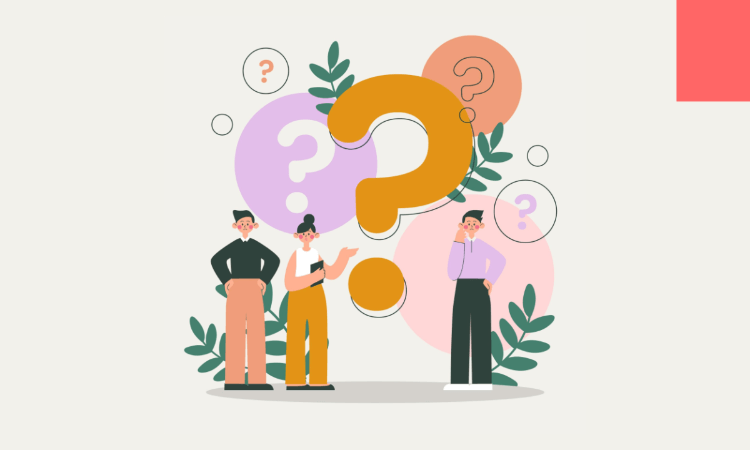 Get Started: Make Your Online Quiz
Using One Of Our 200+ Templates
The most obvious solution to this would be gathering a few extra pointers about them and their interests at the same step where you ask for their email addresses, right? Nope! Wrong move. You need to be extra cautious while dealing with your audience. You don't want to make them feel like you are prying.
Try adding a quiz to your lead generation strategy instead. It's an interactive medium that can engage an audience and encourage them to move down the sales funnel.
Unfortunately, however, most users drop quizzes midway, so you don't always get the data you need.
But no worries. In the next few minutes, we will help you create quizzes that will support your pursuit of gathering resources and act to your advantage for lead generation.
Let's begin!
Why Your Completion Rate Matters?
Your completion rate, by definition, means the ratio of the people who opt to take your survey or quiz to the ones who actually complete the quiz. Why does it matter?
Not all quiz participants will complete the quiz. Unfortunately, you might lose potential customers and fail to collect the data that will help you to build a good customer journey map.
Quizzes are an integral part of marketing, with numerous benefits. Acing your quiz game can prove to be extremely fruitful and lucrative in the end. You can build better customer relationships, boost loyalty, and enhance your content performance by simply designing good quality quizzes.
So, it's important that people actually finish them.
8 Quiz Mistakes That Harm Your Completion Rate
Quizzes are a crucial part of marketing. They allow you to learn about your audience and provide you with access to a massive lead bank if done correctly. Ultimately, quizzes can prove to be a lucrative recipe for successful marketing.
However, few people have time to take random review quizzes, and there are many reasons people won't.
You must have read numerous "how to create the best quiz" blogs before, but let's now find out the potential problems that can hurt your journey to create good quizzes. It's always better to weed out the mistakes right at the beginning instead of regretting them later.
1. Leading Questions
Don't put words in your audience's mouth! It's manipulation, and they will know it.
When you use leading questions, you are trying to lead the responses to your question in a certain direction that benefits you. Do not assume that your audience will always be in unity with what your end goal is. Leading questions are prominent signs of a bad survey.
It introduces bias, and hence you wouldn't gather authentic, truthful responses. This ultimately gives you the risk of having insufficient resources to get guidance from in case you want to improve or get feedback on your products.
Sometimes, the problem lies in the formulation of the sentence. For example, consider "what did you like/dislike about our efficient and well-organized services?" Instead of this leading question, pick "please suggest some ways we can improve our service for you."
This way, you leave space for constructive criticism and genuine responses.
In the case of an objective question, you might make the mistake of giving options that don't consider an honest negative response. For example, "how would you rate our service?" might have the responses:
Excellent

Great

Good
Instead, go for options like:
Excellent

Good

Average

Poor

Extremely bad

2. Double-barrelled Questions
Imagine this: you try catching two birds in one shot. However, not only could you not get either of the birds, and you also lost the two bullets (+ the birds might never come back!).
Do you get it? There is just too much at stake if you choose to pick the double-barrelled style for your quizzes.
If you try to introduce too many ideas in one go, you are going to end up complicating the job for your respondents. As a result, you might not get accurate responses or not receive responses to all of the inquiries you made in that section.
One simple trick to recognize such double-barrelled questions is looking for conjunctions like "and," "or," etc.
For example, your question might state, "was our website easy to navigate, and are you satisfied with our service?" These are two different questions that need two different responses for you to achieve a successful survey result. The best way to go about it would be to simply write them as different questions. Like:
Was our website easy to navigate? Yes/No/Could be better

Are you satisfied with our service? Yes/No/Could be better
3. Jargon That's Unfamiliar to Your Audience
Jargon is synonymous with a red flag when it comes to communication. You want to clearly communicate with a wide audience and explain your query in a language that is familiar to them.
To ensure that your audience makes it to the finish line and hits the "submit" button, you need to make your quizzes smooth sailing. Any sign of inconvenience can jeopardize the completion rate of your quizzes.
For inspiration on an inconvenience-free quiz, check out the example of this mattress fit quiz.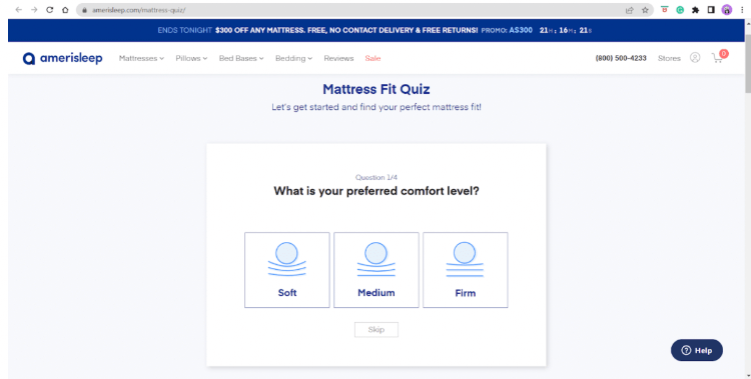 In this quiz, the questions asked and the options provided are simple and to the point. They are also easy for the audience to understand. On top of that, they have used illustrations to enunciate better.
Note: As a professional, using jargon specific to your fields can become a regular thing in your vocabulary; hence this one might get tricky because you might not even know that you are doing it.
The solution would be to proofread and test your quiz through the eyes of an everyday person. Alternatively, get someone who isn't proficient in the jargon of your field to proofread it for you.
When curating a customer feedback questionnaire, you need your quiz to carry the perspective of your audience members. You need to learn their language and adapt to their style to make sure they engage with your quiz.
You can check out a few customer feedback questions from here. These might help you kick start the process of curating an effective quiz.
4. Confusing Answer Scales
While creating a quiz, don't forget to take care of the options that you give your audiences to choose from. They are equally important as the questions that you set. If your options are not relevant or curated in a manner that your audience doesn't have the option to possibly give you a bad review, then you sure are walking on thin ice.
You might just annoy your already dissatisfied respondents and permanently sever the channel for any lead in the future. Giving biased options is also quite arrogant since it looks like you believe that your service is perfect and you aren't open to criticism.
And, unlike an honest quiz, you might end up with information and resources that will not give you a genuine idea of the scope of growth for your company.
Another flaw in your quiz would be not giving an appropriate scale for your responses. For example, if you are asking about your respondent's satisfaction with your service, binary options in the "Yes/No" format might not suffice the intention of that inquiry.
You might have to use number ratings or smiley faces in order to get more nuanced responses.
Quick Tip: You must also give space for suggestions or reviews after the MCQ. Follow-up questions are vital in understanding how audience members really feel.
5. Including Too Many Questions
Time is a currency that is too expensive and one that none of us have in abundance. We are all busy, and no one has time to take quizzes and exhaust their precious time to give reviews.
Just imagine yourself having to take a quiz that asks you 50 questions, even though they all might be MCQ. Let's face it; nobody has that kind of time. Hence you need to be strategic and design a quiz that is to the point.
Try these quick tips with your quiz:
Have your questions set on different pages so that your respondents can see the progress they make and the percentage of quiz that is still left with each click. It's way better than overwhelming the respondents with an array of questions in one go.

Use phrases like "you are halfway through," "almost there!" and "finally" to motivate your respondents to finish the quiz.

Use design to your advantage — like in this Buzzfeed quiz that uses contrast between the question and answer: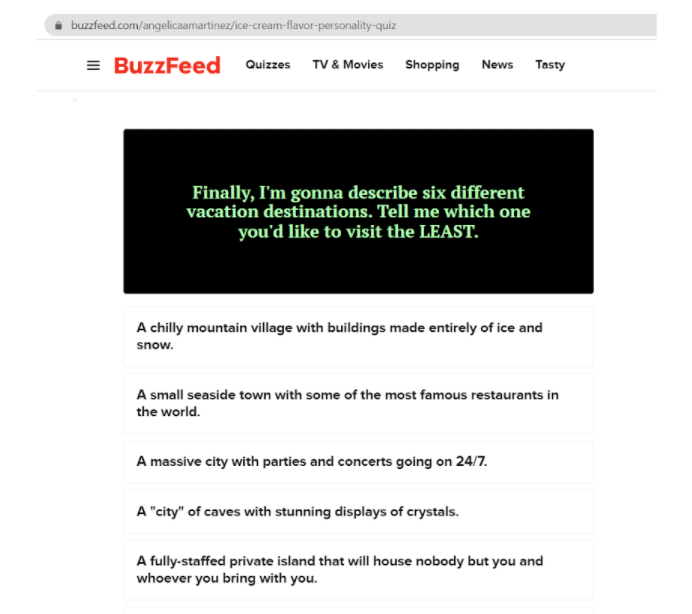 6. Not Using a "not Applicable" Button
We are all different people, and one single formula cannot work for all of us. Similarly, your respondents will have diverse experiences, and each will experience your service very differently.
There is a high chance that not all questions apply to all the respondents (or maybe they are just not comfortable sharing that information). Hence, the option for "not applicable" is crucial for your quiz.

Alternatively, you can give the option to simply skip that section as well.
7. Pointless, Mandatory Questions with Dry Language
Customize the quiz in such a manner that encourages your respondents to complete the quiz.
The more you give space and options to your respondents, the longer they will stay and the higher the chances they will finish the quiz.
Remember — if the questions are not of prime importance to your quiz agenda, it's just going to sway your respondents from moving ahead with the quiz.
Also, instead of choosing dry language that sounds like a bot talking, add some interactive and engaging words in your quiz. Make it sound scintillating and fun.
You can actually use videos to make it interactive. This way, you shoot two birds with one shot. Quizzes can be an interesting take on a video marketing campaign, and videos also make your quizzes interactive and fun to take.
8. Poor Graphic Design
We are living in an image abundant age. There is so much happening in terms of visuals. Simple text is bland, especially when you have options for creating vibrant visual marvels using graphics.
So the first suggestion would be to use graphics ALWAYS.
However, not just any graphics. You need to be in tune with the graphic design trends that work in the present hour.
Have you heard of the famous quote "fifteen minutes of fame?" Fame and the trends that work today are ephemeral and short-lived. Hence, it becomes crucial for us to actively research the content and trends that are currently appealing to the masses.
The reason BuzzFeed quizzes are so famous is that they stage an appealing visual performance whilst encouraging their respondents to make it to the finish line.
Good graphic design can take your quiz content to a whole new level. So, keeping a few graphic design tips up your sleeve can prove to be really effective in improving the completion rate of your quizzes.
Now Create Your Own Quiz
You now are aware of all that could go wrong with your quiz and you also know how you can make it right.
So if you want your quiz to have a high completion rate, make sure to not repeat the mistakes that we pointed out above and also incorporate all the tips that we suggested.
What are you waiting for? Jump right in and curate an effective quiz with a high completion rate.
Get Started: Make Your Online Quiz
Using One Of Our 200+ Templates
Author
Zoe is a content marketing strategist for SaaS brands like FollowUpBoss, Mention.com and more. On the personal front, Zoe is a pho enthusiast and loves traveling around the world as a digital nomad.