It is understandable that certain businesses, especially small local ventures, need to run on a shoestring budget to ensure their revenue can sustain their business. Finding ways to boost your sales while not blowing your marketing budget may seem impossible, yet you can use some of the basic techniques to immediately impact your sales.
Get Started: Make A Lead Generation Quiz
Using One Of Our 300+ Templates
We have put together a list of ideas to implement and content formats to use if you're looking for a more significant impact to reach your sales KPIs.
Ways to Boost Your Sales
1. Video Content
Videos have become the most significant driving force in attracting traffic and raising conversion rates. Thanks to the high shareability of videos, you can reach a broader audience and attract a wider range of customers.
The beautiful thing about creating video content is that one doesn't need a fortune: you can get started using a smartphone, a tripod, a backdrop, and a microphone. Not only is it an economical option, but it also brings character and identity to your business that written text may not be able to portray.
Take a look at Ahrefs' video content strategy, for instance. The video in the example below has been filmed using the most basic equipment (a camera, a mic, and a tripod). The setting and the lighting are also pretty basic:
Yet, this video ranks at the top of Google results for the 'SEO checklist' query: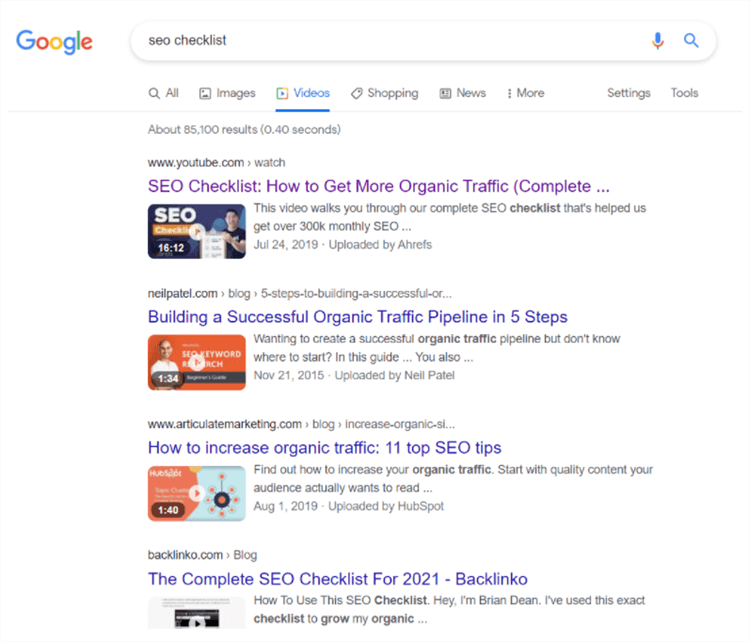 This example proves that video content, even when created with the most basic filming equipment, still helps you rank higher, especially if it carries a lot of value for the viewer.
What about editing your video? Does it cost a lot?
Thanks to a wide variety of tools available online, video editing won't cost you much. You can add an overlay with your brand's logo, personalize it with different graphics, crop the footage, add text and music, and even merge several videos into one in just a few clicks.
As you probably already noticed, search engines also love video content, mostly because it has more value and drives engagement. And, if you use a video on your website, it can potentially help you rank higher.
A case study by SMG Marketing Group involving a law firm has shown that a video and a complementary text helped boost a landing page from #2 to #1 position in Google.
Video Content Suggestions to Boost Sales:
Testimonials

Webinars

Live streams

Interviews

Q&A's

Presentations

Vlogs

Teasers

Behind-the-scenes
2. Keyword Quality
Your online content is your primary method to entice a new audience and to form strong customer relations. Based on the quality of your content and how thorough you are in covering a subject, your online presence will grow. Keywords are yet another factor that contributes to that.
Developing a keyword strategy is a must for all web content to be seen by search engines. This means that keyword research is critical if you wish to improve your traffic to boost sales. The niche keyword can connect you with your optimum audience and separate you from the millions of web pages fighting for the number one page rank.
One of the optimal tools to find your niche keyword is Answer the Public, which is free to use: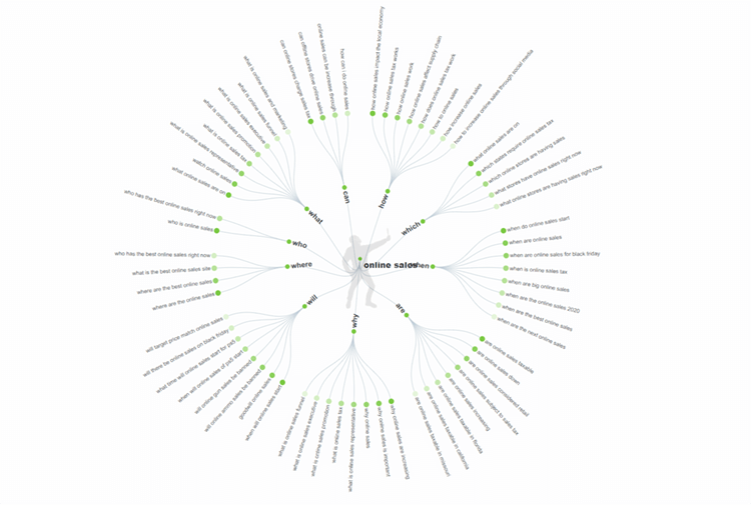 You can also do keyword research by brainstorming phrase variations and googling keyword combinations. In other words, testing your suggested keywords to match against your competition that search engine results provide.
Alternatively, you can use free online tools that analyze the strength of possible keywords for your site. However, with all things that are free online, take the results as suggestions, not as a definitive conclusion.
If your budget can accommodate some marketing spending, invest in a trusted keyword research tool or service, like Ahrefs or SEMrush, since it plays a critical role in the discoverability of your pages.
Most paid services also offer competitor research and browse the keywords your rivals use to rank higher on Google. Here's an example of the competitor research report on Ahrefs:
You can browse this report, find the keywords relevant to your business, steal them, and potentially outrank your competitors in search results.
3. Search Engine Optimization
Search engine optimization (SEO) is the holistic optimization of your webpage's identity to enhance your brand's visibility. SEO encompasses content strategies, keyword usage, algorithm updates, medium practices, meta-descriptions, conditional logic forms, backlink building, and many other techniques.
If you build an effective SEO strategy, it helps move your business to the top of the SERPs. The flow-on effect means you will have the best chance to welcome new traffic to your page, which will, in turn, boost your sales.
Prioritizing SEO is important and can be done in-house for free if you have zero budget to spend. The basics can be mastered fairly quickly, and you can find most information and updates online to help you on your SEO journey. However, it is an ongoing process that needs to be managed to ensure you do not slip down the page rankings.
It is suggested to weigh up your personal time allocated to search engine optimization versus utilizing that time elsewhere in the business while paying an SEO professional. SEO services are plentiful, so it's best to do your research to find one that suits your budget and needs. With a diverse SEO toolkit, your online profile will always remain up-to-date with a long-term strategy to boost your sales.
4. Social Media Sharing
Most businesses have many social media accounts across various platforms, and most users have logins and are connected continuously. Now is not the time to turn away free marketing, and you can use social media to spread the word about your brand wisely and effectively.
A well-thought-out social media sharing campaign could ensure you are giving quality information and engaging with your audience without tiring your audience and wasting your precious time.
Why is social media a good option to boost sales?
The reason is simple - social media allows a wide variety of content types, and you can be as creative as you'd like.
Besides, you can always involve your followers. A great example of this? Apple's ongoing "Shot on iPhone" social media marketing campaign uses online and offline advertisements with original content shot on their smartphones by users.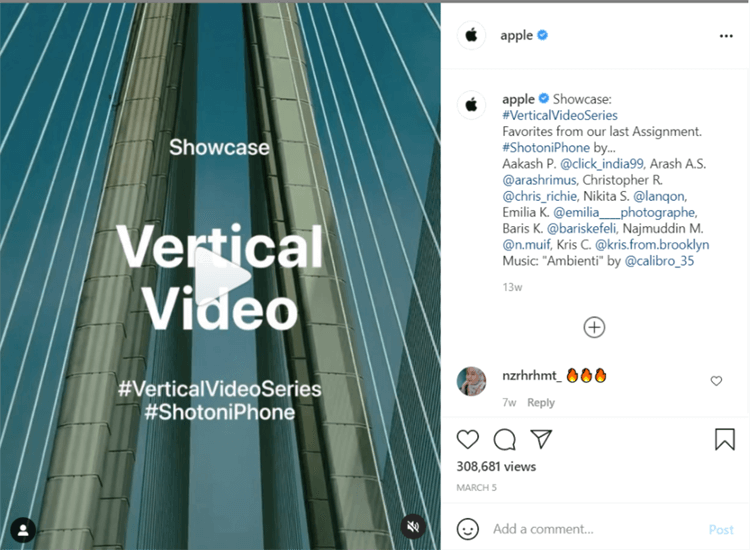 With social media, your options are limitless. You can come up with any content idea and use it to generate sales. In Apple's case, user-generated content also serves as social proof showing all the perks and benefits of the iPhone's camera.
5. Email Outreach
Since the introduction of numerous social networks and the countless ways to spread your business brand, the good old-fashioned email sometimes gets overlooked. Modern consumers are bombarded with emails daily, and often the most challenging part of a marketing strategy is getting through to the top of that stack.
Most apps are instant and momentary, meaning if your business doesn't get the immediate attention of a prospect, the client may move on; in contrast, an email can be viewed at any time that's more convenient to your client. Email marketing is essentially free to use and is still an excellent method of communication.
With email, your options for boosting sales are endless. You can start with something as basic as a FOMO email, like this one from A Kid's Book About: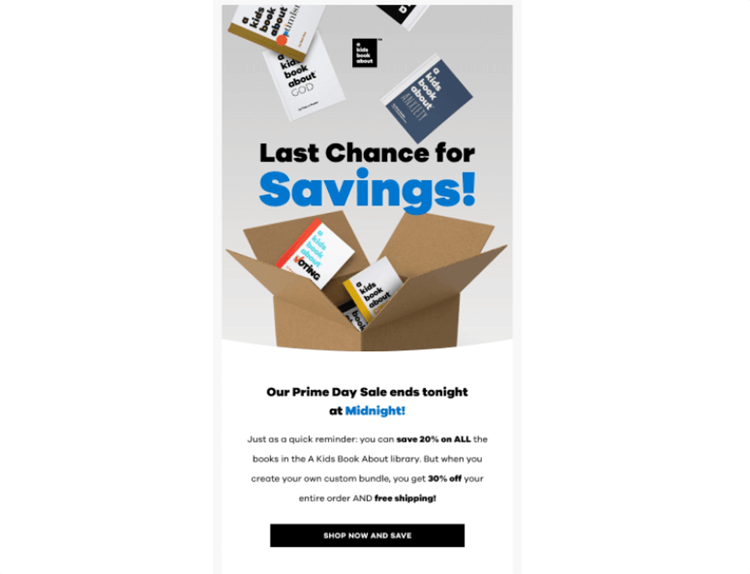 A limited-time sale always does the trick - you create the demand for a product and boost interest among your subscribers. The added urgency facilitates the FOMO effect, encouraging the customer to proceed with a purchase.
Email outreach is another tried and trusted way to inform existing customers of any business news, conduct surveys, request referrals, and regularly educate your readers through newsletters or blogs.
It is also a great way to boost your sales by offering discount codes and coupons to entice a purchase. Cold email outreach is a good choice for B2B companies that aim to build new clientele. These emails can also be paired with discount offers to drive new subscriptions.
6. Online Events / Webinars
Webinars have been a part of marketing strategies for years, allowing to bridge the distance between businesses and people. In recent times webinars, also known as web conferences, have grown to become a common and effective way to engage customers and educate them for free.
With the added lifestyle and workplace changes due to the pandemic, webinars have become part of our work schedules and now seem to be a standard method of communication. Now is the time to jump on the bandwagon and start taking advantage of this highly converting channel.
You can plan your webinar based on your audience, making your presentation fun and interactive or more formal and educational. An influencer or guest speaker is another good way to bring a professional feel to the online connection.
If your guests are industry experts and content is unique and exclusive, gate this content and offer in exchange for prospects' contact information. This will help you build your demand-gen funnel.
Make sure you record webinars to offer it to those who registered but couldn't attend or as part of your future marketing campaigns. The webinar content is also easy to repurpose - you can upload clips to your YouTube channel or dedicate a series of blog posts to the topic of your webinar.
7. People Influence
Involving customers, employees, followers, guest speakers, and influencers are all great ways to reinforce your business brand. Sharing the expertise and knowledge of your external and internal subject matter experts can bring ideas to the table that you may not have thought of, reach an audience that was not targeted, and give an alternative angle to support your business's credentials.
When you work with influencers, you also get access to their audience. MeUndies tapped into this opportunity with Jenna Marbles and Julien Solomita, popular YouTubers and Twitch streamers. All their fans got an extra 15% discount on their first order:

MeUndies' campaign is a win-win: influencers got a lucrative discount for their followers, while the brand got access to Jenna's and Julien's audience, expanding their customer base as a result.
Another great idea to get public endorsement is to ask your customers to leave written reviews and video testimonials of your product or service. Organizing fun photo and hashtag challenges for your customers will also spread your brand effortlessly to their followers.
Finally, listen to your employees. They often spend as much time in the office as you do and have different views on solutions. Make sure everyone on your team is aware of similar projects so that nothing falls through the cracks and that everyone knows they are integral to your company's success.
Boost Your Brand, Not Your Budget
These seven simple techniques will improve your search engine page rankings, strengthen your online brand awareness, improve your customer satisfaction, all while not hurting your budget.
It is always good practice to assess your business for its development as it grows and to make changes accordingly. By implementing the techniques mentioned above today, you will see your sales rise to help your business flourish while keeping within your budget.
Author
Luke Carlino is a freelance writer & social media manager from Melbourne, Australia. He works with many clients across many sectors creation a range of content to suit varying needs. He is also a musician in the band We Move Like Giants, which you can check out here.
Get Started: Make A Lead Generation Quiz
Using One Of Our 300+ Templates