For anyone looking to grow their e-commerce sales, Instagram Live is one of the most effective features to make use of on the social media platform. As well as increasing your views, brand awareness and integrity, it also offers the possibility to create more organic engagement with your audience. Here are 7 effective ways to increase your e-commerce sales using Instagram Live.
Interactive Templates
300+ Editable Drag & Drop Templates
The Benefits of Instagram Live
With Instagram Live, you move to the top of the Stories on users' feeds, meaning that you have increased chances of being discovered.
One of the best aspects of Instagram Live is that its success is measured according to the level of engagement that your live stream video is able to draw.
Moreover, users will also get a notification when you go live, giving you a greater opportunity of actually being viewed.
Your broadcast stays live on your page for the following 24 hours, meaning that you still have the opportunity of having more views and engagements, as well as increased sales.
How to Create Great Instagram Lives
1. Be Honest And Natural
One of the main reasons why users will want to watch your Instagram Live video is the opportunity to connect and interact with you in a more natural and organic way.
In order to achieve this, you need to feel comfortable speaking in front of the camera.
Although it may seem strange to begin with, you need to try to make the experience as authentic and honest as possible. Make sure that you speak slowly and clearly and aim to speak directly into the camera.
It might help to imagine that you're having a conversation with a friend instead, to create a more personal experience for your audience.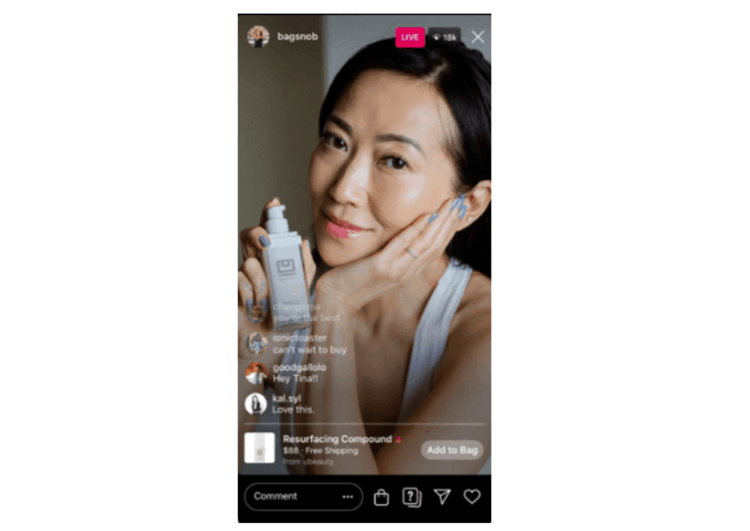 2. Avoid Using A Script
Similarly, if you're trying to create an honest and authentic connection with your viewers, you should avoid sounding mechanical, forced or scripted.
It's likely you'll make mistakes and your videos may not be perfect, but that can be part of the charm. Don't be afraid to improvise if need be.
"Identify the purpose of your video and what you hope to achieve with it. Take some time to practice beforehand and even have a run-through in front of the camera.
Make some notes and have these with you during the live broadcast to help you stay on point and avoid rambling.
Avoid writing a whole script, instead just jot down some key words or bullet points," says Elizabeth Milam, a marketing blogger at Boom Essays and Essay Roo.
3. Create Engaging Content
Your followers won't want to keep watching your videos if they are dull or overly sales orientated. You need to provide them with engaging content which is of value and interest to them.
Even if you're promoting a new product, think of ways in which you can reach out to your audience. Most of all, remember to tell your audience why your product is of value to them and why they should care about it.
Think about telling them a story, such as sharing behind-the-scenes preparations or designs for a new product launch. Tell them how your product idea came about or any obstacles you had to overcome.
You could also share tips or show your product in action. For example, make-up or hair tutorials are a captivating way to promote new products, whilst providing viewers with valuable content.
Your videos should be fun, light and enjoyable. This way, you'll be able to hook your viewers, encourage them to take action and keep them wanting to come back for future videos.
4. Promote Your Instagram Live Event
You want people to watch your broadcast, so make sure that they know about it beforehand. Promote your Instagram Live event ahead of time so that people know when you'll be going live.
You can even use the countdown sticker on Instagram Stories to promote the event and allow your followers to share the countdown, thereby increasing your reach.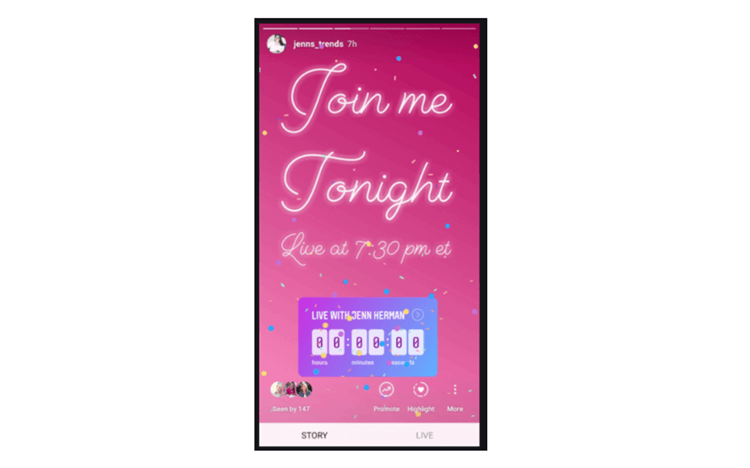 5. Keep Instagram Live Broadcasts To 5 Minutes Or Under
Audiences prefer short videos which they can access easily and quickly, particularly on social media. Make sure that you keep your Instagram Live broadcast to a maximum of five minutes.
Make sure that any key information is shared simply and quickly, early on in your video.
Releasing regular, short videos works more effectively than releasing longer ones infrequently. Instead, try to share your videos consistently on a regular day.
This will help your audience to expect your videos and encourage a loyal and consistent base of subscribers to begin to grow.
6. Interact With Your Audience
One of the most exciting aspects of Instagram Live is the fact that you can interact with your audience. This enables them to feel more connected to you and provides you with an opportunity to make your content more accessible and inviting.
"Audiences love the fact that they can connect and interact with you in real time," says Kevin Braden, a business writer at Lia Help and State of writing.
"On Instagram Live you can listen and respond to your audience, so use it as an opportunity to engage with them directly and gain valuable feedback and suggestions. You can also add comments or questions to your video broadcast, sparking interesting discussions, and even pin them to your screen so that everyone can see."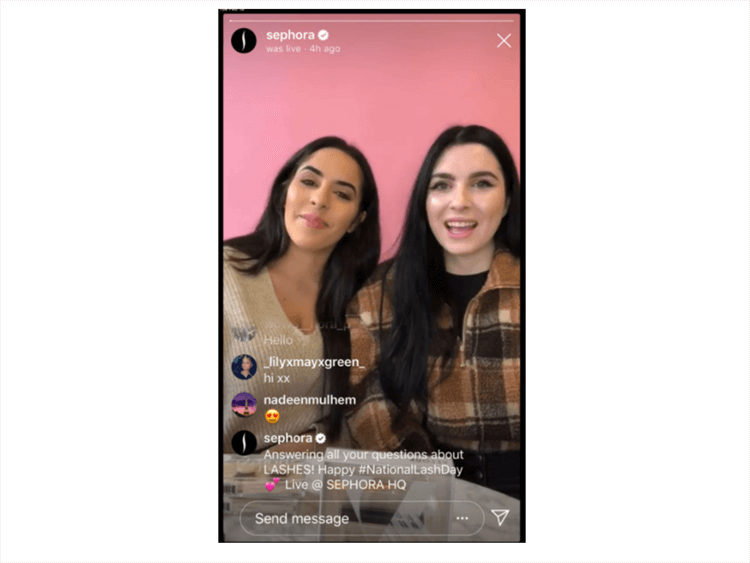 7. Have A Clear CTA
In the final part of your Instagram Live broadcast, you need to ensure that you provide your viewers with a clear call-to-action (CTA). Make sure that your CTA is focused, easy to follow and specific.
If you're promoting a specific product, then give them clear and direct links to the product page. Be direct and specific with what you want your audience to do.
Conclusion
Creating high-quality, engaging Instagram Live videos can be challenging. However, if you commit to creating regular, valuable content and engage with your audience, you will be able to build a loyal community, who are more likely to turn into loyal customers too.
Spend time connecting with your audience, be honest, clear and authentic, and you will find that your audience, and sales, will continue to grow.
Interactive Templates
300+ Editable Drag & Drop Templates
Author
Elizabeth Hines is an experienced digital marketer and content writer at UK Writings and Academized. She regularly writes articles about the latest tech and marketing trends, innovations and strategies. Elizabeth also writes for OX Essays, as well as a range of other online magazines and blogs and enjoys sharing tips with her readers on how to improve and develop their online marketing strategies. When not writing, Elizabeth enjoys attending conferences and hiking with friends.