Videos have become an important marketing strategy today. These content formats are estimated to occupy 82% of internet traffic in 2022, making them one of the most sought-after tactics to increase sales.
Get Started with Customer Onboarding Templates
200+ Mobile Friendly Templates
Marketers have used videos for many purposes. One of the common ways is to include them in the customer onboarding process. Videos will help prospects get onboard in your brand relatively easily since they offer a quick yet engaging explanation for them.
Customer onboarding is essential for a business to ensure its sustainability. When a brand has successfully captured potential customers' attention from the very beginning, chances to lose them would be less likely in the long run.
Therefore, if you run a business, you should ensure that the customer onboarding process is going well from the start. This will not only help you retain customers longer, but it also helps attract new prospects and turn them into loyal customers.
What Is A Customer Onboarding Process?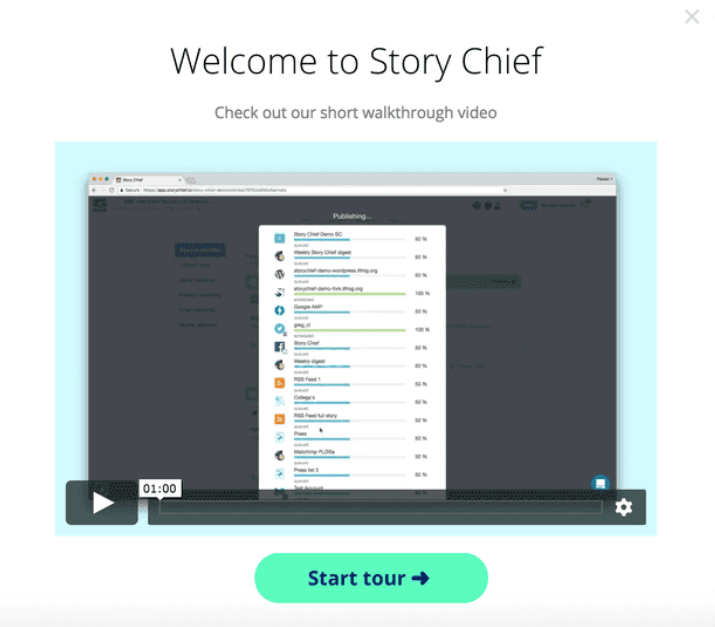 The customer onboarding process is the strategy to help prospects understand your business that eventually leads them into becoming customers. The process enables you to showcase your brand's values, products, and customer services.
Customer onboarding is essential to ensure the next step of your marketing campaign. When you've successfully got new leads on board, it's a matter of time that you can increase lifetime values and create loyal customers.
Research has shown that the customer onboarding process is crucial for every business because around 75% of customers are lost within a week after conversions. What's more, about 40-60% of free trial users are also estimated not coming back to a brand once the time is over. This suggests how critical a customer onboarding is to avoid loss.
Why Use Customer Onboarding Videos?
Many businesses have tried different strategies to keep their customers longer. Incorporating compelling customer onboarding videos, however, has shown a great change for marketers in attracting new leads.
Customers prefer to watch videos rather than reading a plain article that takes them longer to finish. With videos, however, they can learn the information quickly.
Around 69% of customers say that videos are much preferable, and urge companies to improve onboarding experience using these content formats. 97% of customers also think that videos are an effective tool to educate them of complicated information as videos make it simple.
This pretty much concludes that most users would love to watch videos rather than reading blog posts. Since videos offer a more engaging and quick explanation, new customers won't feel intimidated by the information (and possibly the hard language) when onboarding into your brand.
5 Ways Customer Onboarding Videos Boost Sales and Conversions
1. Videos Capture Attention
When it comes to the customer onboarding process, videos are more interesting than just written content. A video thumbnail catches attention on a page full of text without users even having to watch the whole thing.
Videos make information easier for customers and clients because they can listen while watching the visualization at their own pace instead of reading through everything quickly or skipping parts that don't interest them in order to get all relevant info fast.
This content format allows you to retain customers by giving them the information they need quickly and concisely. Incorporating audio narration or visuals in videos helps engage with their senses while also providing immediate value rather than asking users to read long pieces for more information.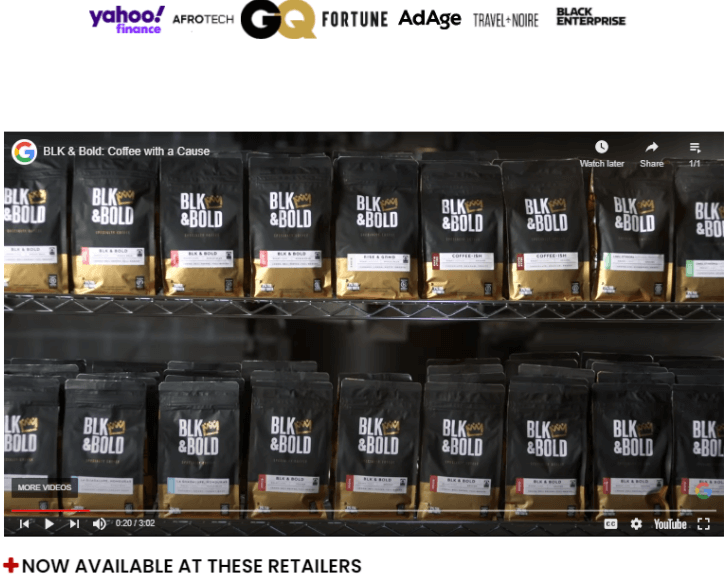 Adding videos on your business website, for example, can capture your visitors' attention rather quickly. Take a look at this coffee and tea beverages blog, BLK. The website is very attractive and allows new visitors to linger around the blog longer because the visual and video introduction is convincing enough to check out the product.
2. Videos Deliver Messages Clearly
As a first-time user, you want to learn about the product quickly. Therefore, video content helps them understand the information in a short time. Forcing users into reading long blocks of text will urge them to exit your website in seconds rather than read it through.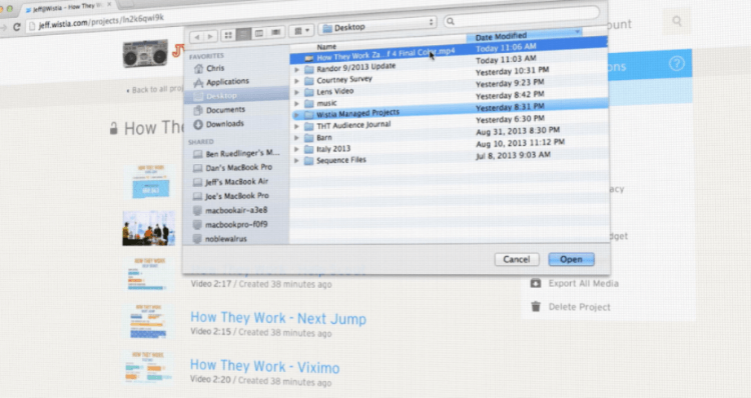 Wistia's customer onboarding videos allow people to understand how to use the platform easily. Instead of providing how-to text, videos help customers onboard with new products in a prompt manner.
This is why video content comes in handy for new users who need quick information on your products and services. People don't need to read paragraphs upon paragraphs of written words that they can't understand because this isn't an area where they are comfortable or familiar with the language being used.
3. Videos Help Engage with Customers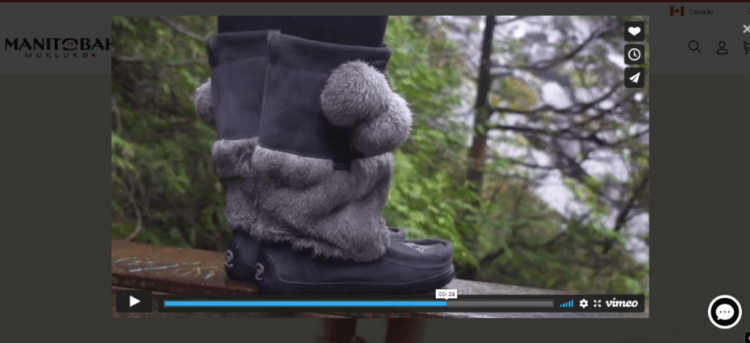 The customer onboarding process is vital for the business to educate leads and turn them into loyal customers. This educating part should catch attention, engage with users from the very beginning, and convince them that your company can deliver what they need.
One of the biggest challenges when establishing an onboarding process is getting new leads onboard by converting their interest in our product or service into paying subscribers who are committed, long-term clients. If you fail to make this transition possible, it will be more difficult for you to step up your promotion efforts successfully.
Video content makes it easy for users to engage with the customer onboarding process and drive them away from it. Using videos for the customer onboarding process helps you deliver your message while also capturing your audience's attention.
4. Videos Improve Customer Retention
A customer retention strategy is important for any business. If customers stick around, you don't have to worry about sales decreasing over time.
One way of doing this is through marketing strategies that convince your leads from the get-go. This all begins with how you can get them onboarded and decide whether they want to stick around or go elsewhere for competitors instead of sticking with you.
The process of getting a new customer is crucial. A great first impression sets the tone for future interactions and makes all the difference in continuing to build a good rapport with your potential customers. That's why using video content can be so impactful in this initial stage.
Here's an example of customer onboarding videos and how it concisely conveys your brand's messages.
5. Videos Help Improve SEO
Videos not only improve user experience by giving them something engaging, but they can also help your SEO rank. Videos help you improve the number of views and backlinks to a site, and they will enhance your ranking on Google's SERPs. So, when your SEO rank increases, you can expect higher traffic to your site, allowing you to get conversions.
The search for the keyword 'coffee' results in coffee videos on the first page of SERPs. Therefore, adding videos on your blog or simply uploading your content on a platform like YouTube will help you get discovered easily.
Including videos in the customer onboarding process allows prospects to see how real people use what you offer. This is especially important for B2B companies since their target market typically consists of business professionals trusting other businesses more than salespeople. However, the process is also critical for B2C companies as potential customers can learn about your business in an entertaining yet informative way.
Get Started with Customer Onboarding Templates
200+ Mobile Friendly Templates
Takeaway
Customer onboarding is an integral part of every marketing strategy as it helps retain existing customers while also increasing the chance of generating new customers. There are many ways you can improve your onboarding experience. One of them would be including videos instead of just texts.
Using customer onboarding videos helps you convey messages effectively. People will also appreciate it more when brands provide an easy and quick way to learn their products.
Author
Natasha Rei is the Digital Marketing Manager of Explainerd, an explainer video production agency. She ensures strategic goals are met by directing online and social media campaigns.