Although we've been hailing content as king for what seems like absolute eons, only recently have we begun to voice a rather obvious flaw in this reign.
Static content – the kind you just read, watch, or listen to and move on from – is one-sided. There is no way to tell if the reader, watcher, or listener has enjoyed it or not. You can't quite tell whether they agreed with your points wholeheartedly or found you to be absolutely full of fluff.
Enter interactive content: the kind that you can engage with and that turns consumption into a two-way street.
Where Interactive Content and E-commerce Meet
In order to attract and retain customers, e-commerce businesses are increasingly having to put their creative caps on. After all, with the sheer number of online stores ready to accommodate shoppers, standing out has never been more difficult.
Luckily, creating interactive e-commerce experiences is not only effective but also a fun way to connect with leads and customers.
By allowing the user to participate in a manner that involves more than "add to cart" and "check out," you are making the entire process more personalized (which just happens to be the latest digital marketing trend extravaganza, as we all know), more memorable, and more satisfactory.
Interactive content also tends to boast twice the engagement rate static content manages to muster, making it more profitable as well: the higher the engagement, the higher the likelihood of conversion.
Add to all of that the fact that interactive e-commerce content also allows you to gather feedback from real humans who interact with your brand, as opposed to basing your decisions on data gathered by third parties. Now, you might just start to feel a bit of panic rising in your throat. You're asking yourself if you have anything interactive on your website, aren't you?
Even if you don't, there is no need for alarm.
We're just about to take a look at seven examples of e-commerce stores using interactive content to their advantage, so you'll find plenty of inspiration to get the ball rolling. Let's dive right in.
7 Online Stores That Use Interactive Content Right
1. Create Quizzes
Odd how we all used to hate quizzes in school, but we seem to love them in every other setting.
There are the hilarious quizzes we used to do as teens in magazines (cheers, fellow boomers!). Then, think of the countless online "which Harry Potter/Lord of the Rings/Vampire Diaries character are you." And let's not forget the ones we played on Zoom during lockdown. All in all, quizzes are a fun way to pass some time.
As an e-commerce brand, you can create stunning quizzes that can be either informative, plain goofy, or a mixture of both.
Your goal should mainly revolve around offering your takers a valuable takeaway. If you have some highly creative minds on your team, the takeaway can be a fit of laughter. But for your quiz to align with your business goals, it should provide information and help a visitor solve a dilemma.
For instance, Gili has a great quiz that helps you choose a stand-up paddle-board based on criteria such as experience level, weight, and activity preferences. It obviously ties in with the brand and its product. But on top of that, it also ticks another important box for content marketing: it adds value.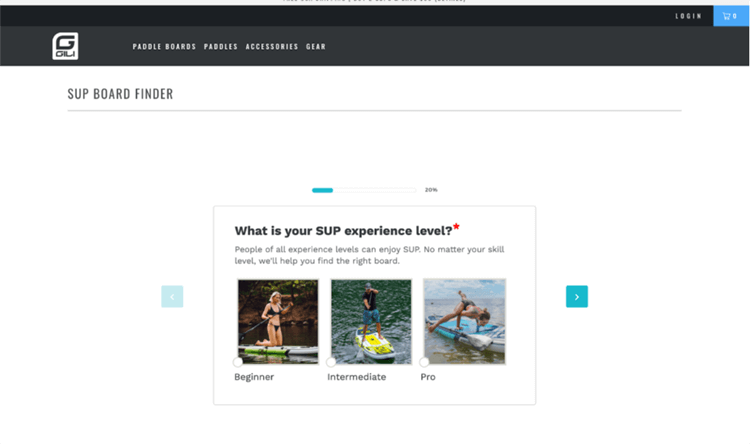 2. Run Personality Tests
Just like quizzes, personality tests are a great way to engage your e-commerce audience and provide a bit of (informative) fun. The same principles apply: you can offer recommendations based on the answers test-takers provide and ensure the test ties in with your products.
Beardbrand does this well with their Beardsman type quiz. The catch, of course, is that they require you to provide an email address to get the results.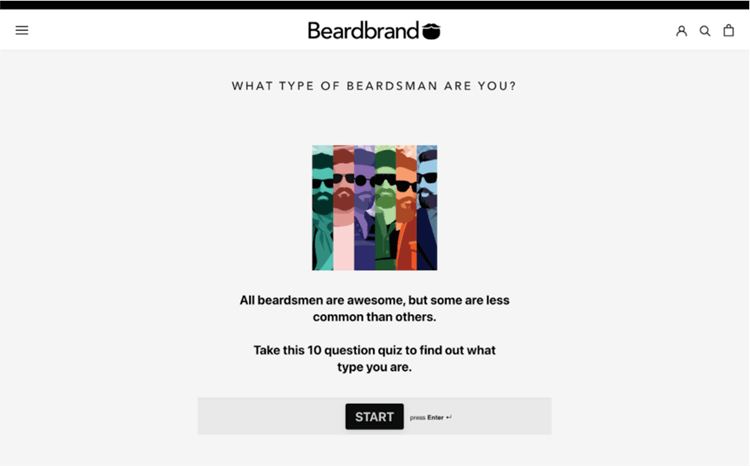 While this is a bit of a double-edged sword, chances are most visitors will cough up and provide some contact details. There will certainly also be those who refuse to play along and are a bit affronted by your demand, but that is just a risk you have to take.
Lead generation is just one of the benefits of using personality tests on your website. You are also able to gather a lot of rather personal information about your target audience, which can then help you better your existing products, or craft and source new ones you know will appeal to them.
3. Offer Calculation Options
Calculators are another great interactive tool that can skyrocket user engagement. They are certainly not applicable for every brand, but if you can incorporate one, by all means, do it. Try to think outside the box: what is it that users can calculate that is relevant for your brand?
Get Started with Interactive Calculators
With One Of Our 200+ Custom Calculator Templates
If you sell paint, you can provide a calculator for figuring out exactly how many cans of a certain paint someone will need to repaint a room. If you sell rucksacks, perhaps you can help someone figure out which size they need to accommodate their walking holiday.
In the world of fitness, calculating BMI, calories, macros, and other relevant variables is a necessity. A calculator like this Transparent Labs one is a great value-adding lead-generating tool that can actually help someone change their life for the better.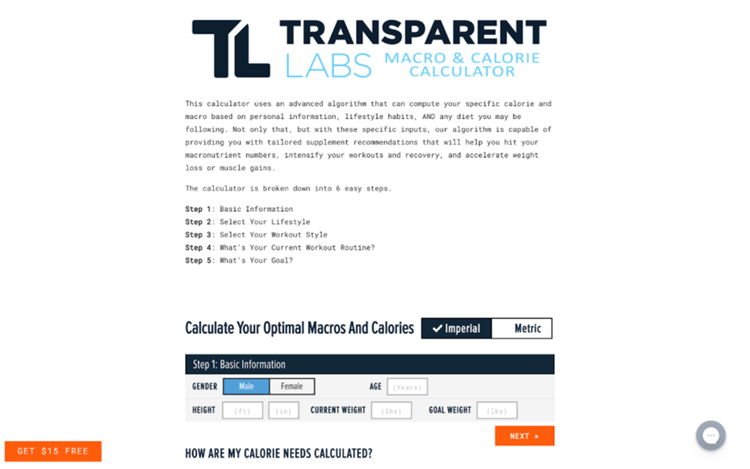 The key feature of the calculator you add to your site is that it actually needs to be accurate. If you keep missing the mark and providing information that is either not strictly true or is incomplete, you'll be doing more harm than good. And you'll be annoying your audience.
4. Ask for Feedback with a Survey
All of the different types of interactive content we've listed are a great way to acquire feedback from your audience. All of them can certainly help you learn more about consumer habits and interests. However, there is a more straightforward way to approach the issue.
By asking visitors, users, or leads for feedback directly, you can focus on a specific area of your business. For example, you might want to ask questions about your customer service team or your product catalog. Or, you might try to test the waters for an innovative solution. In any case, a survey can be of extreme use.
First and foremost, you'll need to ensure that the information you gather is actionable for you as a brand. So, start by segmenting your audience within the survey itself. Ask them the simplest of questions, whether they have made a purchase from you before or not.
Once you have that, direct survey-takers down different survey funnels, so to speak. Ask different questions of repeat customers and one-time shoppers. Prepare another set of questions for those who haven't shopped from you yet.
Just as importantly: thank everyone for taking part, and send them the results. Let them know how you will use all of that data you've gathered. This will make participants feel valued and heard, which is another clear bonus.
5. Create Stunning Lead Pages
Lead pages are the cornerstone of every well-thought-out content marketing strategy. They tell the story of your brand and provide vital information. Furthermore, they help you engage your customers and generate leads. In short, they are a vital part of your website.
In order for them to work, they need to look good, feel good, and be written in a way that speaks to your audience.
When composing a lead page, always try to focus on the lead rather than you and your needs. Yes, you want to capture their contact information, and yes, you want to push them further down your funnel. But you want to do so by inspiring them – not manipulating them, to use a Simon Sinek metaphor.
Focus on the benefits and the ways a lead's life will be different (i.e., better) should they choose to do business with you. Be clear and provide precise information, but streamline it and condense it as much as possible.
Blue Apron has a page that provides all the vitals about their products and uses all the right power words. It's also simple, straightforward, and easy to take in. You can emulate it in no time with our own lead page builder.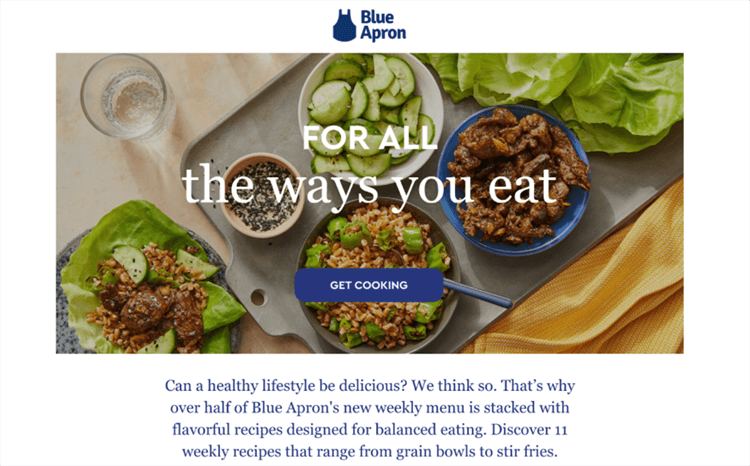 6. Try a Simple Online Form
Forms are another conversion bread and butter – and the ultimate lead generation tool. They help you easily gather data you can later use for all kinds of marketing and development purposes. Luckily, they are simple to make and easy to implement.
You can add them to your lead pages or use them on your homepage. You can have some sort of form on your product pages as well, or you can create an entirely separate page that is essentially a lead generating or interest exhibiting form.
This is what Bay Alarm Medical has done: to get a free quote from the company, you need to fill out their form and provide some basic information about the kind of protection you are interested in.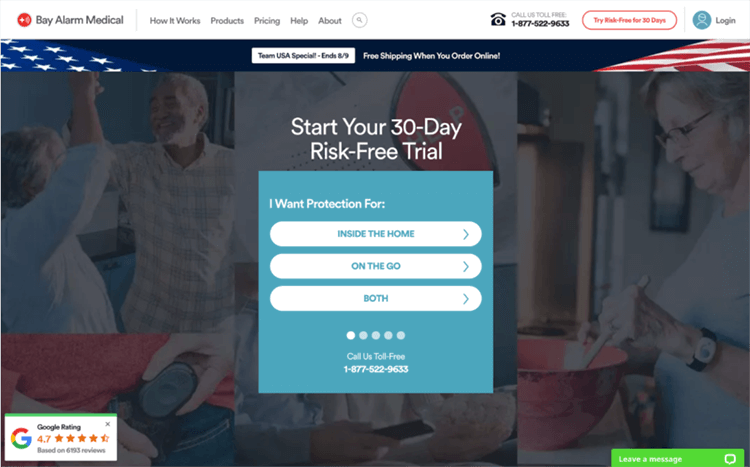 For a form to work well, you need to keep it as simple as possible. Don't ask superfluous questions, ensure the transitions are smooth and that the form loads as quickly as possible, and be very clear about the way you will use the information you have been entrusted with.
7. Make a Link List
Stepping away from your website for a minute, let's touch upon the importance of interactive content on social media. After all, your social channels are often one of the first touchpoints a future customer has with your brand. You definitely need to make sure their experience with you on socials is interactive as well.
Grab a template and add your links
Add your logo, fonts, colours and background
Haha, very fun, we hear you saying. The entire purpose of social media is interactivity. Yes, yes, you are right, spot on.
But we're not talking about your feed or your stories. We are talking about your link list. Link lists are essentially a hub for all of your links on TikTok or Instagram. They are the one place to look to find something specific from your brand. This is where you link back to your website from your social media profile.
Link lists are important because they make it easier to sort through your content and find the right information. Plus, they are also great for tracking clicks and engagement. For instance, Real Thread has one on their Instagram page that leads you to their main pages. It's written in a very on-brand, funny, outside-the-box kind of way they are known for.

Focus on keeping your link list useful. Link out to the pages that are most likely to be of interest, and organize it so that your most valuable and important pages are right up top.
Final Thoughts
Creating interactive content doesn't have to be a headache. In fact, it can be a lot of fun and get all of your creative energies flowing. But that's as long as you approach the subject as a creative challenge rather than another marketing task you have to tick off your list.
Consider the type of content your audience would be most likely to engage with that also aligns with your brand, messages, and style. After all, there is no point in creating a quiz if your target audience is elderly and will not appreciate the pastime.
Interactive Templates
200+ Editable Drag & Drop Templates