Did you know involve.me integrations can be triggered manually? This way involve.me's 26 native integrations can send data to your other tools from partial submissions, not checked opt-ins and even old data collected before setting up the integration. What does all that mean? Keep scrolling.
involve.me has always been able to send complete data submissions into your 3rd party tools, that's not new. What is new, however, is sending data from partial submissions - this is all data left behind from people who click off halfway through your quiz (or form, survey… you get the jist).
What are partial submissions? Here's everything you need to know.
Why Manual Triggers Are Needed?
This update will give you more clarity when checking if your integration is working properly - in the integration status, you'll see why your data hasn't been sent.
Adding an option to trigger integrations manually also saves you time you'd spend exporting data from involve.me and importing it into your other tools. All you need to do now if you want to send partial submission data anywhere is a single click.
This integration update also includes data from unticked opt-in boxes. We're leaving it up to you to decide whether you're going to use this data or not.
How Do Triggers Work?
Like everything else in involve.me, setting this up only takes a few clicks. Supposing your 3rd party tool is already connected to your project (if it isn't, here's how you can connect it), all you need to do is go to Project Analytics.
1. Find the project you want this to work for. You can see all your projects here.
2. In the drop down menu on your project card, click "Analytics"
3. In the "Responses" tab, click on any submission
4. Scroll down to "Integrations". The little icon there tells you what integration you've connected.
5. Here you can see if the integration has worked and trigger it manually if it hasn't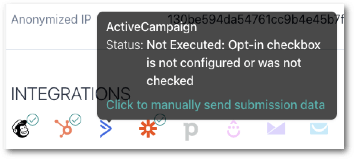 6. If your integration hasn't been executed, simply click it to trigger it manually
7. To avoid doing this individually for each submission, you can do this for all submissions as once by ticking a box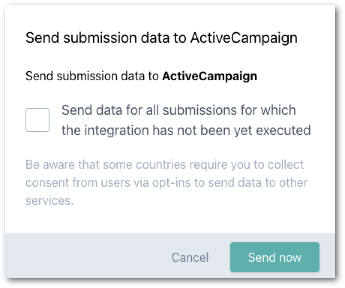 Excited to try this, but there's no native integration relevant to you? Let us know what native integrations you're missing here.
Interactive Templates
300+ Editable Drag & Drop Templates