Shopify is the go-to platform for e-commerce businesses. However, Shopify isn't the only game in town. There are alternatives to Shopify that are worth considering for your business.
Shopify is the best option when you want total control over your shop and its design or when you need integrated e-commerce features that would be too expensive to install from scratch on another platform.
Shopify is a great platform. However, it's not always the best tool for every job. If you're starting an online shop and you want more flexibility or fewer limitations (or Shopify doesn't support your desired payment gateway), there are alternatives to Shopify that you should consider as well.
Quickest Ways To Start Selling Online in 2022
Sometimes you just gotta get your product online and start getting sales as fast as possible. Both options on this list will take you from no website to sales in a few minutes.
Will they create a whole website? No. That's kind of the point. Selling without a website started as a trend among influencers who just wanted a shoppable link their Instagram bio. But it's gone way beyond that. These are the tools that help you create sales before you even have a website:
Involve.me
involve.me is a powerful drag & drop builder that helps you get you product online in just a few clicks. You can select from an extensive template gallery to collect one-time or recurring payments.
All involve.me templates are easy to edit and mobile-friendly. Selling online with involve.me can be as easy as slapping your logo on a template and hitting "Publish". Or as complex as setting up a system where each shopper gets custom pricing based on what product options they select.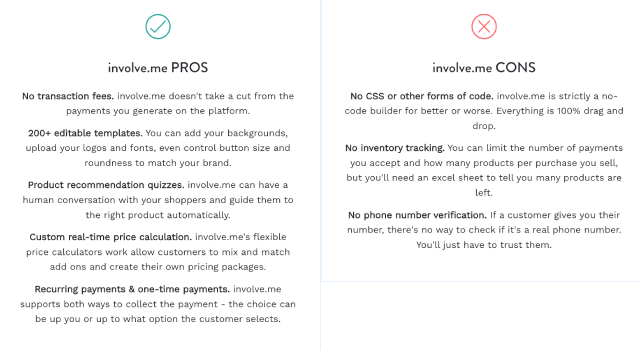 To sum it up: involve.me is perfect for getting your product ready to sell online in a few minutes. It has an impressive template gallery that's easy to customize. Features like built-in emails and integrations help you automate your work.
Gumroad
Gumroad is the go-to platform for digital creators to sell and deliver digital goods. All products listed on Gumroad are available on their discovery page where it's easy for customers to find your brand.
While Gumroad excels at getting you free visibility, it's not very generous with customization options. That is if you don't know how to code. Which a large part of their community aimed at digital creators does.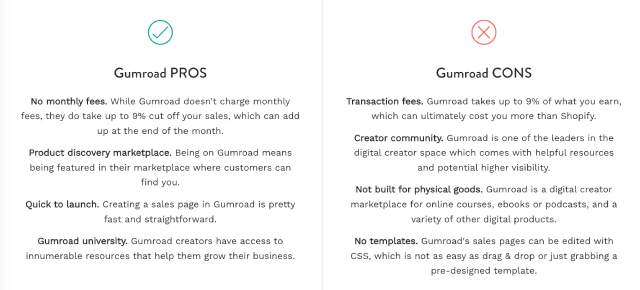 To sum up: Gumroad is the perfect tool for people selling digital goods. It can boost your product's visibility and bring traffic to your sales page. It helps you build a community around your product early on, which is invaluable when you're just getting started and don't have the budget.
Best Shopify Alternatives For Large Online Stores 2022
Let's start by comparing the popular e-commerce giants - Shopify alternatives that were designed specifically for large online stores. These tools are powerful but don't have high monthly fees and very long-term contracts. They also often have integrations with payment gateways you already use.
BigCommerce Vs Shopify
What about BigCommerce? Well, it offers many of the same features as Shopify (such as order fulfilment & drop-shipping capabilities apps like Oberlo) and additional payment gateways.
It has the best SEO capabilities on this list, which means using BigCommerce gives your products the highest chance of showing up in Google search results for free.
BigCommerce is also the best choice when you want a wider range of products, add-ons and integrations without spending too much on them (and having them forever).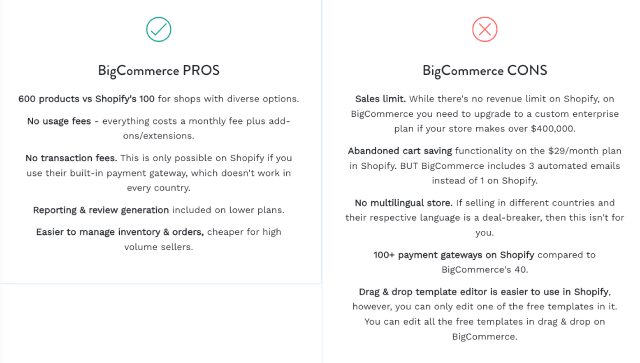 To sum up: BigCommerce is great for larger online shops that need more flexibility at lower costs.
Magento Vs Shopify
Magento is the #1 open source eCommerce solution available today, letting you build your own online store using free software. Similarly to WordPress, Magento is free to install.
What you do have to pay for is hosting, which starts at around $10 a month. As an open-source platform, it offers customization options only limited by your coding skills.
Shopify vs Magento is not really fair to compare, because Magento was designed for large shop owners from the get-go. Magento's main benefit is that it can easily scale with your shop - going from a shop with 1 product to a shop that sells 100s.
This scaling doesn't come at the cost of traffic you receive from Google either, meaning highly relevant visitors will still be able to find your shop even if you have 1000s of products instead of merely 20 or so.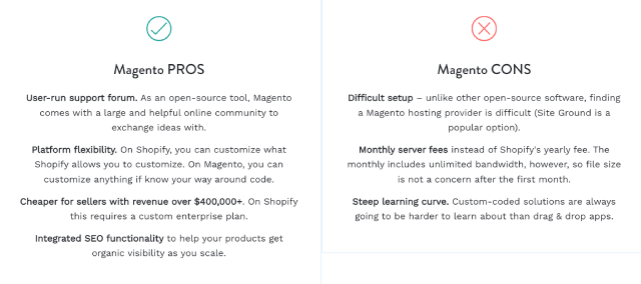 WooCommerce Vs Shopify
WooCommerce is actually the largest e-commerce platform on a global scale. 21% of online stores are powered by WooCommerce, closely followed by Shopify at 18%.
WooCommerce is the best Shopify alternative if you want to build your shop on top of an existing WordPress site. This platform has plugins that let you sell products with just a few clicks - no coding necessary.
WooCommerce is also good for users who already have Amazon, eBay or PayPal accounts and don't want to create yet another one on their shop's backend (on BigCommerce).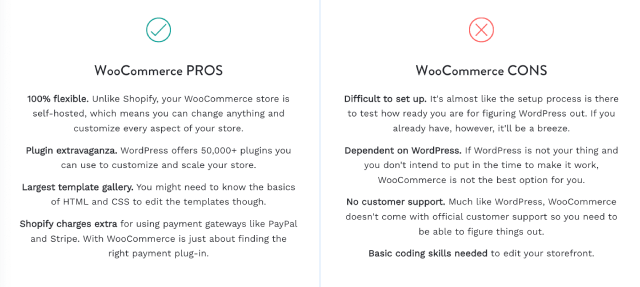 To sum it up: WooCommerce is the best option for WordPress geeks. It's super customizable, it comes with pre-built extensions for creating your own custom solutions and it's one of the cheapest options. Has over 4000+ free design templates available on Theme Forest.
Volusion Vs Shopify
Volusion is a fast-loading eCommerce solution that can help you start selling online right away. If you want to add shopping cart features quickly and easily, this could be the best Shopify alternative for your business.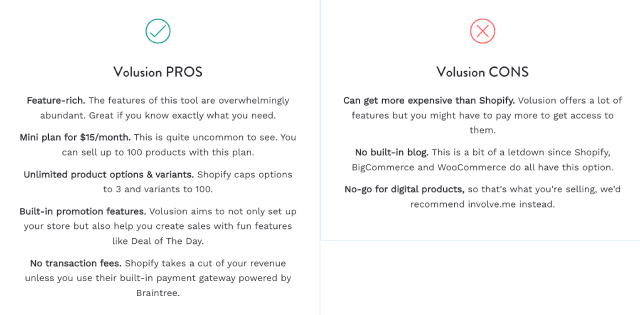 To sum it up: Volusion is an excellent shop building platform that's easy to get started with. It's not possible to sell digital products there, though, and it lacks an integrated blog
PinnacleCart Vs Shopify
PinnacleCart is a lesser-known shop building solution that's versatile enough to fit the needs of many types of online stores. If you don't mind sacrificing Shopify's robust feature stack for waving transaction fees, PinnacleCart is an option to consider.

To sum it up: PinnacleCart is a shop-building platform for those who already know what they need and won't mind figuring out how to work it all. It offers a free migration of your account from another platform and doesn't charge transaction fees.
Best Shopify Alternatives For Small To Medium Sized Business 2022
The tools on this list are primarily dragging & drop website builders with a great built-in online store. With little coding skill, you can set up shop with these solutions.
How they work: You choose one of their pre-built templates or upload your own design and adjust the content to fit your needs with visual editors. Most of them have an app store where you can find third-party apps that provide further options for your shop building.
All of the tools on this list have a free plan that comes with limitations but is enough to get started with experimentation. The more affordable plans are paid monthly which makes it easier to give them a try without having to commit too much money upfront.
Wix Vs Shopify
Wix is best suited for people who want to create a shop and sell things but don't know much about HTML or CSS. It's very easy to use and has an intuitive drag-and-drop editor which lets you create your shop without touching any code whatsoever.
The tradeoff? You'll end up with a template that looks like everyone else's shop. That means no "wow" factor and no real identity of your own online shop beyond the products you're selling.
On top of that, it lacks many important features such as customer reviews and order tracking, even though they do plan on adding those soon according to their roadmap.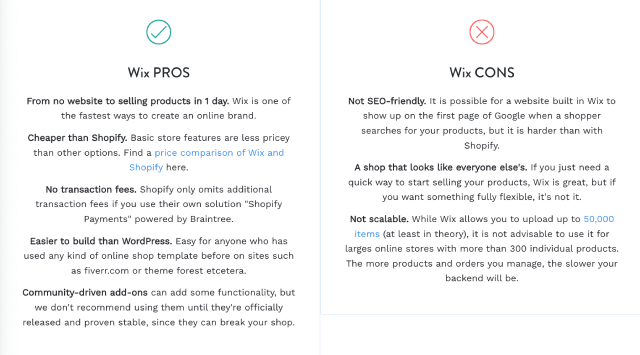 In short: If you have zero technical knowledge but still want a slick shop, Wix is a good option. Just don't expect it to be a shop that will help you stand out from the crowd.
Weebly Vs Shopify
Weebly is very similar to Shopify in its ability to create a shop that looks professional and ready to sell. It has an easy drag-and-drop editor that lets you build your shop without touching any code whatsoever.
Weebly's plans start at $10/month, but it costs extra money to use all of their features so you might not get the same value out of Weebly compared to Shopify.
You can't try out Weebly's shop templates before buying. You'll have to pay for one of their paid templates to see how it works while Shopify offers 14 totally free shop templates that give you a feel right away.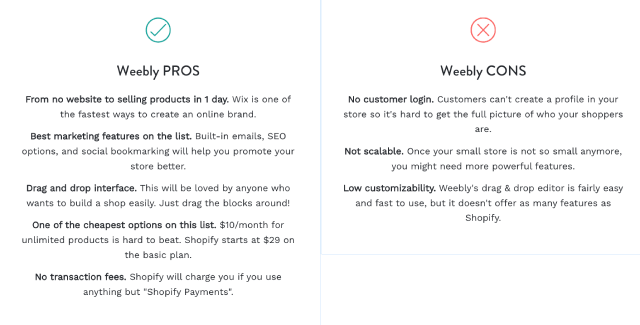 To sum up: What Weebly lacks in flexibility, it makes up for with simplicity. Weebly's eCommerce tool comes with all the basic features you need: online store, checkout process, shop management and inventory tracking. All this for a quite cheap rate compared to other shop-builders.
Squarespace Vs Shopify
Squarespace is a shop-builder/website builder hybrid. You get the benefits of both with Squarespace, you can use it to build your shop OR just your website. Compared to Shopify, Squarespace offers a lot more website-building functions.
Squarespace's shop templates are also very modern and customizable. If you buy a premium plan, your shop will have a customized domain name and will be optimized for search engines to help shoppers find you faster.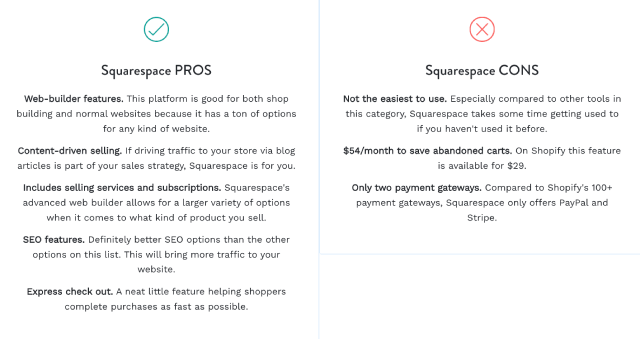 To sum up: Squarespace offers great eCommerce tools along with lots of website-building features - all under one roof! This makes it perfect for anyone looking to build both their shop and their website. They're also affordable, starting at $23 per month for the shop-only plan.
If you're looking for the best platform to turn your handicrafts into a profitable business, here are the options for you.
Etsy Vs Shopify
Lets take a look at Etsy, the most famous marketplace for handmade goods and crafts. Etsy is a shop-builder and a marketplace at the same time. This means that you can either use Etsy to build your shop and list your products directly on the site OR you can open up shop elsewhere and link it to Etsy.
Etsy has more than 53 million unique monthly shoppers, so if you're looking for buyers, this is definitely where they will be! It's also one of the biggest search engines for handmade goods. If someone wants something which doesn't exist already, they'll probably find what they want on Etsy.
Etsy supports all kinds of shop and product types, and doesn't charge extra for selling in different categories. You can even sell digital goods in your shop!
Listings stay on Etsy for 4 months. After that time they automatically expire, so if you want to keep a shop listing up longer than 4 months, you'll have to renew it yourself with an additional fee. Etsy charges $0.20 per item listed in the marketplace and $2 for shop listings (which is way more than Shopify's $9).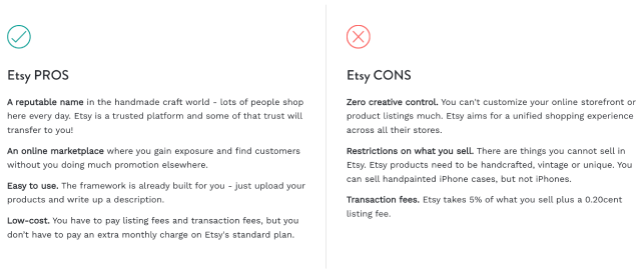 The Bottom Line
Shopify has a unique advantage over Shopify alternatives: an active and supportive Shopify community with tons of resources and guides available for new and veteran entrepreneurs alike. The trick with Shopify is figuring out how to get past these limitations so you can grow your shop.
Check out each platform carefully before making your choice.