If you are looking to grow your lead generation and sales, then crafting a quiz funnel is worth considering. A quiz marketing funnel can enhance your marketing efforts by encouraging more audience engagement.
Get Started: Make A Lead Generation Quiz
Using One Of Our 200+ Templates
In this post, you'll learn how you can use quiz funnels to attract and retain your audience. Let's start with the basics before exploring ways and ideas to design your quiz funnels.
What is a Quiz Funnel?
A quiz funnel is essentially a type of marketing funnel that segregates your audience based on their interests, needs, and challenges. People who take your quiz can then be categorized according to such key criteria.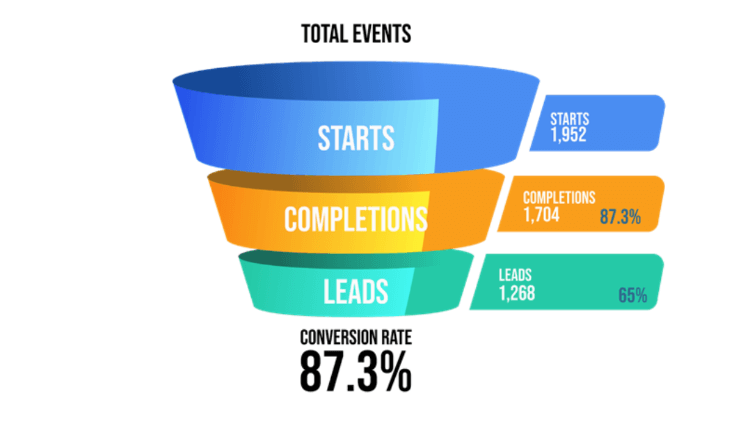 Your prospective customers become your respondents who reach a certain conversion point after answering a set of questions. Put simply, quiz marketing funnels can help you better understand the market and connect with your visitors.
Benefits of Using a Quiz Funnel
A quiz funnel is a great way to generate relevant traffic that can lead to more sales and email sign-ups. It makes it easier for prospective customers to connect with your brand while allowing you to gain customer insights. Here are some of the advantages of using a quiz funnel.
Generates Interest in Your Product & Boost Sales
Done right, your quiz funnel would raise some curiosity around the business offerings. For this, you must include relevant keywords in your quiz that connect your products with customers. Work on keyword mapping for your sales funnel stages and create quiz funnels around your product offerings to get insights on what customers want.
Increases Engagement
Quizzes give your prospects a simple and fun way to engage with your brand. Promoting your quiz on different channels like emails and social media can help boost engagement across all fronts.
Helps You Segment Your Audience
The data and insights from your quiz funnel help you segment your audience as per their needs and wants. For example, your quiz can include questions about their preferred mode of customer service, their desired features, etc.
Improves Lead Generation
You can use quiz funnels to engage your audience and build an email list. For instance, many bloggers (and eCommerce brands) create fun quiz funnels to encourage readers to interact with their content and share the results of the quiz via email, thus incentivizing visitors to sign-up to their email list and turn them into leads.
Creating a Quiz Funnel
You need to build a step-by-step plan to design an efficient quiz funnel.
Start by asking provocative questions to pique the audience's interest, as coming up with the right questions is one of the most difficult aspects of the process. The questions you ask your audience must be relevant, engaging, and provide you with data points that you can use to segment them correctly.
Here are the three frequent question types that appear on effective quiz funnels.
#1. Budget Questions
Spending powers of your prospective customers help you identify the budget gaps and price your products correctly. You can ask budget questions that help determine the audience's affordability.
Considering this, it seems sensible to divide an audience into different income brackets. For instance, if you are running an online shoe store, ask how much they spent on their last pair of shoes? Ask for a price range if not an absolute number, such as:
$10-$20

$20-$35

$35-$50

$50+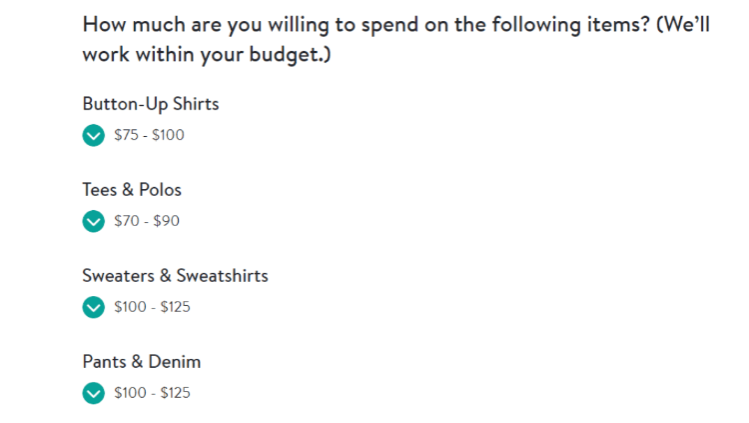 This approach may be less definitive, but still, you can use this data to categorize your audience into distinct groups based on their anticipated spending.
#2. Problem Questions
There must be at least one goal question in your test funnel that helps segment your audience based on their intent or goal. You can learn more about your respondent's issues by asking problem questions. Such an approach supports the marketer in relaying the issues to the product and development team that drives innovation.
For instance, here is a question that you can ask.
What is the critical bottleneck that your business is experiencing while growing the ecommerce business?
Post this, and the respondent can choose any of the below-mentioned answers: I do not attract enough traffic to my website. There are many growth tools, but they are quite expensive for my business. Enough people are visiting the site, but conversion is low.
Record the responses you get and then split them into distinct categories. Use the respondent's personal information to tailor the product or service offer.
#3. Goal Questions
You can unearth a lot of information once you understand your customer goals. Therefore, it is necessary to comprehend your goals and customers to offer a product that benefits both. Your product or service is merely a means to that end that needs you to improve by asking goal questions. This includes:
Is it your goal to build a larger email list? Are you interested in starting your own business? Do you want to earn a passive income?
It is possible to identify a customer's product or service needs by asking them goal-oriented questions as you'd pair them with problem-solving questions.
Here's another example from Stitch Fix.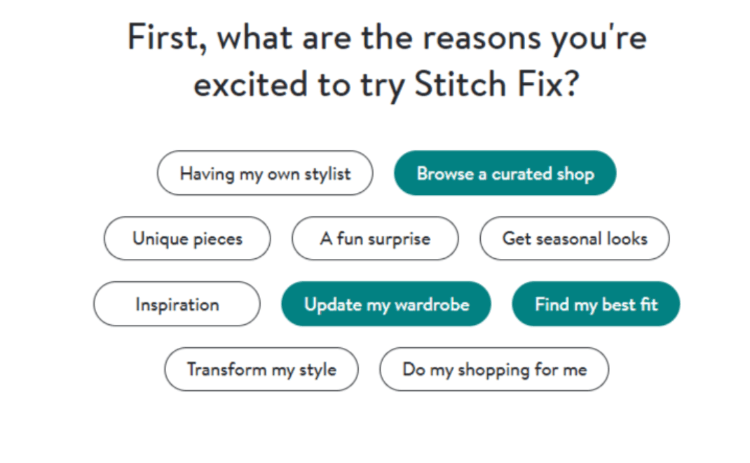 Effective Quiz Funnel Ideas
Getting the desired number of leads isn't as simple as you think. You need to work on some of the fundamentals that help start your quiz. You may find yourself exhausted when working on the quiz, but keep in mind the saying: 'the more you sweat in practice, the less you bleed during combat.
Here are some of the effective quiz funnel ideas that you can adopt to drive better results.
Ask Questions That Resonate with Their Needs and Wants
You need to ask questions to understand the needs of your prospective customers. These questions will help gauge audience expectations and how well you can offer your products. Ask questions to identify their needs, their reason for making the purchase, and what pushes them to buy a particular product.
For instance, if the customer wants trekking shoes, ask if a firm rubber grip with high-ankle leather can solve their purpose.
A pro-tip here is to use conditional logic to offer different questions. Adopt a conversational tone and inquire about their requirements. Try simulating the sensation of asking someone a question face-to-face.
For example, those who are curious if the Keto diet may help them lose weight would find this quiz by Keto Cycle quite appealing.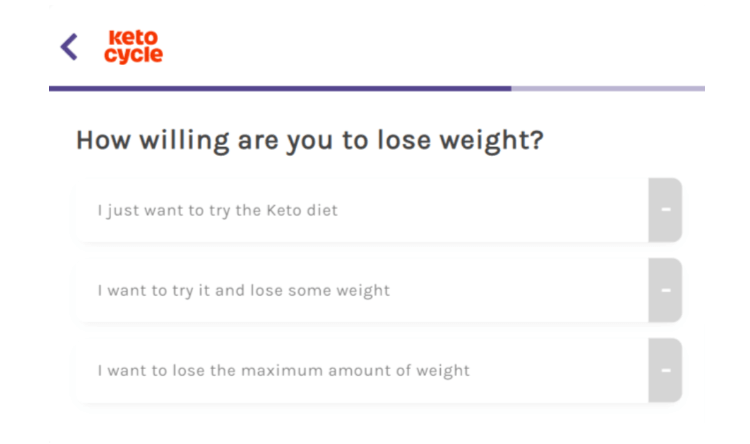 As a safety net, including the "other" option in the segmentation question to know if a customer is sure of the need, the other options may need to be re-examined if this option is selected by more than 20% of respondents. Once you are done with the segmentation question, send people to a customized product sales page that fits their needs.
Ask Segment-able Questions
Maximize the effectiveness of your email marketing strategy by using the right email segmentation techniques. Without such an approach, your quiz funnels are bound to fail. Among other things, you'll get a sense of their demography, affordability, buying goals, interest, and pain areas. This approach works with everyone, including your new subscribers.
The questions in your quiz funnel should target all active subscribers who need to complete the survey sent out in a newsletter. Once you've gathered the data, segment your email list. Then, use applicable templates and write content specifically for your target audiences. It is better to ask questions to categorize your audience into distinct groups.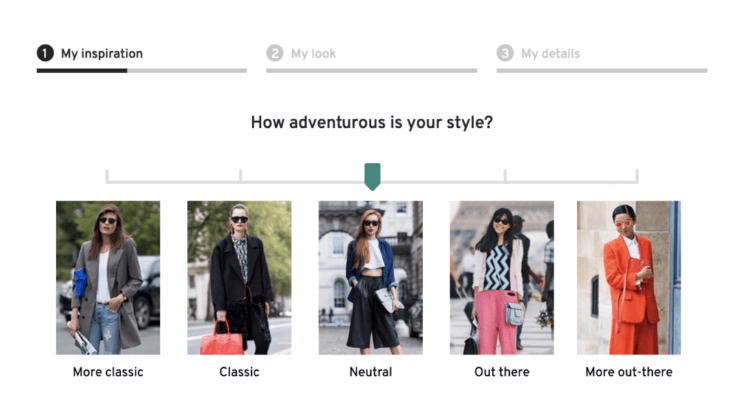 If you want to know how much time you're willing to spend hunting for something, ask a series of open-ended questions. Depending on your target audience's demographics and cognitive processes, the answer to this question will help you segment your audience even further.
Provide Descriptive Answers Rather Than One-liners
It is always good to frame out seven to ten questions for your quiz funnel that keeps your participants interested while also making sense of the findings.
Make sure the findings you send are actually useful or partially tailored to the person's responses. Another alternative is to skip the survey and go straight to your product offer, as Stitch Fix does.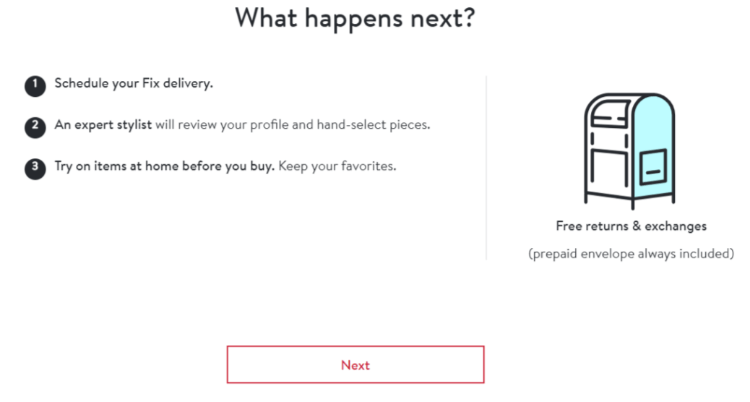 Add a blend of qualitative questions with open-ended answers to quantitative questions offering multiple choices. For a personality questionnaire, ensure including answers for correlations and your scoring range when creating your questions.
Conclusion
A successful quiz funnel helps your business in multiple ways. For this, you will need to create relevant questions for your quizzes to make them more effective. Aim to concretely understand the quiz goal, customers' budget, their background and identify customer problems to better position your sales based on their answers.
Remember, there is no one-size-fits-all formula for putting together your questions. Make sure there is a logical flow to your questions and do not confuse respondents with irrelevant questions.
Also, you need to keep a close watch on your quiz results and not make it a "set and forget" exercise. Regularly analyzing customer answers will help refine questions based on what you learn from the responses and identify any hints of where you may improve your offerings.
If you want to keep increasing your lead generation rate, you can check out a detailed article we wrote focusing on inbound lead generation. The article includes 6 ideas on how to boost inbound lead generation .
Get Started: Make A Lead Generation Quiz
Using One Of Our 200+ Templates
Author
Ashley Kemper is an Assistant Editor at Commerce Mentors. She has 5+ years of experience in writing about Marketing, SEO, and Technology. She also helps with the end-to-end execution of content strategy. When not writing, Ashley spends most of her time reading and cooking. As a sports enthusiast, she spends her weekends running and watching badminton tournaments.