When it comes to running a business, we all know that it requires a lot of hard work and dedication. Brands and companies are globally using quizzes and surveys on their website to engage customers. The information gathered from those surveys and quizzes helps businesses to understand their customers and the kind of products and services they want to buy.
As we approach the holiday season, brands and companies are using quizzes and surveys to find out what their customers want and how they can improve their business.
It's important to consider how your customers might respond to seasonal changes and to adapt your marketing strategy to the changes taking place. Adapting your strategy to the holiday shopping season will help you to grow your eCommerce business.
Benefits of Using Quizzes and Surveys
Online businesses have come a long way from just being a place to buy things. eCommerce brands have become a place where their customers can learn more about their products and the brand as a whole.
Now, more than ever, customers want to feel more informed about a brand they plan on spending money on and nearly 64% of customers want brands to connect with them. Surveys and quizzes help customers learn what they need to know to make the purchasing process easier on them.
Consumers enjoy being entertained and feeling accomplished, such as when they complete a level in a video game. This is why quizzes are such a great method to get your audience to like your material and possibly engage with you again.
Quizzes should be called what they are: lead generation forms with a twist. Information is exchanged for anything of worth in any form. While an engaging guide, eBook, or white-paper may be able to persuade someone to fill out a simple form, a quiz promises immediate and individualised answers to their burning issues.
While you can use questions in a quiz to learn more about your audience, you can also use them to convey a message that might otherwise be overlooked if presented as a blog. You may make it about yourself, your product, or your business and leave a lasting impact, even if it feels personal to the quiz-taker.
Quizzes provide you with user-generated information as to how your target audience thinks and responds to matters pertaining to your product or service. You can — and should — utilise them as a type of market research in and of itself.
You can frequently turn those insights into user-generated content. A healthy mix of user-generated and official brand created content elevates the engagement by 28%. Re-engage test-takers with aggregate results so they can see how they compare.
Here are six tips for eCommerce brands to use quizzes and surveys to gain insight into customer behaviour before the holidays.
6 Survey and Quiz Tips for E-commerce Brands
1. Help in Sifting Through a Plethora of Choices
When the holidays are around the corner and you offer a vast variety of products, some of your website visitors are likely to suffer from the over choice effect. Shoppers arrive at your website with the intention of purchasing a product but they are overwhelmed by a large number of possible outcomes and risks associated with making the wrong choice; they choose to depart your website empty-handed rather than take the risk.
If you wish to reduce the negative effects of the choice overload problem, a quiz or a survey serves as the perfect tool to assist your clients in selecting the proper product quickly. Mavi solves the everlasting confusion that everyone faces while finding a gift for their loved ones with a quick gift finder quiz.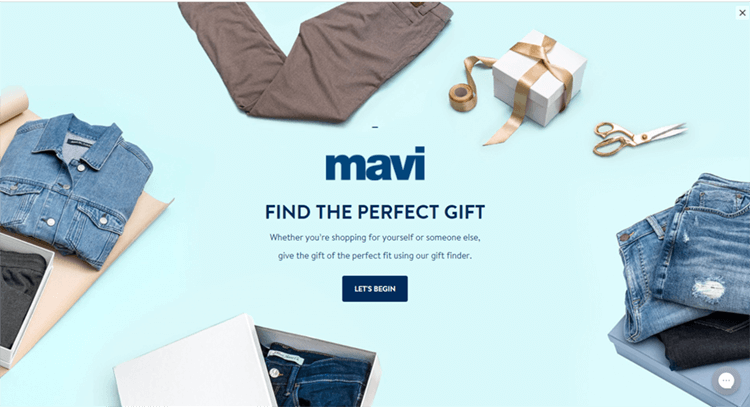 2. Provide Tailored Recommendations
Quizzes and surveys need not always be a gamified interaction. You can integrate all kinds of recommendations, inspiration, or personality surveys into your eCommerce website to make your customer's life easier.
For starters, interactive content receives higher engagement than static information. Second, people trust quiz results more than AI-based product recommendations, scientific research reveals that people distrust recommender systems.
So a product recommendation or an inspiration quiz is the perfect innovative way to incorporate customization into your marketing approach. Here's how Trade Coffee gives personalized recommendations based on a simple quiz about their preferences. This builds a stronger bond with your customers and increases brand loyalty.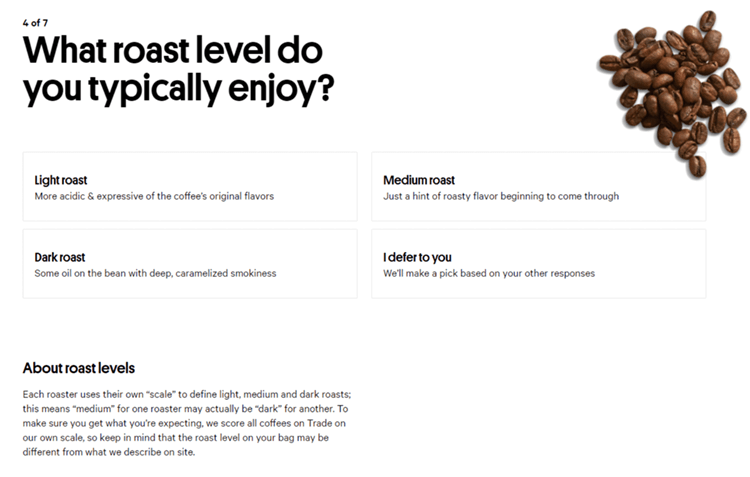 3. Keep It Short and Concise
Another effective tip while curating your holiday surveys is to make sure they don't have too many questions and, most importantly, aren't too long. No one has time to sit and answer questions on a quiz that has no relevance to them. If you go on for an extended period of time, your clients are likely to abandon it in the middle.
Sephora does that brilliantly by containing their quiz to two to four questions. The questions are crisp and direct with relevant products as the end result.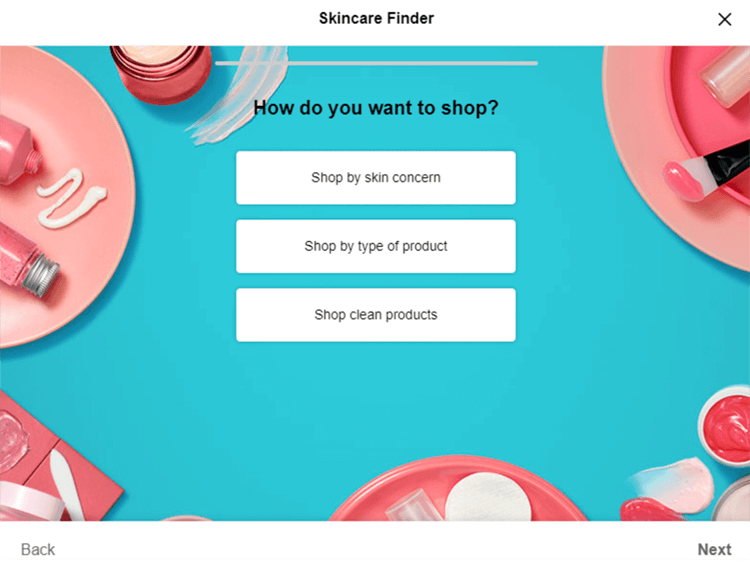 Also, avoid asking them the same dull questions that every other quiz in your field does. For your eCommerce quizzes, come up with new and distinctive ideas. You can beat the eCommerce competition by being unique as 61% of consumers are prone to purchase from brands that have distinct content.
For example, a distinct personality test can be a great value addition to your eCommerce website by helping your users find the perfect gift for their loved ones.
4. Add Effective CTAs at the End of the Quiz
It's crucial to add a call to action (CTA) at the end of your quizzes. Make your customer participate in a way that benefits your business. If the participant of the survey is not yet a customer, you can display a sign-up box for your newsletter so that you can keep sending them entertaining updates and special deals that your company may give in the future.
Another option is to ask for their email address and deliver the results through that medium, as executed by Saatva.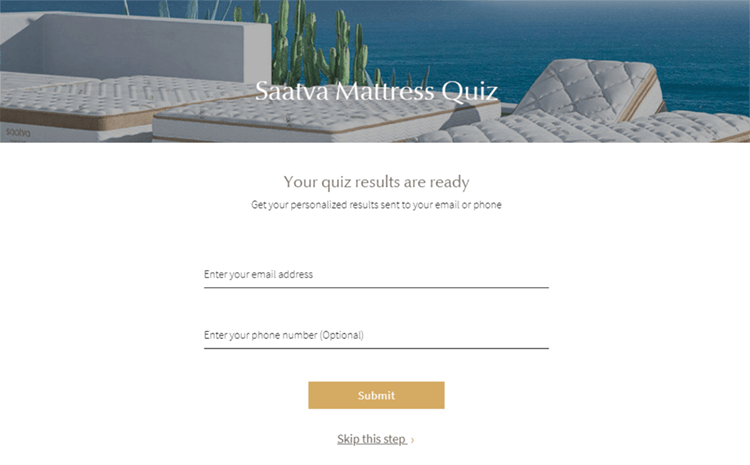 Alternatively, you may just ask them to click on the tagged link, which will direct them to the product based on their responses. At the end of your eCommerce quizzes, you can also give a link to your website, product videos, or company videos. It's critical that you don't merely present CTAs that are unactionable and unappealing.
5. Test Before Launching the Actual One
It's critical to sense-check your survey before putting it out at scale, like with any data-gathering effort. To do so, submit your quizzes as emails to a small group of clients and see what they have to say.
Your sample sizes should revolve around 30% of the total population on your list. Also, include a few questions regarding the survey experience, or submit them as a separate mini-survey.
This method will assist you in determining:
Rates of completion: Are you getting a sufficient number of responses? If that's the case, you're probably asking too many open-ended questions, or simply too many questions in general. Data quality: What findings provide you with the information you require? Is your information too general or specific? Data Type: Are you collecting enough qualitative data to make sense of all the numbers?
Don't be scared to repeat this process before sending your first "real" survey to all of your clients. Conduct different A/B tests to test the metrics like Net Promoter Score (NPS), Customer Satisfaction and Customer Effort Score (CES) Because these surveys will be used to guide future customer experience decisions, you must be entirely pleased with the data you are seeing.
6. Create Highly Catchy Titles
Since 80% of visitors never make it past the headlines, the trick is in the title because they will see it on your thumbnail before they can even begin with your eCommerce questionnaire. Titles will determine whether or not the consumer will participate in the quiz. Make use of the suggestions above to create titles that will entice customers. It should be something that your customers believe will be beneficial to them or at least interesting.
For Example, "Penny (or more) for your thoughts" makes for a clickable survey title that can get your user interested. However, quizzes and surveys with vague, long titles in all caps like "WE HAVE SOMETHING FOR YOU THAT YOU MIGHT ENJOY" end up in the trash or spam section in the inbox.
Wrapping Up
With the holiday season rapidly approaching, it's important to make sure you're doing all you can to stay ahead of the game. As the eCommerce market continues to grow, brands and companies are using surveys and quizzes on their websites to engage customers. You can use these same tactics to boost sales and improve customer engagement, no matter your industry.
Get Started with Converting Lead Generation Quizzes
With One Of Our 300+ Templates
Author
Tim Robinson is Digital Marketing Manager at PACK & SEND, a 25+ years old and respected brand in e-commerce, logistics, and freight delivery solutions. Tim has 20 years of combined experience in sales and marketing. Logistics, D2C, franchising, business planning, and operations management are his core expertise. Connect with Tim on LinkedIn.