From the perspective of a developer, app reviews and ratings are the be-all, end-all. Whenever you publish an app, you're naturally curious about the users and their feedback, not to mention that reviews and ratings are a huge part of whether your app will thrive on the market.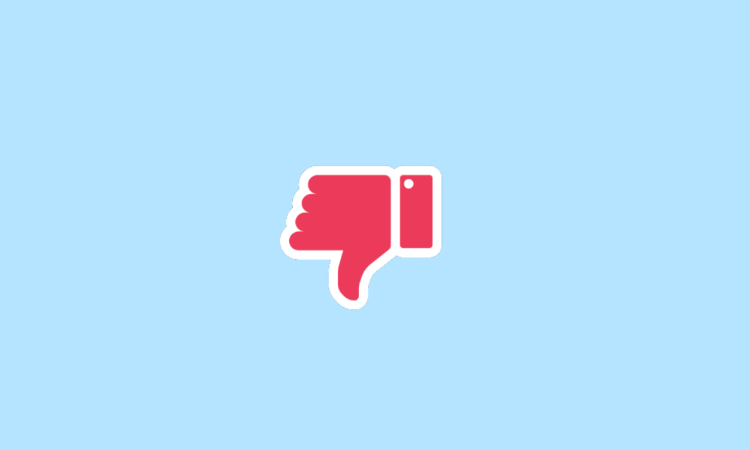 Get Started with Online Surveys
With One Of Our 200+ Templates
Most businesses understand this and try to get as many 5-star reviews as possible, which makes sense. You probably check reviews yourself before making a purchase decision.
So, you may think that you should go out of your way to get ONLY 5-star reviews across the board. That couldn't be further from the truth.
Perfect reviews aren't critical for your app. In fact, negative reviews can even help. While you don't want to aim for negative reviews, you shouldn't be worried about getting anything less than a perfect score.
Here's why.
How Negative Reviews Help Your App
Before the world shifted to digital, nearly everyone relied on friends and family for recommendations. Now, we have a wealth of information at our fingertips to determine which companies to support, what products to buy, and what apps to download, among other factors.
Brand reputation, online reviews, and referral programs have taken the place of old-fashioned word-of-mouth testimonials.
According to Power Reviews research, more than 99.9% of consumers look for reviews when shopping online, and 98% believe reviews are an essential resource for making purchase decisions.
Here's where it gets…complicated. 96% of consumers specifically look for negative reviews, at least sometimes, and over half of shoppers seek out one-star reviews.
Why? Because they want to know what will happen in the worst-case scenario. They want to know what they'll deal with if everything goes as badly as it possibly can.
In addition, consumers are suspicious of perfect 5-star reviews across the board. Too many positive reviews come off as fake to consumers. According to research from ReviewTrackers, customers don't trust companies with lower than 4-star ratings.
Furthermore, customers believe that companies aren't responding fast enough to reviews (or at all). 53% of customers expect businesses to respond to negative reviews within a week.
In addition, research from Trustpilot indicates that as many as 62% of consumers won't support brands that engage in review censorship, which speaks to the demand for trust and transparency. No more censoring fake reviews, purchasing fake reviews, or ignoring negative reviews.
What does all this mean? Reviews matter, but the picture is much bigger than just getting the almighty 5-star.
The Strength of Negative Reviews
Consumers have more access to information than ever before, and with that comes more suspicion and savviness. They know that no brand, no matter how great it is, can possibly have only 5-star reviews from consumers. It's well-known that you can't please everyone.
If you try to ignore or censor your reviews – even if the customer is being truly unreasonable – it reflects poorly on you. Your customers know you must've gotten at least some bad reviews, and it may lead them to wonder what you're hiding.
And remember the bit about how they want to know how things will go if the worst happens? They no longer have that. The unknown is always scary, and that can be enough to turn them away from giving you a chance at all.
On the flipside, having some negative reviews serves several purposes:
It shows that you're not censoring reviews.

It gives customers an idea of the worst-case scenario.

It gives you a chance to respond, control the narrative, and come out looking better.

It gives you valuable feedback to serve your customers better.
Here's how you can shift a negative review in your favor.
Don't Panic – Have a Plan
The way you address a negative review can tell your potential customers a lot about how you handle customer service all around. Resist the urge to panic, get defensive, or ignore the review.
Embrace it. Respond to the review in a way that's aligned with your brand, but address the problem head-on.
Here's an example of how Zutobi addressed a negative review with its driver's ed app: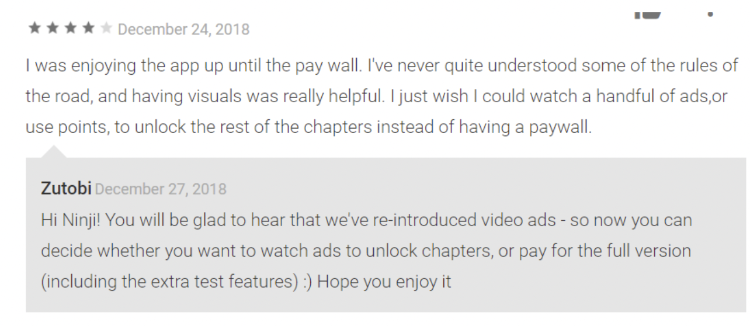 This response clarifies the issue and answers a question that other app users or potential users may have. Without it, possible users may steer away from the app because it's loaded with ads and paywalls.
However you choose to handle it, remember that you must respond quickly. Remember, consumers believe companies don't respond quickly enough to reviews.
If you get a negative review, you have to act fast. Aside from the optics, it's just good customer service and should be the number-one priority.
Consider the Feedback
Some negative reviews are powerful, but not all will be. You may receive a negative review from someone genuinely disappointed in some aspect of the experience you can fix, whether it's a glitch in the app, a feature that's confusing or difficult to use, or some other issue.
Then, some negative reviews will be from trolls who want attention or are looking for free stuff. Many consumers know that complaining gets them discounts, free gifts, or refunds, so they will make stuff up to leave a negative review. You can't please these people, and you can't make them go away.
Consider if the issue is valid and if it's something you can fix. If so, acknowledge the complaint and tell the reviewer what you did to correct the problem for the future.
Here's another example of how Zutobi handled just such a review regarding a glitch in the learning resources: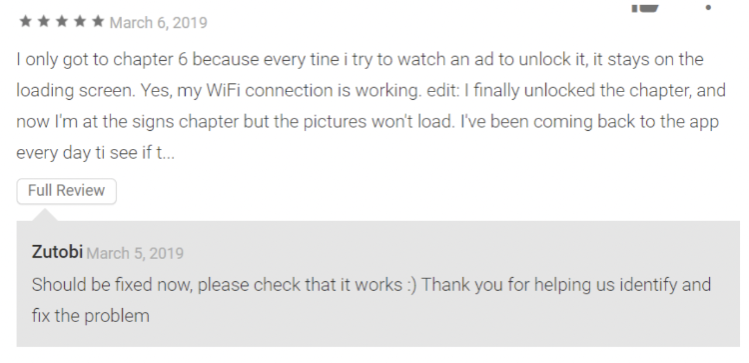 See how easy that is?
Benefits of Negative Reviews
No one wants negative reviews, but they can benefit your app and business.
Boosting Conversion Rates
If your app only has positive reviews, consumers will undoubtedly question if those reviews are real. Maybe not everyone, but the more skeptical among us will.
After all the news about Amazon's fake review issues, people are more suspicious. If it can happen on Amazon, it can happen anywhere, including app stores.
Now, if you have both positive and negative reviews (and not just good star reviews with no accompanying text), it lends more trust to your app and the authenticity of your reviews.
Of course, there is a tipping point. What number of negative reviews is enough to be authentic and boost conversions, but not enough to skew the positive reviews and turn customers off?
According to research from Tech Crunch, that falls somewhere between 4.2 and 4.5 stars.
More stars is not always better, if your positive reviews seem disingenuous and fail to show potential customers the "real" you.
Highlighting Customer Service
Negative reviews are a great opportunity to deliver excellent customer service and show the real people behind the brand. Customer service is more than answering questions and helping customers – it's about showing them that you're there for any concerns that come up before, during, and after a purchase, and that you're committed to ensuring they don't happen again.
Customer service may be neglected by many businesses, but it's never been more important. According to a 2020 survey from Statista, 40% of customers stopped doing business with a company due to poor customer service.
The entire market has shifted to a customer focus, since customers would rather invest in a brand that serves their needs and provides value.
According to Hubspot:
90% of Americans use customer service to choose whether to do business with a brand
Investing in new customers is up to 25 times more expensive than retaining existing ones
58% of American consumers will switch brands because of customer service
89% of consumers are more likely to make a second purchase after a positive customer service experience
So, responding to negative reviews (or any reviews) shows your commitment to customer service and can keep your current customers coming back for more.
Telling Your Side of the Story
The point of responding to negative reviews isn't to skew the narrative in your favor in every case, making it appear like you never do anything wrong.
You will make mistakes or run into problems. There's no avoiding it. But negative reviews aren't always due to something you can control.
If a review is something that is completely untrue, however, you can share your side of the story. This way, if prospective customers come across your app and see negative reviews, they can understand the whole situation and make an informed decision.
Improving Customer Loyalty
Canned responses, such as "sorry for the inconvenience," that don't solve a problem can make a bad situation worse for a customer. That answer doesn't solve anything or improve the situation for the future.
You can't solve every problem that comes up, but empathizing with the customer and sharing a solution – if you have one – can go a long way.
Here's an example of how Zutobi showed commitment to the customer with correcting a problem:

Embrace Negative Reviews for Your App
Many businesses believe they need to do everything they can to get 5-star reviews, including paying for positive reviews and deleting negative reviews. But negative reviews can be beneficial for your app and help build trust among potential customers, if you handle them effectively.
Author
Tim Waldenback is the co-founder of Zutobi, a gamified e-learning platform focused on online drivers education to help teens get their license. Tim founded Zutobi to make world-class driver's education fun, affordable, and easily accessible for all.