Customer relationship management tools (CRMs) boast many features to help you understand your customer base. With customer information stored in a single platform, it's easy to access and analyze.
To make your CRM even more powerful, you can integrate it with third-party software. By connecting your digital marketing apps, you eliminate the need to toggle between them—and get instant access to data from each one.
This article will explore the must-have marketing integrations to help your CRM reach its full potential.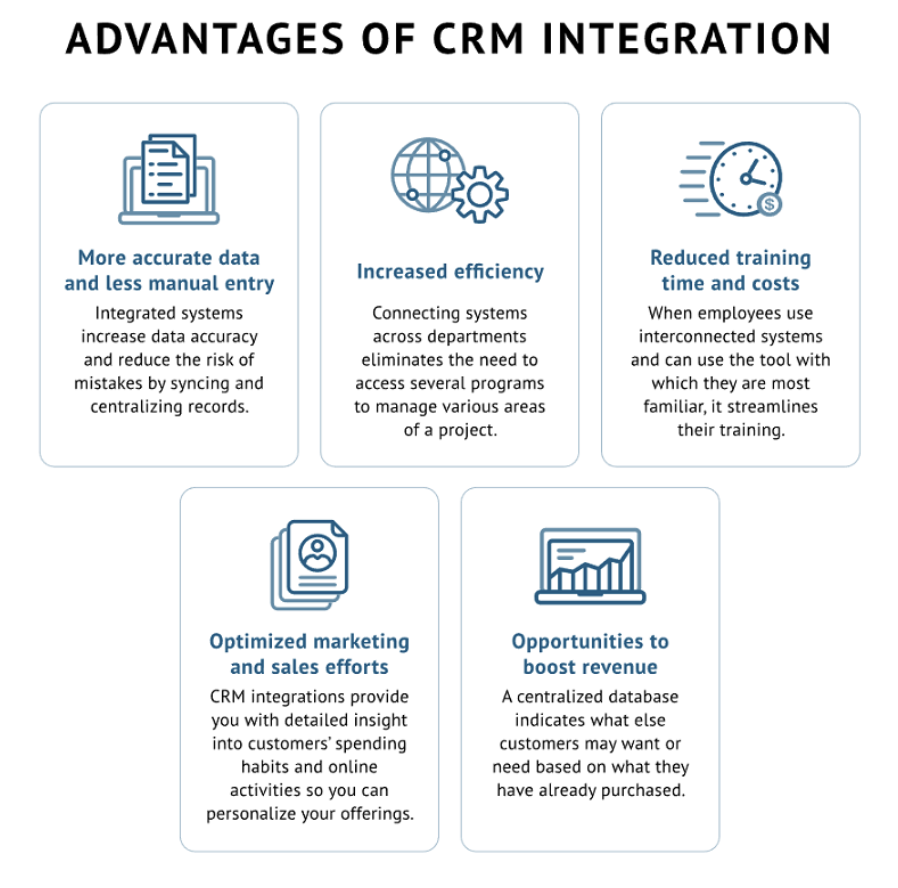 Which Integrations Should You Look for in a CRM?
Most CRMs offer hundreds of integrations, with tools you already use and some you have yet to consider. So, what should digital marketers be looking for?
Accounting and Invoice
Cloud-based accounting and invoicing tools are essential for keeping track of finances—that's why implementing an ERP system with built-in accounting is highly beneficial, enabling you to automate processes like tax calculations and wages.
But accounting software can also deliver valuable insights for marketers when integrated with a CRM. For instance, you can link revenue to specific digital marketing campaigns.
Whenever a client pays an invoice, the details are pulled into their CRM record. You can see purchase history and reach out to customers who haven't purchased in a while (CRM is about managing relationships, after all).
Team Collaboration Integration
Integrating collaboration tools makes it easier for remote teams to work together on marketing projects. Customer data is accessible from team communication platforms, and teams can send real-time notifications from the CRM.
Video conferencing integration lets teams discuss marketing ideas with customer information on hand. Other useful apps include group chats like Skype, file-sharing platforms like Google Drive, and project management software.
Email Integration
Integrating your email platform will automatically log your emails in the CRM, plus you can import contact data. You'll have access to CRM data from your inbox, too, so there's no need to spend time searching.
Moreover, if you connect an email marketing platform, you can export information from your CRM for email marketing campaigns. You can then set up email automation based on customer behavior, such as browsing history or abandoned shopping carts.
Form Builder Integration
With a form builder integration, information from web forms is automatically added to your CRM. There's no need for manual entry or forms being siloed in another part of the system. The tools sync the data so that you can match contacts and avoid duplication.
As well as pulling in data to target potential customers with emails and ads, you can access these insights from your CRM when creating new forms for your website.
Build Your Own Form
Start with a template
Social Media Integration
With integrations such as social listening tools, your CRM can capture insights from social media accounts, monitor brand mentions across platforms, and identify posts with the highest engagement.
You can connect an app for scheduling posts and use CRM data to pinpoint the best times to post. If you're handling customer communications via social media, you can send this data to your CRM as well.
Must-have CRM Third-party Applications
Here's our pick of some popular tools to help you with digital marketing and beyond.
Sage 
Sage is well-known for delivering accounting and HR software solutions that help small businesses and established corporations scale their business—but it does a lot more besides. Sage.com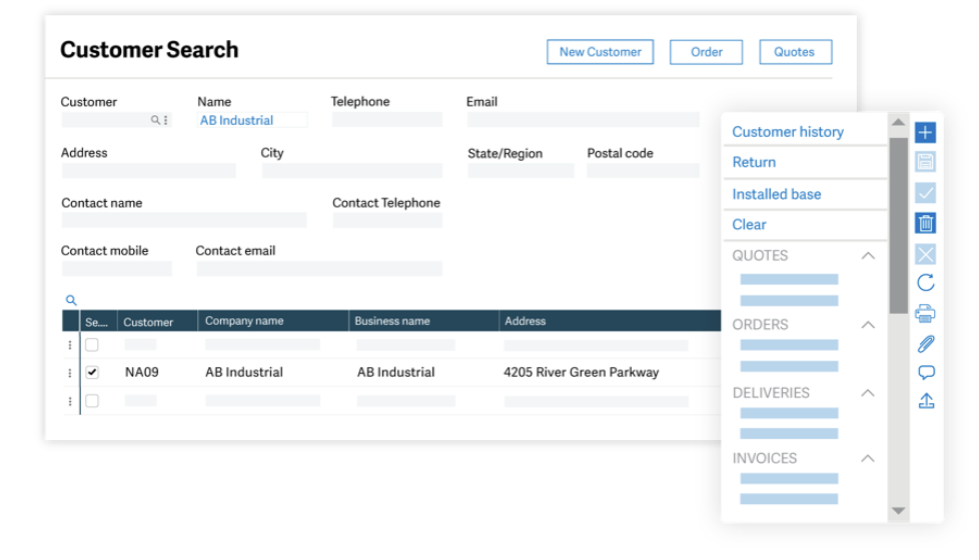 When connected to your CRM, you get the full benefits of ERP software for business management, complete with automated processes to help your team work smarter.
The platform is cloud-based, so you can access your accounts anytime, from anywhere. You can also track key metrics including marketing campaign costs, helping you manage your marketing spend and make informed decisions.
Sage has its own CRM with built-in marketing management to help you track new leads and sales opportunities. It also integrates with MailChimp for automated email marketing.
Involve.me
involve.me is a no-code building app that lets you create interactive forms, surveys, calculators, and quizzes. They're easy to design and customize with a drag-and-drop tool, delivering valuable customer insights to marketers.
Surveys and personality tests boost engagement rates—but they also provide more information about the customer than social media profiles. You can see what stage of the funnel a lead is currently in and understand their level of product knowledge.
Users receive customized results, tailored price quotes, and personalized product recommendations, increasing their time spent on site.
HubSpot
HubSpot offers an all-in-one CRM suite, but its "hubs" are also available separately, so you can choose depending on what's already in your tech stack. (That said, it may be more economical to go for the full bundle.)
There are hubs for marketing, sales, customer service, CMS, and operations, all involving automation to streamline your processes. The marketing hub includes SEO, social media management tools, content creation, and analytics.
The sales hub features email sequencing and eSignatures, while the customer service portal includes a knowledge base and feedback collection. You'll find lead gen and dynamic content tools in CMS and workflow extensions and team management in operations.
Google Analytics
Google Analytics is a free analytical tool that collects data from your website. Add a tracking code to each page to discover how users interact with the content. The app then creates reports with visualization tools like graphs and charts.
With data on website sessions, demographics, page load times, and bounce rates, you can easily see who's discovering your content and how long they're viewing it for. What's more, Google Ads conversion tags tell you what happens after someone clicks on your ad.
When paired with your CRM, this tool helps you better understand your target audience and decide where to focus your digital marketing efforts.
Zapier
You might find your CRM doesn't offer native integration with a tool you wish to use.
Zapier enables you to make the connection, with support for 5,000+ apps (or you can build your own integration).
Zapier connects two or more apps, and you can create automated workflows called "Zaps" for repetitive tasks. Based on "if/then" logic, your workflows can have up to 100 steps. Once it's integrated into an app, Zapier automatically starts the workflow and triggers the tasks. 
It's easy to build Zaps in the drag-and-drop editor, too, so you don't need any coding experience.
Final Thoughts
Your CRM contains a wealth of data—so it's essential to make the most of it. With third-party integrations, you can go beyond customer relationship management and create a powerful tool that informs your digital marketing strategies.
By gathering data from multiple apps in one place, you can streamline workflows, make informed decisions, and provide a better customer experience.
Create A Custom Quiz For Your Website
Start with a template code free