After a client/customer cancels their account with you, what is the first thought that comes to your mind?
It should be "Send a cancellation survey!"
Congrats if you immediately thought this. If not, no worries.
That's what this article is here for!
When a customer cancels your product or service, sending a cancellation survey is the best way to find out why.
However, getting people to complete a cancellation survey can be a challenge.
This article provides a comprehensive guide to creating cancellation surveys users are motivated to take and share feedback through. You'll learn:
Why cancellation surveys are so valuable for reducing churn

The step-by-step process for distributing effective cancellation surveys

What questions you should avoid putting in your survey

Strategic open-ended questions to ask departing customers

How to analyze and act on feedback to enhance products and experiences

Best practices for boosting cancellation survey response rates
When you ask customers why they canceled your service, you can find out what went wrong and make things better for them. 
It's a great way to show you care.
What Is A Cancellation Survey?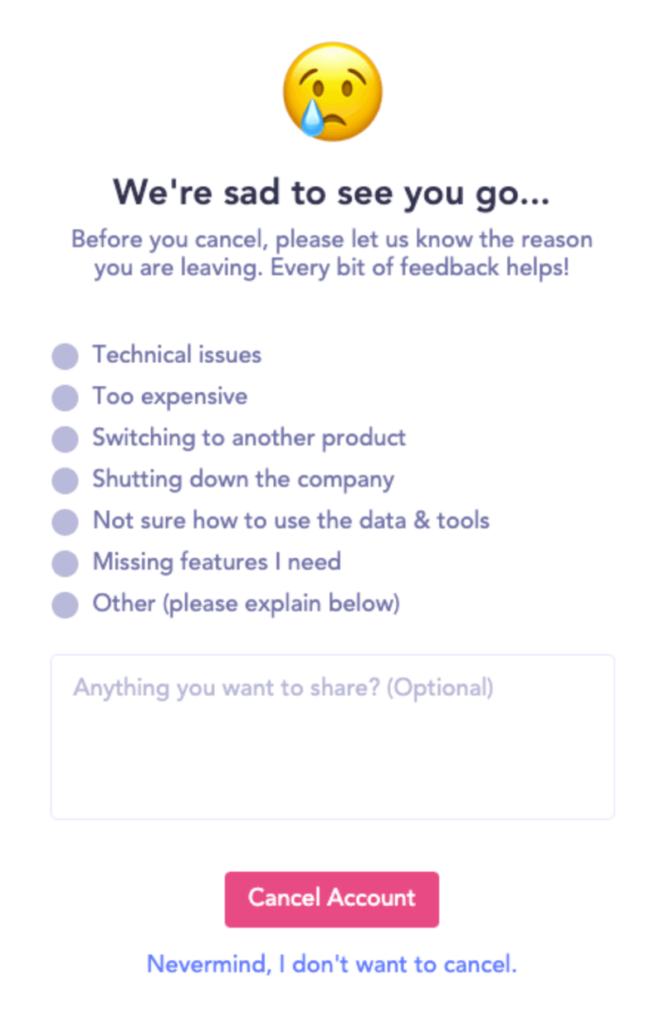 You've created the perfect product or service, or at least you thought so until you noticed a high number of clients opting to cancel.  
The question remains: will you let them silently churn away? Or will you use a cancellation survey to discover why they left so you can prevent this catastrophe from happening in the future?
Asking the right questions in a thoughtful cancellation survey can reveal valuable insights into why customers are leaving and how your business can improve.
If you work with remote teams that create the product/service, surveying your team can generate insights you didn't even know to look (or ask) for in your exit survey.
A cancellation or exit survey is a brief questionnaire you send to people immediately upon their request to cancel.
The goal is to learn about their experience, understand why they left, and immediately remedy the situation.
Remember, keep it short and sweet; try to keep it under seven minutes on a survey. 
Otherwise, your customers won't stick around long enough to fill out your survey in the first place.  
This will allow you to walk away with valuable insights to fix the problems head-on and prevent yourself from repeating these mistakes in the future.
Remember to Keep It Short!
Here is what the research tells us:
Too many questions led to people spending less time answering each question. They would speed through to get it over with.

The longer the survey, the higher the drop-off rate. Survey durations exceeding 7-8 minutes ultimately led to a 5-20% drop-out rate.

Bottom line: it can't be long if you want the best cancellation survey with minimal drop-offs.
What To Include In Your Subscription Cancellation Survey Questions
When creating an effective cancellation survey, the most crucial step is deciding what questions to ask. 
You want to choose your questions wisely.
Asking generic survey questions or overloading customers with pointless queries is a surefire way to get zero responses or disingenuous answers.
Following this principle, you can reduce churn and strengthen customer retention over time.
Remember why you created the survey in the first place: to figure out WHY they left.
Ask open-ended questions to get details about their experience with your product or service, their frustrations, suggestions, etc. This information is invaluable for identifying where your product went wrong.
We'll look at some critical questions to include in your cancellation survey template.
Quality over quantity here - a focused survey with the right questions beats a lengthy questionnaire every time.
Reason They Canceled Their Subscription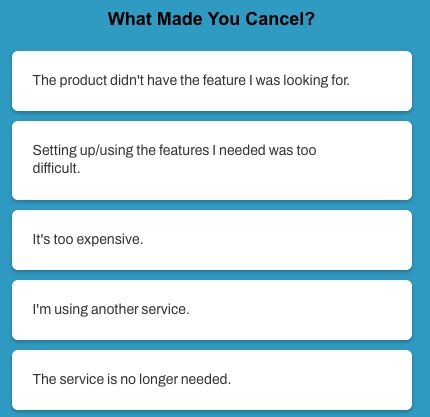 One of the most essential cancellation survey questions to ask departing customers is: "Why did you cancel your subscription?"
Start with an open-ended question that allows people to explain the main reason for their cancellation in their own words.
This gives you an unfiltered understanding of why they decided to hit the road with your product or service. 
Once you have their initial cancellation reason, you can ask thoughtful follow-up questions to gather more details about specific pain points.
But first, just let them tell you in a sentence or two why they decided not to renew their membership or subscription. 
This will give you the information you need to better understand the decision-making process that led to their cancellation.
Gauge Product Related Concerns
Understanding where things went wrong will help you determine what needs to be fixed. 
Additionally, ask how well their needs were met and if any key features were missing. 
These essential questions let customers explain specifically how your product failed to solve their problems. Customers know what they liked and didn't like. Take advantage of this information!
Provide an Incentive 
If the situation calls for it, offer an incentive to win back your customer. 
Whether it be a limited-time discount, free services for one quarter, etc. 
Anything that will incentivize your client to fill out the application.
Also, it's a win-win if they decide to stay with you because you hold on to a loyal customer, and you get a response to find out why they chose to leave!
Learn About Their User Experience
Rather than asking multiple choice questions, allow customers to describe their experience using your product or service in their own words.
Open-ended cancellation questions give you rich, unfiltered feedback about what worked well versus what was frustrating from the user's perspective.
Ask what specifically they found confusing or what would have improved their overall experience.
This qualitative data helps you pinpoint parts of the user journey to optimize. The best way to get actionable insights is to let customers share details freely through open-ended cancellation questions.
What Not To Include In Your Customer Cancellation Survey Form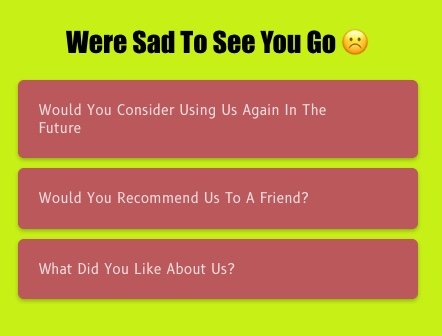 When creating a cancellation survey, it's just as important to know what NOT TO include as well as what to ask. 
Specific questions are ineffective at best and can backfire by irritating customers who are already on their way out. 
Avoid questions that seem tone-deaf to the situation, force arbitrary ratings that lack context, or make the survey drag on.
For example, asking, "Do you think you will use us again in the future?" provides zero value to you as a business owner.
Another example of an overused survey question is "How likely are you to recommend us to a friend."
Even if they did say "Yes" or "Probably," what would you do with this information anyway?
You need honest feedback that offers actionable steps you can take to resolve the issue.
Keep your focus on open-ended feedback that explains precisely why the customer left and what could have been improved.
Steer clear of questions that don't provide you with accurate feedback. The goal is learning how to better meet customer needs - not rubbing salt in the wound.
Steps A-Z: Creating and Sending Cancellation Surveys
Creating and distributing an effective cancellation survey form template involves more than just writing questions and hitting send.
As we've already mentioned, there's a thoughtful process to follow if you want to maximize your chances of getting quality feedback you can use to win departing customers back and continually improve your product.
Let's go ahead and get right into the steps involved in creating your feedback survey.
Creating Your Survey
Step 1: You want to log into your involve.me dashboard by clicking the Login button in the upper right-hand corner. You can register for free if you don't already have an account.

Step 2: Once you're logged in, the next step is to click on the "New Project" Tab and select "Start from template."
Step 3: At the top of the page in the search bar, type in "cancellation survey," and select "choose," and click "start editing."

Step 4: Now comes the fun part! You can begin customizing your survey by including open-ended questions like the ones we discussed.
Publishing and Sending Your Survey
Now that you've finished customizing your customer feedback survey, it's time to publish it. 
Step 1: Click the "Publish" drop-down menu in the upper right-hand corner and select "Publish Now."
Step 2: You'll see a large green button at the bottom asking, "Ready to publish?" Click "Publish now."
Step 3: Your project is now published. You can share the links directly, share them on social, embed your survey on a specific web page, or send a customized email to specific contacts. 
As always, remember not to bombard them with too many questions. Otherwise, you run the risk of them not finishing the survey or rushing through it, providing you with unusable data.
Best Practices To Reduce Churn Rate
Here are a few cancellation survey best practices to incorporate into your strategy:
Remember to keep your questions short and concise; your survey can help you understand what needs improvements.

Leave the questions open-ended so you know exactly why they decided to cancel.

Learn about their customer experience (sometimes it's not always about something being wrong with your product)

Follow up with an exit interview survey that provides you with more details

Continue improving your product and collect from a large data pool (don't base it off a few unhappy customers)
Questions To Ask After Sending Your Survey
Typically, most companies get their survey responses and wash their hands of them. This would be a critical mistake as you're leaving a lot of valuable information on the table.
Instead, here are a few things you should do after you've sent your cancellation survey to customers.
Follow Up With a Customer Exit Survey
The conversation shouldn't end after they cancel and fill out the primary survey. 
If they were willing to fill out the online form, you can bet they would be willing to do it again so you can gain even more valuable insight from them.
From here, you can follow up with more in-depth questions on what caused them to cancel their service, such as:
What made you start questioning if [service] was a good fit?

Which service are you currently using now?

Would you consider resigning with us again if X was no longer an issue?

Is there anything we could have done differently that would have made you reconsider canceling your service?
These are just a few questions you can ask that honestly explain the reason they decided to cancel their subscription outside of their initial cancellation request.
Use The Feedback To Improve Your Product or Service
Knowing the reasons why your customers left is a great place to start. However, if you do nothing to fix the problem, then there's really no reason to get customer feedback in the first place.
Yes, it might sting a little to hear negative feedback. This is all part of the process of running a business.
Don't take it personally; use this information to your advantage, and remember to keep improving. 
Cancellations Aren't The End
Look at these surveys as an opportunity to improve your already great product.
Yes, it may require some tweaks here and there, but as long as you take action on addressing the issues, these surveys help with future customers and keep them on board. 
If your goal is to create a survey form with a visually pleasing design and easy-to-use interface, then involve.me is the ideal choice. 
Q: How Can an Exit Survey Improve Your Product?
By using a well-designed cancellation survey, you can learn from your customers' experiences and take positive action to enhance your SaaS product and reduce the churn rate.
Q: What Are the Cancellation Survey Best Practices?
Remember to keep your questions short and concise

Leave the questions open-ended, so you know exactly why they decided to cancel.

Learn about their customer experience

Follow up an exit interview survey 

Continue to improve your product
Q: How to Create an Effective Cancellation Survey?
To create an effective cancellation survey, you need to design questions that more accurately uncover the reason for cancellation. Additionally, using an easy-to-use form template can help enhance the response rate.
Q: What is the Ideal Time to Send a Cancellation Survey?
The ideal time to send a cancellation survey is immediately after a customer cancels a service or subscription while the reasons for their decision are still fresh in their mind. A survey sent directly after cancellation can help gather the most accurate feedback.
Q: How Do Cancellation Surveys Help in Subscription Management?
Cancellation surveys can provide insight into why customers are choosing to cancel their subscription plans. This feedback can then be utilized to enhance your product and potentially win them back.
Q: Are There Any Pre-built Customer Exit Survey Form Templates That I Can Use?
Yes, there are several online platforms that provide pre-built cancellation survey templates. involve.me is one of the platforms that offers easy-to-use pre-built templates:
Create Your Own Survey
Start with a customizable template