The digital transformation of the past few years has significantly influenced the insurance sector. With this shift, online tools have become essential for insurance agents, providing them with the means to optimize operations, improve client engagements, and maintain a competitive edge.
These tools range from management systems that consolidate business tasks to platforms that simplify lead generation and client communication.
This article will provide an overview of some of the most impactful online tools available, offering insights into their features and benefits.
Let's get started!
1. involve.me (Lead Generation Tool)
involve.me is an interactive content platform designed to engage users and capture leads. Beyond its general functionalities, its unique suite of features makes it an invaluable asset for insurance agents aiming to connect with potential clients.
This platform allows insurance agents to craft personalized customer experiences, thus positioning themselves as more than just service providers but as problem solvers. This tool's adaptability is what truly sets it apart, making it particularly relevant for insurance agents who need to cater to a diverse clientele with varied needs.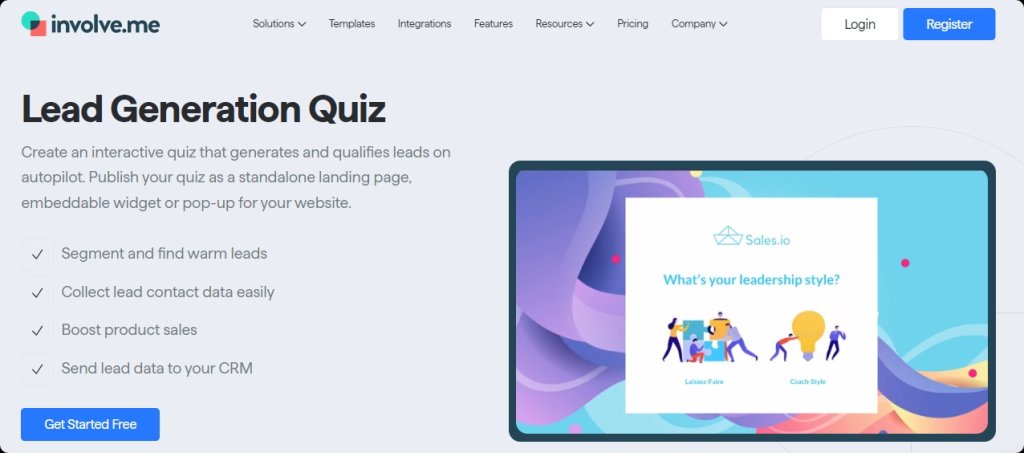 Key Features
Pre-Built Templates: Agents have access to a suite of calculators tailored for different insurance types, such as, Life insurance calculators, Travel insurance calculators, Auto insurance calculators, Home insurance calculators, Health insurance calculators, etc. These calculators simplify complex calculations for potential customers, offering them insights into the kind of coverage they might need.
Beyond calculators, there are other templates as well like Giveaway forms to attract potential leads, Newsletter signups to keep leads informed, Contact forms for direct inquiries, NPS surveys to gauge client satisfaction and Meeting schedule forms to facilitate one-on-one consultations.
Data Collection, Analytics, and AI Insights: With every interaction on the platform, data is captured, providing agents with actionable insights powered by AI to enhance their lead generation strategies.

E-signature Feature: Given the documentation-intensive nature of insurance, involve.me's e-signature feature ensures that agents can get policies and other essential documents signed digitally, expediting the process.

Customization and Branding: To ensure brand consistency, the platform offers extensive customization options. Agents can tailor content to align perfectly with their brand's look and feel.

GDPR Compliance and Data Security: involve.me ensures GDPR compliance, safeguarding both the agent's and the client's information.

Integration with Payment Gateway: For agents offering direct purchase options, the platform's integration with popular payment platforms ensures secure transactions.

Integration with CRMs: To ensure seamless workflow, involve.me integrates effortlessly with popular customer relationship management software such as Salesforce, HubSpot, and Zoho CRM. This integration allows captured leads to be immediately funneled into an agent's database, making follow-ups, email campaigns and lead nurturing more systematic and efficient.

Integration with Email Marketing Tools: Staying in touch with leads and clients is made straightforward with involve.me's integration capabilities. The platform harmonizes with leading email marketing platforms like Mailchimp, Constant Contact, and SendinBlue for timely, relevant, and personalized communications, enhancing the overall client engagement process.
Try involve.me for Free
Create Your Own Lead Generation Forms
Get Started with 300+ Templates
2. Applied Systems (Insurance Agency Management Tool)
Applied Systems is a pioneering force in the domain of insurance software solutions. Central to its suite of offerings is Applied Epic, a platform designed specifically to address the intricate needs of the modern insurance agency. It aims to provide a holistic insurance solution, encapsulating everything an agent might need, from client and policy management to detailed reporting tools.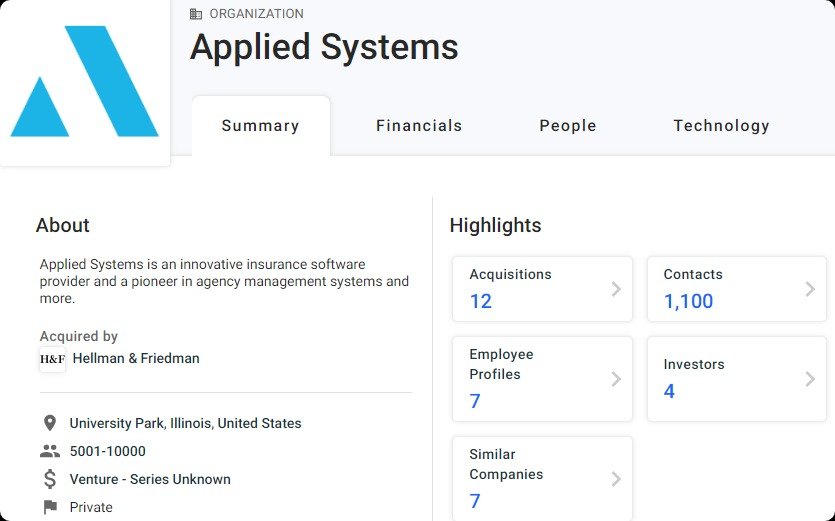 Key Features:
Centralized Dashboard: Offers agents a bird's-eye view of customer interactions, policy renewals, ensuring streamlined operations and reducing the chances of oversight.

Task Management and Automation: Minimizes manual data entry and eliminates repetitive tasks, allowing agents to allocate more time to client-focused activities.

Insurer Integration: Facilitates seamless communication between agents and multiple insurers, enabling timely insurance policy updates and precise quote comparisons.

Client Management: Provides a comprehensive system to manage client details, interactions, and policy details effectively.

Reporting Tools: Allows agents to generate detailed reports, offering insights into business performance, client demographics, and more.
3. EZLynx (Comparative Rater Tool)
EZLynx stands as a distinguished player when it comes to comparative rater tools. It has carved a niche for itself by helping an insurance business effortlessly compare quotes from multiple carriers in real-time, streamlining the process of finding the best fit for their clients.

Key Features:
Instantaneous Quote Comparison: Enables agents to quickly retrieve and compare insurance quotes from a variety of carriers, ensuring clients get the best possible options.

Leading Comparative Rater: Recognized in the industry for its accuracy and comprehensive coverage, allowing agents to place their trust in its quote comparisons.

User-Friendly Interface: Designed to be intuitive and straightforward, reducing the learning curve for agents and maximizing efficiency.

Integration with Multiple Carriers: Ensures a broad spectrum of insurance options, making it easier for agents to cater to diverse client needs.

Data Security: Prioritizes the protection of client information and agent data, ensuring peace of mind in every transaction.
4. ClaimCenter (Claims Management Tool)
Known for its comprehensive approach, ClaimCenter by Guidewire is designed specifically with claims management in mind. It seeks to address the entire claims handling process, making it more efficient, transparent, and user-friendly for both insurance providers and policyholders.

Key Features:
End-to-End Claims Management: Covers every stage of the claims process, from initial reporting to final settlement.

Intuitive Dashboard: Offers agents and adjusters a clear overview of claim statuses, ensuring timely interventions and updates.

Automated Processes: Reduces manual interventions by automating routine tasks, leading to quicker claim resolutions.

Integration Capabilities: Easily connects with other software systems, ensuring all relevant data is accessible from a centralized platform.

Advanced Analytics Dashboard: Provides insights into claims trends, helping insurers identify areas for improvement and anticipate future challenges.
5. Dropbox Business (File Storage And Collaboration Tool)
Dropbox Business is not just another file storage solution; it's a powerful platform tailored for businesses that require secure, accessible, and collaborative digital environments. In the context of the insurance industry, where documentation plays an important role and data security is paramount, Dropbox Business emerges as a crucial tool.

Key Features:
Secure File Storage: Helps in document management, be it insurance policies, claim forms, or client data. Store all the files securely with top-tier encryption methods.

Easy Sharing Capabilities: Provides a hassle-free means for agents and clients to share documents, speeding up processes like policy issuance and claim settlements.

Real-time Collaboration: Allows multiple users to work on documents simultaneously, fostering teamwork and reducing redundancies in workflows.

Access Control: Offers granular permissions, ensuring that only authorized personnel can access sensitive documents.

Version History: Tracks changes and retains previous versions of documents, ensuring data integrity and facilitating easy retrieval of past records.
6. Hootsuite (Social Media Marketing Tool)
Hootsuite is a comprehensive social media management tool that enables independent insurance agents to schedule, manage, and monitor their social media presence across various platforms, all from a unified dashboard. Hootsuite can help insurance professionals reach their target audience, engage existing clients, and analyze the effectiveness of their campaigns.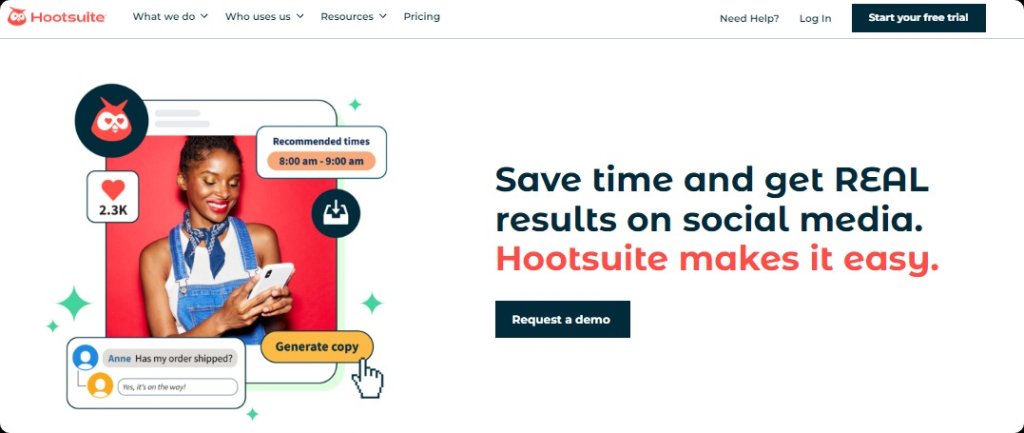 Key Features:
Unified Dashboard: Manage multiple social media platform profiles from one place.

Post Scheduling: Plan and schedule content in advance to maintain a consistent online presence.

Analytics and Reporting: Measure the effectiveness of marketing campaigns and understand audience engagement.

Content Curation: Discover and share relevant content to engage your audience.

Security: Secure logins, permissions, and approval workflows to protect your brand's online reputation.
7. Slack (Communication Tool)
Slack is a powerful messaging platform designed for businesses. For insurance companies, Slack offers a centralized space for team communication, ensuring independent agents, underwriters, and support staff can collaborate effectively. Its organized channels and direct messaging streamline conversations and keep everyone on the same page.

Key Features:
Channels: Organized spaces for team discussions, ensuring topics remain focused and searchable.

Direct Messaging: For one-on-one or small group conversations.

File Sharing: Easily share documents, policy details, and other vital files within the team.

Integration: Slack can integrate with a host of other tools, making it a hub for all work-related activities.

Security: Enterprise-level security ensures all communications and shared documents remain confidential.
Final Words
Wrapping up, these are some of the essential tools that every insurance agent should consider. If you're specifically looking to boost your lead generation, involve.me is the way to go. Dive into its array of features tailored for qualified insurance agents and see your client base grow. So why wait? Make involve.me your lead generation partner today.
Try involve.me for Free
Create Your Own Insurance Lead Generation Tool
Get Started with 300+ Templates