Affiliate marketing seems easy: share a product online and get a % of the sales from anyone who buys it via your link. And it can be just that simple if you A/ have a lot of followers or B/ don't plan to do this on an ongoing basis. Affiliate sales are not about spamming your friends and family with links to obscure products. Let's look at how the pros do it.
Your journey towards affiliate marketing success begins with finding the right brand to affiliate with. A great place to start looking is the brands you already love. Chances are they already have a rewards program in place.
Most brands will give anyone a little something for bringing new business to them. Uber gives you credit for inviting a friend, AirBnB gives everyone a 15% discount for registering their friends, same goes with Booking.com.
Promoting your favorite brands is great if you want an occasional discount, but if you're looking for reliable passive income, we need to dig a little deeper.
1. Find an Affiliate Program That's a Good Fit for Your Audience
This one is a no brainer: you should be selling something your audience is interested in. There's a reason Facebook moms sell leggings and the Kardashians sell cosmetics - it's the perfect match for their audience.
This of course means learning about your audience. This buyer persona generator will help you answer these questions:
What kind of person follows you?

What's the best time to post your link so they see it?

What kind of content are they likely to click on?

What are their problems and how can your affiliate product solve them?
Knowing the answers to these questions will leave you well equipped to create affiliate sales via low effort posts on social media. A by-product of this can be actually growing your audience and engaging it more efficiently, which will bring you more affiliate sales in the long run.
Let's see how real people apply this knowledge.
Kim Kardashian is famous for having an intentionally shaped body. (Yop, that's how we're phrasing this.) It might even be why some people follow her on Instagram. So that's where she sells Skims = her own clothing line that shapes the body intentionally.
On the other side of the spectrum we have Jack Godron, showing his audience of people trying to get big on TikTok how he got big on TikTok, while linking the filming gear he used to make his TikTok videos in the description.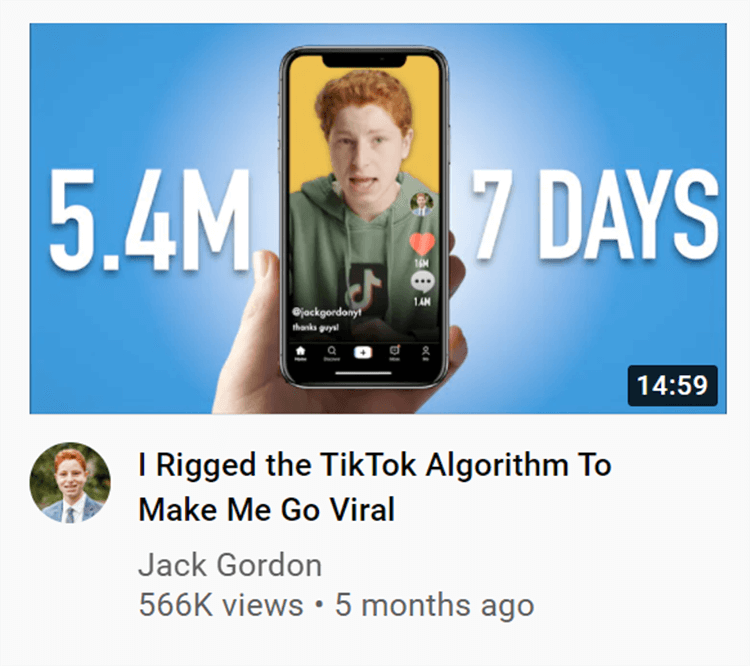 This is a great strategy if your online presence is centered around helping businesses. How-tos and personal success stories can help establish your authority on the subject and make people more likely to buy from you.
2. Subscription Affiliate Sales > One Time Payment Sales
I'm waiting for mainstream influencers as well as brands to catch up to this trend. Actually, let's not call it a trend, let's call it what it is: a more sustainable business model for both the brand and the affiliate. Selling subscriptions is way more profitable for affiliates.
A subscription sale is a sale that repeats periodically. The customer's credit card gets automatically charged every month. Think Netflix, Audible or a gym membership.
For affiliates, this means that each purchase gets cloned.
So instead of getting your commission once and only from the first sale, you get a % from every recurring payment. A customer might only pay $20 for the first time, but if they stay for 10 more months, you're getting your cut from $200 instead of the initial $20.
Math is hard so let's look at some real world examples.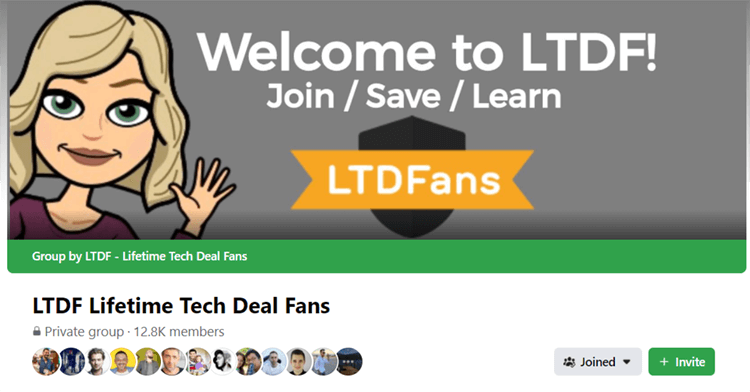 This is Tracy. Tracy has a knack for finding good software deals. She shares them in her Facebook group that she made specifically for this. She gets commissions from the sales made in her group. Tracy does this full time and meets a lot of fun people doing it.
Now how do you find affiliate programs that 1. interest your audience and 2. pay unlimited recurring commissions? Just because a company is subscription based like Netflix, Audible or your local gym, that doesn't mean they will give you a cut from every payment.

involve.me has a 2 tiered affiliate program, both tiers have lifetime recurring commissions.
1. 30% lifetime recurring commission is a starting point for everyone
2. 40% lifetime recurring commission if you're selected and featured as a certified creator
Anyone can sign up for the 1st tier and later apply for the second.
3. Where to Share Your Affiliate Links
Now that you know what you're selling and who you're selling it to, let's figure out how to sell it. For some it can be as easy as a tweet, others, depending on your audience will have to work a little harder.
Even though growing your audience in size is the long term goal, there's a lot you can do with a smaller following. According to a recent study, accounts with 1.000 - 5.000 followers generate more engagement than larger ones. So just because you don't have a lot of followers, that doesn't mean nobody will use your affiliate discount.
Keeping your content catered to a very specific audience rather than attempting to grab any kind of attention from anyone is more likely to grow your online presence.
3.1 Share Your Affiliate Links and Discount Codes on Social Media
If you love and trust a product and you think your followers will love it too, there's no harm in posting your positive experience along with a discount code. (As long as you do your research about both the product and the company.)
Depending on the channel, you might share the link (LinkedIn, Reddit or Facebook) or the discount code (Instagram, TikTok or YouTube).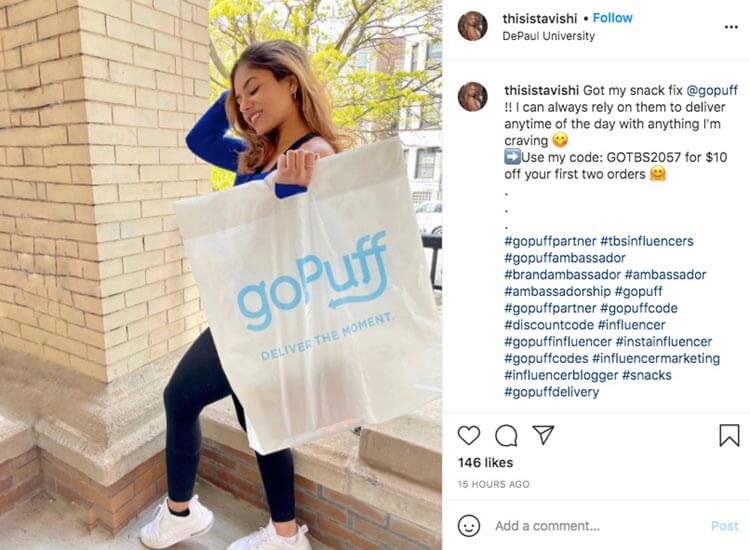 Since Instagram doesn't allow clickable links in posts, you'll be better off using a discount code in the description like this brand ambassador for NYX cosmetics.
If you really love a brand and mention them often, you can go as far as linking them in your profile, like this:

When it comes to social media groups, be careful not to be too intrusive and off topic - group members get notified when somebody posts there and you don't want to be that one annoying, self-promotional prick.
Do keep in mind that some Reddit threads and Facebook groups have designated days where certain types of self promotion are allowed, while on others, not so much.
3.2 Share Your Affiliate Links Via Email
Affiliate links are an easy, low-effort way to monetize your newsletter. Email marketing guru @JensLennartson suggests creating a "This Weeks 3 [Valuable Resources]" section in your newsletter.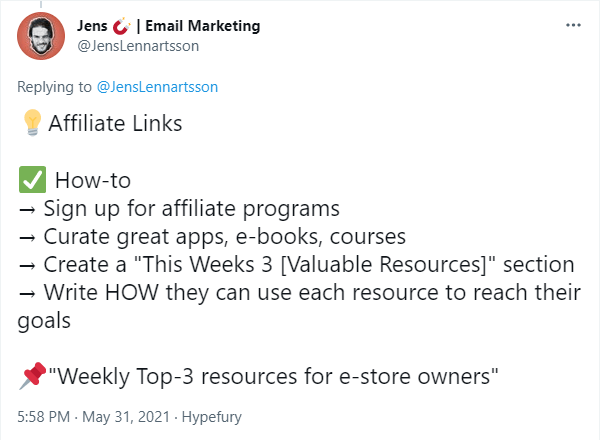 If you want to go even more niche, you can pick a specific product to showcase in your newsletter and have a "Product of the month'' section. Depending on your audience you can recommend your favorite lipstick this month, the best book you've read recently or a meditation course on Skillshare.
A more subtle way is sharing articles from the brand's blog. Pick some content the brand has created that your audience will find valuable or fun to check out. Don't forget to make sure your audience has a way of getting the affiliate discount so that you can get your commission.
4. What More Can You Do?
Now that you have spammed your affiliate links absolutely everywhere, what's next? Once you've maxed out on the link sharing, but still aren't getting enough sales to move to Bali and drink pina coladas full-time, it's time to take it up a notch.
4.1 Write a Blog Article About Your Affiliate Products
While a tweet limits you to 140 characters, a blog article gives you as much space as necessary to explain how awesome the product you're selling is. If you have your own blog or can write for somebody else's (and they allow affiliate links), this is an obvious choice.
This is how Verge, one of the largest tech blogs includes their affiliate links:
Verge names and reviews the best phone of each of 10 categories like: best iPhone, best Android and best camera. Customers can choose the best device based on what they like, however no matter what device the readers end up buying, Verge gets an affiliate commission.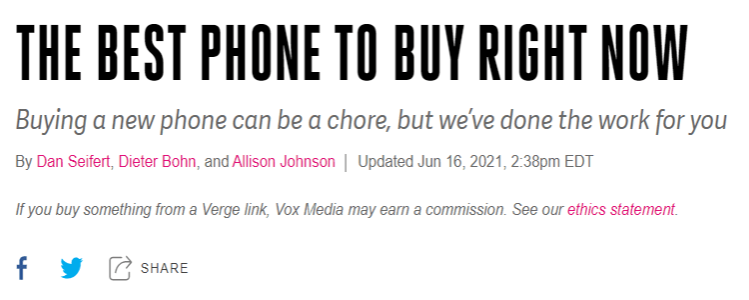 4.2 Record a Video About Your Affiliate Products
If video is your medium of choice, lucky you. Video content is the most engaging type of content on social media, making it the best place to plug your affiliate links. You can make a whole video reviewing the product and offer your audience your affiliate discount.

68% of consumers prefer watching videos to learn about new products or services, as compared to articles, infographics, ebooks, and presentations. Furthermore, consumers who end up on an e-commerce site through a user-generated video are 184% more likely to purchase, and spend 45% more.
4.3 Feature Affiliate Products on Your Website
Many websites have a "favourites", "partners" or a "tools" section. If you work with a lot of brands and are happy with them, it makes sense to recommend them to your audience.
4.4 Create a Video Course Featuring the Products
Video courses are the perfect place to plug your affiliate products. If you're teaching a course on how to make better Instagram ads, show people how to use your favourite landing page maker.
Interactive Templates
300+ Editable Drag & Drop Templates