Have you ever wondered why a large percentage of leads never convert into revenue for your business? Your B2B sales funnel might need fixing. Understanding your lead funnel, how to best nurture each lead and create a custom path towards a purchase is how you get more sales.
You're getting leads, but they are not converting. We all know the struggle. The average business only converts 2% leads into sales. That means 98% of your work goes nowhere. Unless you know how to nurture your leads = show them the right content at the right time.
Lead nurturing is an important concept in B2B marketing. It can be defined as the set of activities you undertake to build relationships with prospects and convert them into paying customers.
It's not a surprise that companies that focus on lead nurturing see more qualified leads than those who don't. For instance, companies with an optimized lead nurturing process generate 50% more sales-ready leads at a 33% lower cost.
Unfortunately, there's no straight jacket formula for converting leads into paying customers, and each business must devise its own customer journey. For this purpose, you may employ a sales funnel, which is one of the oldest strategies for customer journey mapping.
What is a Sales Funnel?
A sales funnel is nothing but a marketing concept representing the various stages that a prospect goes through before becoming a customer.
It is like an inverted pyramid, being the widest at the top (representing the majority of your prospects) and the narrowest at the bottom (represented the leads that converted into paying customers).
There are several types of sales funnels used in the marketing world but we are going to discuss the classical AIDA model in this post.
The AIDA (Acronym for the various stages in it) funnel is divided into four stages: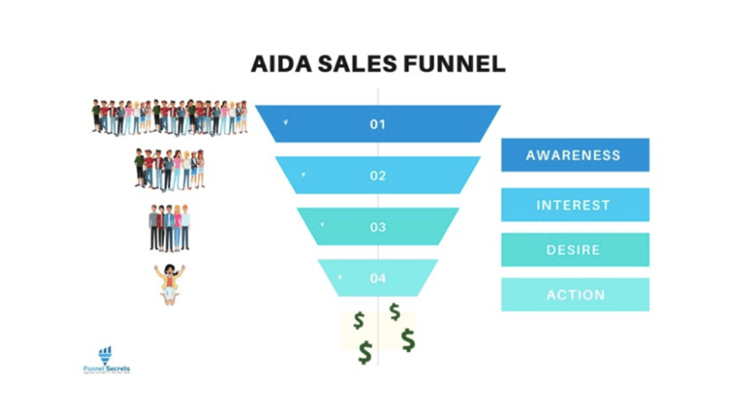 1. Awareness
Top of the Funnel Users or TOFU
This is the first stage of the sales funnel and represents the majority of your leads. This is the point where you catch your prospects' attention through marketing content focused on their pain points.
As this is the first stage where buyers discover your brand, your conversations must be aligned to their interests and goals. Some examples of the type of content used at this stage are blog posts, videos, infographics, buying guides, and social media content.
These materials are meant to be informative and not necessarily focus on sales. The aim is to provide information, support, or helpful ideas to your leads to earn their business subsequently.
2. Interest or Consideration
Middle of the Funnel Users or MOFU
This is the second stage of the funnel where the buyer is evaluating different products to solve a challenge. At this point, you can start building a deeper connection with your prospects by learning more about their goals or challenges and offering solutions to overcome them.
As you engage with prospects more and more, you can also help them identify long-term goals or inherent challenges that they can overcome with a tailored product or service.
One of the important tools that can help increase engagement at this stage is integrating live chat software on your website and social media pages.
Various studies have shown that consumers prefer sites that offer live chat for communication. Furthermore, A study by AMA found that live chat can be used effectively throughout the course of the customer journey and affect improvements in:
Marketing: Awareness: 29%

Marketing: Conversion to create sales suspects: 39%

Sales: Early-stage direct engagement: 32%

Sales: Mid-Stage Direct Engagement: 24%

Sales: Closing the deal: 18%

Post-sales customer support, education, engagement: 39%
Having a live chat widget on all your touchpoints also makes it easier to build up your sales funnel and marketing content. By integrating your live chat data with your CRM, you can learn vital information about your leads and use it to develop highly personalized marketing content.
In addition to using live chat for driving engagement, you may also use marketing case studies, e-books, webinars, and white-papers to drive home the value of your product.
3. Desire
Bottom of the Funnel Users or BOFU
This is the stage that is only reached by highly qualified leads. Buyers who have reached here are already thinking of making a purchase. They are aware of your brand and understand the problem you solve. However, they are yet to decide whether to choose your solution or not.
Marketing for BOFU, therefore, requires you to create compelling content to help these users make the decision of going ahead with your brand. The idea is to focus on specific questions or problems that could perhaps get in the way of the sale.
Your aim, at this stage, is to convince users that your product or service is the best fit to meet their goals. Remember, whether a buyer decides to buy from you or not in the next step depends on your actions at this stage.
Therefore, your bottom-of-the-funnel content must focus on keywords that will lead your users towards making a sale. For instance, you could offer them coupons, free trials for signing up, live demos, etc.
4. Action
This is the final step where a consumer decides to buy your product (or not) and turns into a paying customer.
How to Use a B2B Sales Funnel for More Sales
Awareness, Interest, and Consideration – every buyer goes through these three stages even if they choose to interact at the first stage via information found on the internet. We have already acquainted you with these stages and the marketing strategies you may use at each stage to increase conversions.
Below, we have rounded up some additional marketing strategies to increase sales conversions:
1. As customers have access to unlimited information, you surely don't want to burden them with unnecessary content. Therefore, it is vital to build buyer personas before developing your TOFU content to provide information in a captivating way.
2. Consider drip email marketing campaigns to advertise your products or service. You can build your email list by offering downloadable content and other marketing incentives to top-of-the-funnel customers. Once you have their information, you can send them regular emails with relevant product information to gently nudge them into the consideration stage.
3. The last step of the sales funnel is not the end of the sales process. In fact, it is only the start of a long customer relationship when nurtured properly. Post-sales customer engagement is vital for getting repeat business and customer referrals.
For instance, you can set up a process to check in with your new customers through follow-up emails and surveys.
This will not only help you garner a positive brand image but also understand what users like (and don't like) about your product or service to affect future improvements. You may even offer your customers rewards or set up a loyalty program to drive more business.
Wrapping Up
The classic AIDA sales funnel model is definitely enlightening and gives a holistic view of your buyers' journey. However, this model cannot be applied to B2B sales directly in modern times. That's because the B2B customer base has evolved.
Their journeys have become inherently complex and multi-tiered, burdened with increasing choice and information overload. The modern decision-making process also includes multiple stakeholders who can access thousands of websites and reviews in seconds. But that does not mean the sales funnel is dead.
Mark Ritson, in his article, "If you think the sales funnel is dead, you've mistaken tactics for strategy," explains that the aim of a sales funnel is to help you work out the stages in your buyers' journey and decide the stages you must focus upon to increase sales.
I completely agree with this point of view and firmly believe you can boost your sales by coming up with a sales funnel to optimize your lead nurturing process.
Author
Dhruv Mehta is a Digital Marketing Professional who works at Acquire and provides solutions in the digital era. In his free time, he loves to write on tech and marketing. He is a frequent contributor to Tweak Your Biz. Connect with him on Twitter or LinkedIn.