Have you ever seen a post with the caption "Like this to win"? You probably have because those kinds of posts get lots of likes which gives them enough visibility to reach your feed. That, folks, is how easy a social media contest can boost a brand's engagement.
Today, we'll break down what they are, how good they are for your social media and advertising campaigns, and how they can generate leads. We'll show what types of contests to utilize, as well as examples from brands who have done well in this field.
Then, we'll show you tips on how to translate your campaigns to reach a variety of audiences around the world. Today, we'll focus on Facebook and Instagram contests.
How Do Social Media Contests Benefit Your Brand?
According to Content Marketing Institute's survey, 81% agree that interactive content grabs attention more effectively than static content. Additionally, contests have a conversion rate of 34%.
There are a number of reasons why social media contests are great. You can grow new customers, engage the customers you already have, and create brand awareness. You are not only offering audiences an opportunity to engage with your brand, but you're also increasing your consumer base and creating more awareness for your brand.
Running a social media contest is fairly easy, too. Whether for Facebook, Instagram, or Twitter, a social media contest is a surefire way to engage your audience and find new audiences beyond your reach.
What Types of Social Media Contests Are There?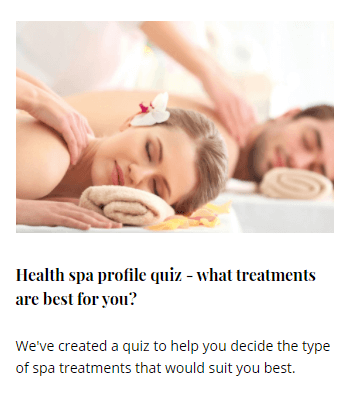 There are tons and tons of creative ideas for social media contests out there. First you need a good incentive - what's something your target audience wants that you can provide? Depending on the challenge you can keep it as simple as a discount code, or you can offer the newest iPhone if you're asking for a lot.
As contests and giveaways are naturally more likely to go viral, they're a free visibility boost to anything you attach to them. Want to promote your spa? Do a "What spa treatment do you actually need?" quiz where you select 5 random quiz takers who win that treatment.
Promoting a movie release? Offer free tickets to people who post #moviename dressed up as one of the characters. The more creative the challenge, the more exposure it will get.
There are many different types of Facebook contests, but today we'll focus on Quizzes and Trivia Questions, and the Photo Contest.
1. Quizzes
A Free Way To Boost Engagement
People love to feel knowledgeable, since your brand is presumably an expert in your field, you should have all the answers. People will love questions, especially when it has something either directly or tangentially to do with your brand, which would further promote you.
Making your customer's achievements special would increase their loyalty to your brand. Giving away your product as a prize would be a great promotion, especially if you celebrate their victory with photos.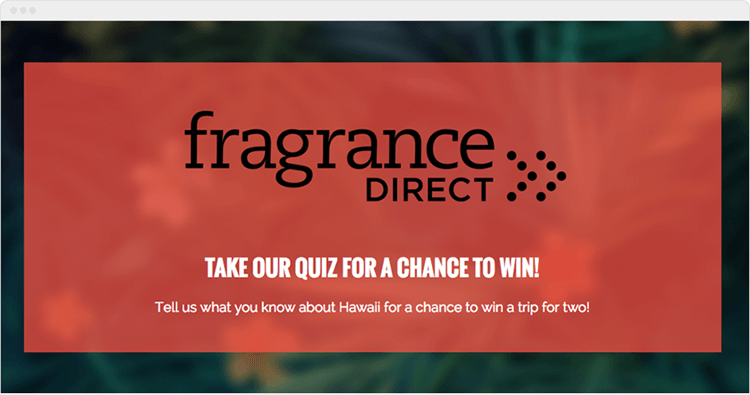 Fragrance Direct and Champneys Spa posted a quiz on their Facebook. It only had one question, which made it easier for fans to join. This very simple method produced 10,511 entries.
National Geographic, promoting their show Genius, posted a very difficult question that took days to complete. They gave clues throughout the five days the contest ran, and fans had to figure out the clues. Their last clue was released right before the show aired. It was a challenging question, so the prize was big: a week in Spain.
Both of these ventures lead to increased attention for both brands, especially for National Geographic's show Genuis which led to more people watching their show after the final clue. Genius idea!
2. User-Generated Photo Contests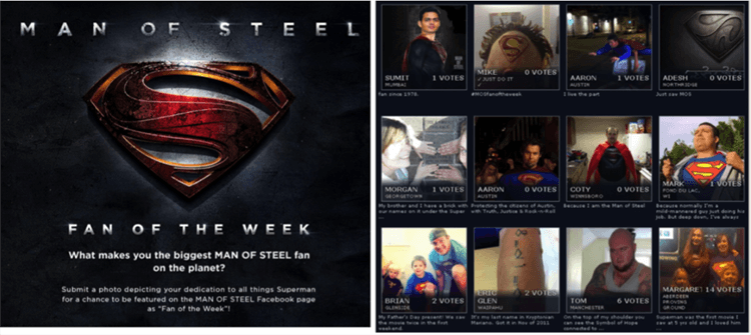 Warner Bros' Man of Steel Facebook Contest was a photo contest that asked fans to upload a photo of themselves, showing how they were fans of Superman. Entrants upload a photo of themselves depicting any proof that they're fans of Superman--through a user-generated photo.
Then, others can vote on the photo they like the most. Through the voting process, the brand could gain new audiences through fans sharing their photos with potential voters who could later become new fans.
Each week, a winner was chosen for the weeks building up to Warner Bros' Man of Steel release. They were featured on the Man of Steel Facebook Page as "fan of the week." So, the prize was a featured slot on the channel, which motivated fans to spread the word.
With this Facebook Page contest, Warner Bros was able to build buzz and gain new fans for their upcoming film, Man of Steel.
3. Instagram Contests
With Instagram, all contests will include interaction with a photo or set of photos. However, they require a different technique than Facebook photo contests. This is because users can't comment with a photo. So, most techniques end up like this:
1. Like to Win - You can ask users to like your photo, which will generate likes on that photo. You can choose randomly for the winner.
2. Comment to Win - You can ask to post a topic about your product or service, then ask a question, which the user will answer in the comment section. The best answer or the correct answer wins, while users will know more information about your brand.
3. Tag to Win - Asking the user to tag a number of friends on the comment section of your post is a good way to engage both the user and their friends. You can find the winners based on the tag notifications.
4. Photo Caption Contest - Post a photo on your feed without a caption, then ask users to caption it in the comments.
5. Trivia Contest - You can run a piece of trivia about your service or product, and ask users to upload proof of it and then tag you on Insta.
6. Instagram Stories - You can run a 24-hour contest using the questions tag to collect entries. This would be a type of trivia or puzzle contest.
7. User-Generated Content - you can run a photo contest like on Facebook by allowing your consumers to submit and upload a photo.
The Winner
The winner of all of these ways is probably the quiz or trivia. Employing a quiz, a trivia question or a simple question can thoroughly engage your followers; and it's the easiest way, too. You can get them to think about your product or service, and by extension your brand.
You can make them feel appreciated by your brand when they win. And, it's easier to keep track of candidates than through tags or notifications, since you're soliciting entries through a survey or questionnaire.
So there you have it, Facebook and Instagram contests are a great way to build your following and heighten demand for your products.
Author
Angela Fabunan is a writer in the marketing department of Tomedes translation services, which specializes in multilingual communication for 75000+ clientele for over two decades.