Let's begin with a shocker:
The average person spends approximately 9 years of their lifetime staring at their mobile screen.
Hold the phone. It gets more interesting:
While consumers are attached to their devices, they don't necessarily want to talk on them. In fact, according to this YouGov study, 69% of consumers prefer communication with brands over text rather than calls.
So:
Enter the Era of SMS Marketing
SMS marketing, a growing segment of mobile marketing, entails sending promotional and transactional SMS marketing campaigns to an audience that has opted in. It is predominately used to deliver timely information about deals, special discounts, appointment reminders, and customer service notifications.
Additionally, with the increasing need for security and authenticity in digital interactions, the use of SMS verification services has become paramount, ensuring that users are genuine and safeguarding businesses from potential fraud.
SMS campaigns offer a blend of personalization, convenience, and mass communication. The future of SMS marketing looks promising with 48% of consumers preferring SMS for updates from their favorite brands.
Compared to other marketing channels like email marketing and social media marketing, SMS has a 98% open rate within 3 minutes response time. As per SMS marketing statistics, SMS has a 19% click-through rate (in comparison to marketing email's 4% and Facebook's 1%).
Basically, it really works.

With all this in the pot, it's not surprising then that Global A2P (App to Person) messaging is set to reach $77.1 billion by 2026. And it may all have to do with how very appropriate this channel is for the times in which we live, underscoring the importance of SMS in a comprehensive digital marketing strategy.
A New Consumer
The events of 2020 significantly influenced customer behavior and customer expectations, resulting in a surge in online shopping and smartphone users. This shift has made SMS a preferred marketing strategy for eCommerce businesses, offering the ideal level of customer engagement.
The discovery of new products and services became an activity best engaged with if you have a mobile device in hand.
SMS as a marketing strategy seems to provide the precise level of intimacy that consumers of this era want.
As a medium, it offers a unique channel where you can:
Get close enough to your customers through personalization.
Stay far enough away that they don't feel suffocated. (Nobody loves an opt-out.)

Provide up-to-date information and reminders that are genuinely useful
So how can you make it work for your funnel? Make it bulk. Make it bi-directional. Make it count.
Let's take a closer look at how to tap into SMS marketing trends
Market for the Post-pandemic Consumer
We know even a whisper of the word pandemic is causing you to break out in hives but we have to go there for a moment. Living through this testing time has provided all sorts of edge-of-one's-seat plot points.
The pandemic has shifted the nature of customer relationships, necessitating brands to reach their potential customers where they are - on their devices. The increased customer loyalty to online shopping habits formed during the lockdown makes SMS marketing a key player in business' marketing efforts.
Please Feed the Millennial
You know one thing a millennial really loves? To send and receive a text message.
72% of millennials send 10 or more texts a day.
This makes them a valuable target audience for personalized offers via SMS
Another thing about the millennial?
They are where the spending power is . So if text message is what they want, text message is what they shall have.
Conversational Marketing: Make It a Two-way
Also millennials don't like to be talked at. (Who does?) They want to be involved in a dialogue. SMS provides a low-hassle way for you to forge bi-directional relationships with your customers.
To enhance customer satisfaction, modern consumers desire a two-way conversation. SMS marketing provides an excellent platform for fostering customer interaction, improving the overall customer experience and brand affinity.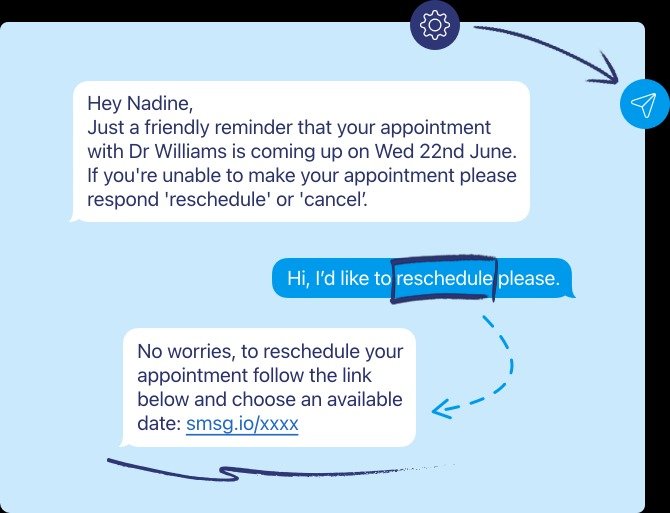 Strategize for New Schedules
Remember when people used to travel to and from work? That bus or train ride home used to provide a uniquely controlled environment for your customers to pay attention to the latest deal. Of course, the idea of commuting is so pre-2020.
While previous marketing emails capitalized on traditional commute times, the surge in remote work requires a fresh look at when customers are most responsive. Initial research suggests a post-breakfast rush, and a window between 2 and 6 pm may be the most effective for maximizing engagement and conversion rates.
Provide Accurate, Detailed Product Information
Contemporary consumers are informed. As much as 87% of consumers reported that they rely on accurate, detailed product information to make a decision before purchasing. Also, the more exhaustive your product info is, the more you are likely to be saved from tiresome, costly product exchanges. It's a win-win.
Use SMS to Boost Your Survey Response Rate
SMS surveys work. An average of 31% of consumers respond to an SMS survey—and quickly. As in within five minutes.
Make Use of a Bulk Text Messaging Service
In your arsenal of marketing tools, be sure to include a bulk text messaging service . The tools make it doable. Up your personalization game, get bulk sending, manage responses easily and see if your efforts are paying off via built-in data analytics.
Stay Above Board
Get familiar with the best practices and regulations around SMS marketing. Comply with the TCPA (Telephone Consumer Protection Act) CTIA (Cellular Telecommunications Protection Act) . If you're unsure, seek legal advice. It's not worth blowing your brand over.
Design with UX Mind
Yes, it matters. And the more virtual our world becomes, the more it matters. 
As more people interact with brands purely through their screens, the user experience has become paramount. The design and timing of delivery notifications, payment notifications, and shipping notifications can greatly impact how customers perceive a brand and their propensity to engage.
Look to the Horizon
RCS (Rich Communication Service) is set to be the upcoming descendant of the SMS. (Think SMS 2.0) RCS allows you to add high-res images and video, payment options, and file sharing all through your phone's built-in messaging service.
RCS has been a little slow on the rollout front but the principles of creating captivating multi-dimensional messages are alive and well. Bulk MMS allows you to do all sorts of things from creating scannable barcodes to making animated promotional cards.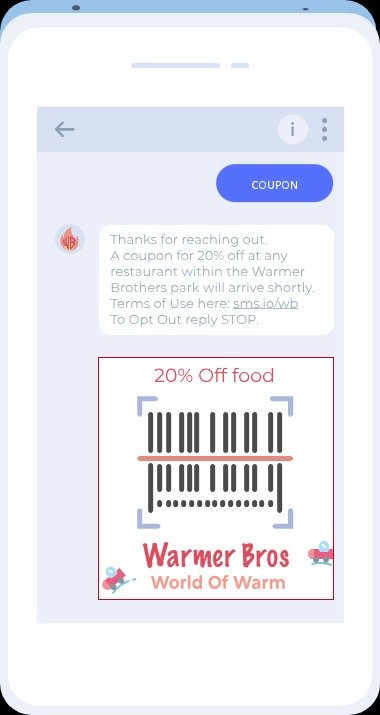 Optimizing SMS Content for Higher Engagement
Your SMS campaign message should be easy to understand and straight to the point. For instance, a promotion might say, "Special discount! Get 20% off your next purchase with code SMS20. Valid till 30th July." This delivers a clear offer, with the steps the customer needs to take, within the character limit of an SMS.
Integrating Calls to Action (CTAs)
CTAs guide customers on what action to take next. An SMS for a quiz might read, "Test your product knowledge and win! Click the link to start the quiz now." This gives the user a clear directive, increasing engagement.
Creating a Sense of Urgency
Creating time-bound offers or messages instigates immediate action from customers. A message such as, "Limited time offer! Make a purchase before midnight to avail exciting discounts!" can encourage prompt responses, thereby improving engagement rates.
Leveraging Personalization in SMS Marketing
Personalization in SMS marketing is about making your messages resonate with individual customers. It's about making them feel recognized and catered to, which increases the likelihood of them engaging with your business.
Personalizing with Customer Names
Personalization begins with adding a personal touch, such as addressing the customer by name in the SMS message. This strategy can significantly improve customer engagement.
It's the difference between "Hello there! We have an offer for you" and "Hi, John! We have a special offer just for you".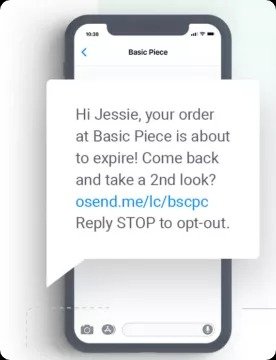 Tailoring Offers to Individual Preferences
Each customer has unique preferences, and tailoring your SMS to those preferences can dramatically increase engagement. For instance, if a customer has shown interest in a specific product or service, use that information to send them an offer or update that directly relates to their interests.
Segmenting for Better Personalization
Group customers based on specific criteria like purchasing behavior, interests, etc., to send relevant messages.
For example, if you have a group of customers who are particularly interested in eco-friendly products, a message about a new environmentally-friendly product line could be more appealing to them.
Utilizing SMS Marketing for Lead Generation
SMS marketing can be effectively used for lead generation. For example, you can have SMS quizzes like, "Think you know about fitness? Take our quiz and you could win a free month of gym membership!"
Follow-up After Quiz Completion
Once a lead has taken the quiz, send a follow-up SMS message with their results and the next steps. For example, "Great job on the quiz, Mike! You scored 8/10. Check out our tailored fitness program for you here."
Converting Leads to Customers
Use the lead's quiz data to send personalized product recommendations. "Based on your quiz, we recommend our Advanced Fitness Program. Sign up now and get a 10% discount!"
Wrap Up
Sounds wonderful, doesn't it?
SMS marketing is indeed a powerful tool in any digital marketing strategy.
With its high engagement and conversion rates, it's a strategy that businesses can't afford to ignore. It's the instant gratification of this channel that appeals to both the businesses looking to increase their subscriber list, and to the customers who appreciate the personal connection.
But be warned. While it is suited to the world we currently find ourselves in, it comes with a big caveat: you have to do it well.
Remember that open rate of 98% that we spoke of? That means that your audience is paying attention. And if your message doesn't interest them, they'll simply unsubscribe.
Craft your message well. The stakes are high.
Get Started: Make A Lead Generation Quiz
Using One Of Our 300+ Templates