As users become more accustomed to tailored experiences, the generic, one-size-fits-all website is quickly becoming obsolete.
80% of consumers show a higher inclination to buy when brands offer personalized experiences.
91% of consumers are more likely to purchase from brands that greet them by name, keep track of their preferences, and serve them fitting offers and relevant recommendations.
Personalization presents a golden opportunity for businesses to enhance user experience but also drive significant improvements in conversion rates, customer engagement, and brand loyalty.
For users, this means navigating personalized websites that feel like they were built just for them, where every click and interaction brings value.
In this article, we'll explore the ins and outs of website personalization and how businesses can effectively implement it to connect better with users.
What is Website Personalization?
Website personalization is the strategy of creating web content for individual users based on their behaviors, preferences, and past interactions. For instance, if a user often browses athletic shoes on an ecommerce platform, effective personalization might highlight sports apparel on their next visit.
This contrasts with website customization, where users make conscious adjustments to their experience, like changing layout or themes.
Why Website Personalization Matters
Enhancing Customer Experience: At the heart of personalization is the customer journey. The website speaks directly to individual visitors via content, making them feel both acknowledged and appreciated. This also significantly reduces the bounce rate on a site.

Boosting Conversion Rates: When users encounter content that aligns with their interests, they're more likely to take action. Thus, personalized websites lead to increased sales and more sign-ups, as users feel the website "gets" them.

Increasing Customer Retention and Engagement: Personalized content isn't just about the first impression; it's about every interaction thereafter. Users are more likely to stick around, explore further, and keep coming back when you constantly offer relevant content.

Building Brand Loyalty: Beyond just making a sale, effective website personalization helps in building a deeper, more meaningful connection between the brand and the user. Brands can foster a sense of trust and loyalty by consistently meeting and even anticipating user needs, making users more likely to choose them over competitors.
How to Personalize Your Website
In an age where attention spans are short and competition is fierce, personalizing your website can truly set your business apart. Let's check out into some of the most effective methods to achieve this:
Personalized Product Recommendations
Personalized recommendations refer to the practice of suggesting products or services to users based on their individual demands, preferences, and history with the platform.
Consider Amazon's approach: Their "Recommended for You" and "Top Picks for You" sections are curated based on your browsing habits, past purchases, and even items left in the cart. Another clever feature, "Customers Who Bought This Item Also Bought," connects users to products that complement their initial interests. This provides users with a broader range of choices and tempts them to explore more, potentially increasing their purchase volume.
Geolocation Targeting
Recognizing a user's geographical location allows websites to craft experiences that are locally relevant. Take Expedia, for instance, if you're accessing their platform from Paris, they'll prioritize flight options departing from Parisian airports.
Similarly, Airbnb suggests accommodations nearby, ensuring that visitors are immediately presented with feasible and appealing options.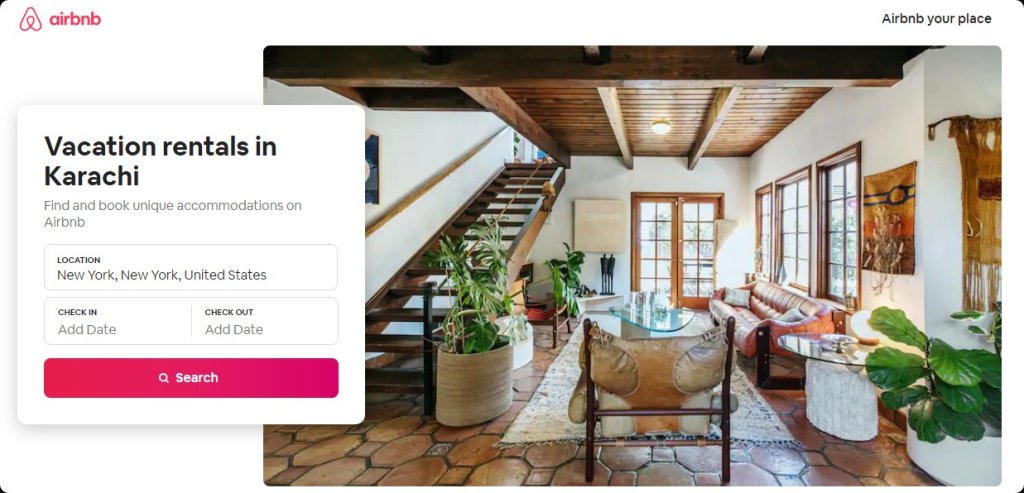 Behavioral Targeting
This strategy customizes online experiences by analyzing users' past actions, tastes, and habits.
Netflix is a prime example, as it adjusts its movie and series recommendations based on what you've watched, liked, or skipped.
Spotify also creates personalized playlists like "Discover Weekly" based on your musical tastes, ensuring every song resonates with your unique preferences.

Personalization Via Quizzes
Quizzes can be a fun and interactive way to guide users to products or services that best fit their needs. Beauty brands like Sephora use product finder quizzes to suggest skincare or makeup products according to a user's specific skin type or desired look. On the other hand, sites like Buzzfeed utilize personality quizzes to engage users, often leading them to related articles or products based on their results.
Try involve.me for Free
Create Your Own Product Finder Quizzes
Get Started with 300+ Templates
Discount Popups
Everyone loves a good deal, and timed discount popups can be an effective way to grab a user's attention.
Websites can offer timely deals or promotions as soon as a user lands on a page or after a specific action, provide instant value while also personalizing the user's journey. A prominent example of this strategy in action is OptinMonster. When potential customers arrive at their website, they are welcomed with a pop-up offering a 35% discount on their services. This immediate incentive entices users to explore their offerings and also get a rewarding digital experience.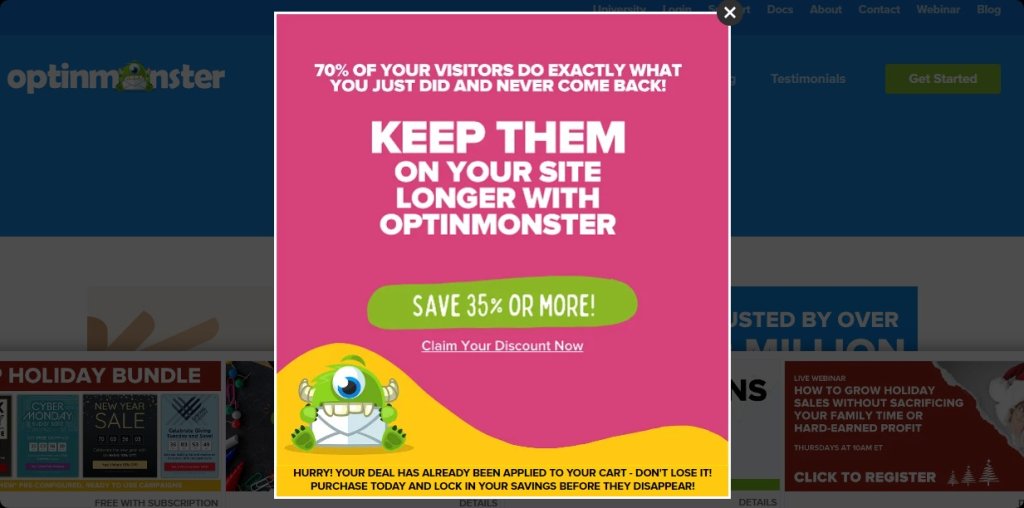 Key Components for Successful Website Personalization
Website personalization, while immensely rewarding, requires a structured approach to be effective. Here are the key steps to follow that form the foundation of a successful personalization strategy.
Step 1: Data Collection
The backbone of personalization lies in understanding ideal customer profile. This can be achieved through diligent data collection. Ecommerce businesses can gather invaluable insights into user behavior, preferences, and pain points, via analytics, user surveys, and various tracking tools, forming the basis for all personalization efforts.
Step 2: User Segmentation
With data in hand, the next step is to segment users. This involves categorizing them into distinct groups based on parameters like behavior patterns, demographic details, purchase history, and more.
Step 3: Choosing the Right Personalization Tools
The market is flooded with tools designed to facilitate personalization. However, the key lies in choosing platforms that align with your specific goals. For instance:
if you're keen on designing interactive content, involve.me is an excellent choice offer pre-built templates to create engaging product finders, personality quizzes, and timely discount pop-ups.

For those emphasizing relevant product recommendations, Brilliance provides algorithm-driven suggestions according to individual preferences.

Platforms like GeoFli excel in location-based customization, while Optimizely specializes in behavior-driven content adjustments.
Step 4: Testing and Optimization
Website personalization is not a one-time effort. It requires continuous refinement. Analyze user responses, modify approaches and regularly test different strategies so your personalization efforts remain effective and relevant.
Get Started
If quizzes pique your interest as a starting point, consider checking out involve.me to seamlessly integrate them into your website personalization strategy.
Remember, today's audience values and expects that tailored touch. So, make your mark!
Try involve.me for Free
Create Your Own Personalized Websites
Get Started with 300+ Templates