Online calculator tools serve as a versatile solution for creating custom calculators, helping businesses, educators, and professionals in a variety of sectors. These platforms remove the need for complex coding, making the process accessible and efficient.
In this article, we'll explore the best online calculator builders in 2023 to give you a detailed understanding of their features, pricing, and user ratings.
1. involve.me
involve.me is a comprehensive online calculator builder designed to create a range of interactive calculators, from price quotes, ROI, and lead score to financial calculator and much more.
Renowned for its no-code environment and user-friendly interface, it allows businesses not only to generate leads but also to capture nuanced customer insights, all while enhancing customer engagement.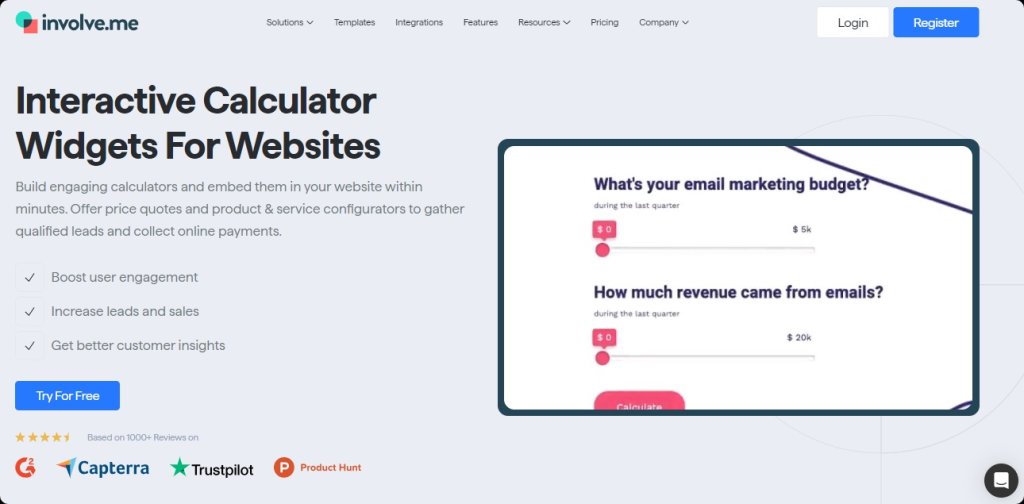 Key Features
Offers a powerful custom calculator editor, pre-built templates, several embedding options, making it accessible for those with no coding skills.

Provides control over the look and feel of the calculator, including elements like colors, transparency, and background.

Comes equipped with an advanced custom formula builder that supports Excel-like functions, allowing for the creation of complex calculations.

Features such as email-gating and logic jumps contribute to effective lead generation and better audience segmentation.

Offers advanced IF/THEN logic that accommodates multiple conditions, making your calculators smarter and more adaptable.

Custom Scoring allows businesses to assign positive or negative values to each response, which can then be factored into the final calculation, enabling personalized outcomes.

Leverages individual scoring to display different end pages based on user inputs.

Supports basic math functions and bracket symbols to control the order of operations, making the tool more intuitive.

Advanced data analytics with AI generated reports having response summaries, detailed metrics and partial submissions to gain insights into why users might be abandoning the calculator before completing it.

Provides native integrations with popular CRMs, allowing for easy data transfer and automated downstream processes.

Users can directly make online payments after receiving their personalized quotes, offering a smooth end-to-end customer journey.

With involve.me, you can opt to keep calculator results hidden for internal use or send them directly via email, offering flexibility in how you manage and share calculated outcomes.
Pricing
Free Plan: Priced at $0 per month, it allows up to 100 submissions and three live projects. A good starting point for small businesses or individuals.

Starter Plan: At $19 per month, this plan ups the limit to 1,000 submissions and 3,000 email invites. It also adds the calculator and payment form features.

Professional Plan: For $49 per month, users get 5,000 submissions and can send out 15,000 email invitations. Watermark removal and integrations with tools like Marketo and Salesforce are also included.

Business Plan: Priced at $149 per month, this top-tier plan includes 15,000 submissions, 45,000 email invites, and supports up to 3 users. It offers the full spectrum of advanced form features.
Try involve.me for Free
User Ratings
According to Capterra, involve.me holds a strong 4.5 out of 5 rating, making it a highly recommended choice for businesses of all sizes.
Create Your own Online Calculators
Get Started with 200+ Templates
2. Outgrow
Outgrow is a popular tool that specializes in making online calculators to help with lead generation. It's perfect for different industries including real estate and finance. The platform offers several types of calculators like ROI and pricing calculators, making it a one-stop solution for your customized calculating needs.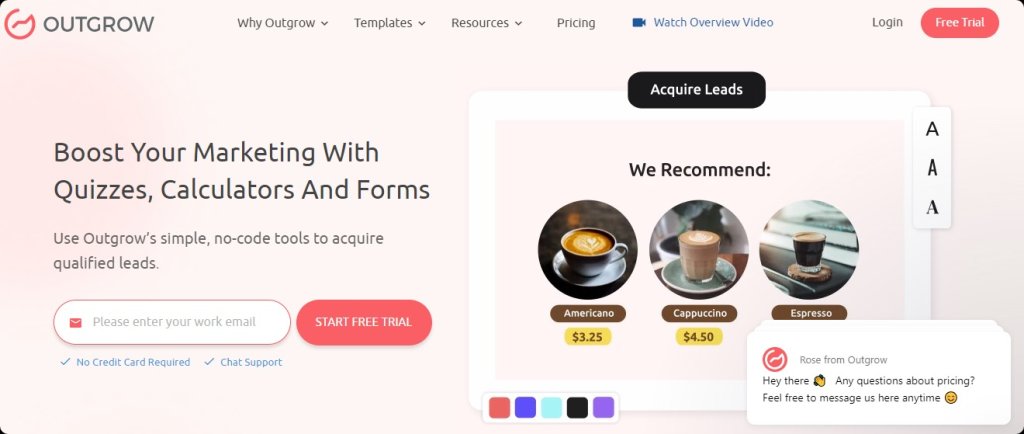 Key Features
Compatibility with various screen sizes and browsers

Customizable branding with your logo, colors, and fonts

Detailed analytics at each stage of the funnel and conditional logic for customized user pathways

Intuitive interface for easy question and option crafting

Supports text input, single and multi-select options. Includes specialized question types like sliders, rating scales, and file uploads

Advanced calculation capabilities, including mortgages and interest calculations

Dynamic charts and graphs for increased user engagement and real-time result updates

Multiple embedding options including full screen, iframe, popup, and chatbot

Personalized email features for targeted marketing and easy social media sharing with built-in share call-to-actions

Over 1000 integrations with sales and marketing tools

Agency account options for managing multiple client calculators

SSL security for client data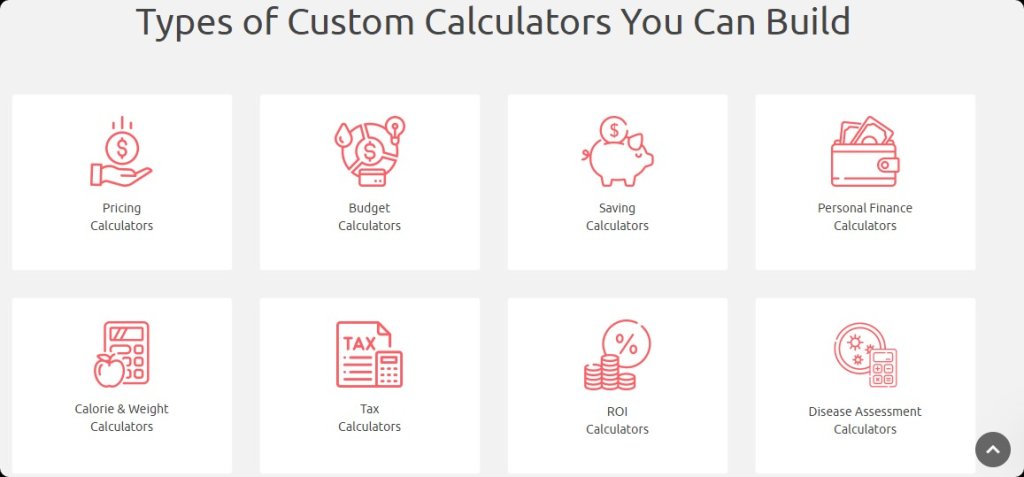 Pricing
Freelancer Plan: $14/month

Freelancer Pro: $25/month

Essentials: $95/month

Business: $600/month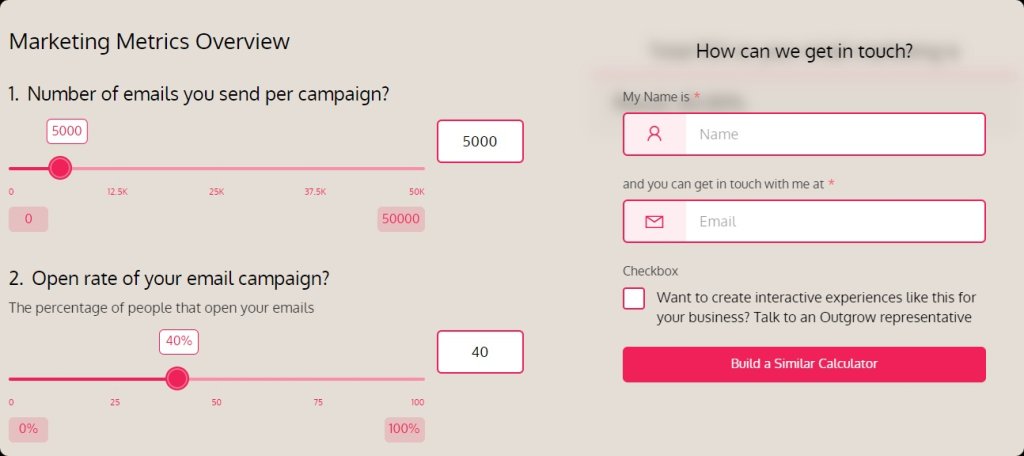 User Ratings
3. Calculoid
Calculoid is a well-known platform that helps to create interactive web calculators, suitable for any website. It is highly useful for e-commerce businesses and lead generation efforts. With a convenient drag-and-drop editor, you don't need any coding skills to develop calculators, pricing forms, polls, or quizzes.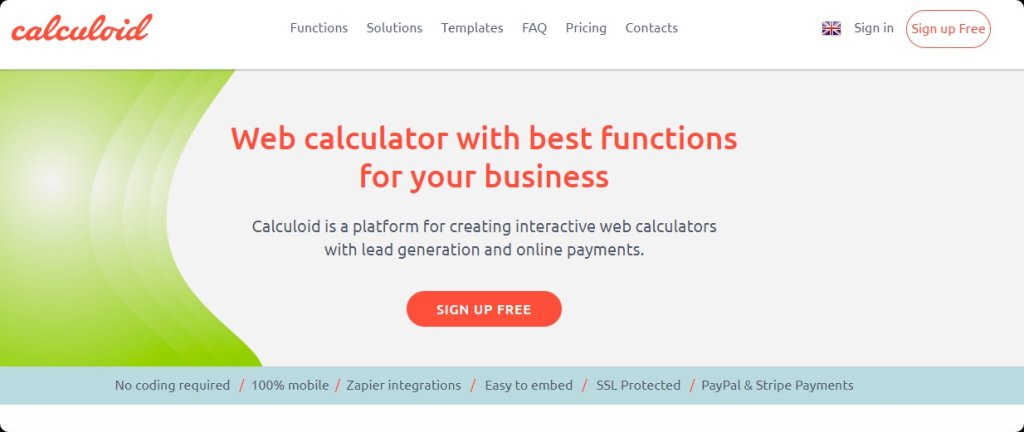 Key Features
Users can create calculators that can be seamlessly embedded into websites, enhancing e-commerce activities and generating leads.

The drag-and-drop feature makes it easy to add various fields like sliders, checkboxes, and more, while also giving you a live preview of your calculator.

Your calculator isn't restricted to just your website; you can embed it with Embed Code or iFrame.

Beyond basic athematic calculations, Calculoid supports complex excel formulas. This means you can carry out conditional calculations with statements (IF), trigonometric calculations (sin, cos), and logarithmic calculations (log).

Connect your calculator to Stripe or PayPal for easy online payments and a streamlined sales process.

Complete payment checkout, means you can collect all billing information and integrate it directly into your financial system.

Allow users to send calculation results to their email.

Calculators or forms can be spread across multiple pages. This is particularly useful if you have a complex calculator that requires multiple steps or segments.

Conditional fields that allows you to display or hide specific fields in your calculator based on certain conditions.

Use of CSV tables for static data calculations

Your calculators will adjust to any screen size, ensuring that users can interact with your calculators from any mobile device.

Easy Third-party Integration

Provide dynamic charts that adjust based on user inputs, offering a more informative and interactive experience.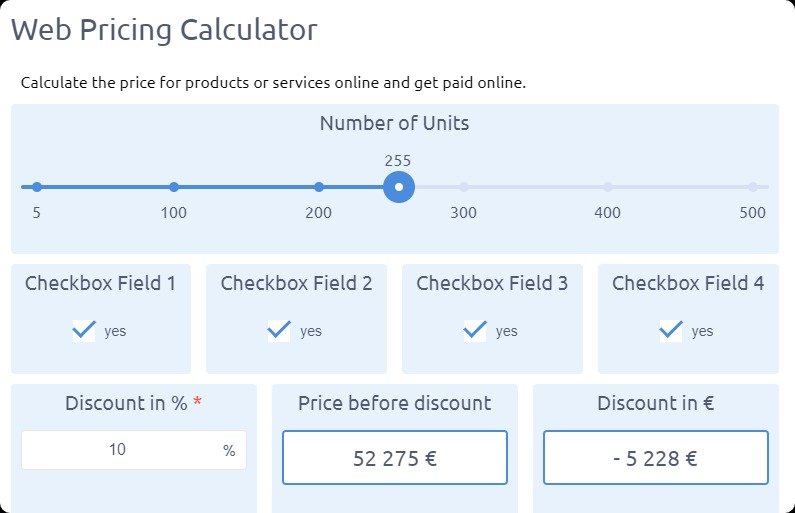 Pricing
Free Plan: $0/month: Includes basic features like lead generation, templates, date field, online payments, multi-page calculators, and 500 monthly views. 30-day full-featured trial

Lead Generation Plan: $19/month: Enhanced lead generation, templates, date field, online payments, multi-page calculators, 2 private calculators, and 2,000 monthly views

High Traffic & Ecommerce Plan: $39/month: Advanced features like lead generation, templates, date field, online payments, multi-page calculators, 5 private calculators, and 10,000 monthly views

Agency Plan: From $99/month: Advanced options including lead generation, templates, date field, online payments, multi-page calculators, 5+ private calculators, and 100,000+ monthly views

User Ratings
4. Calconic
Calconic offers an intuitive interface for creating custom calculators that you can embed into your website. Ideal for digital marketers, entrepreneurs, and sales managers, among others, Calconic aims to enhance user engagement and boost business. With zero coding skills required, you can personalize the look, functionality, and even the smallest details of your web calculator.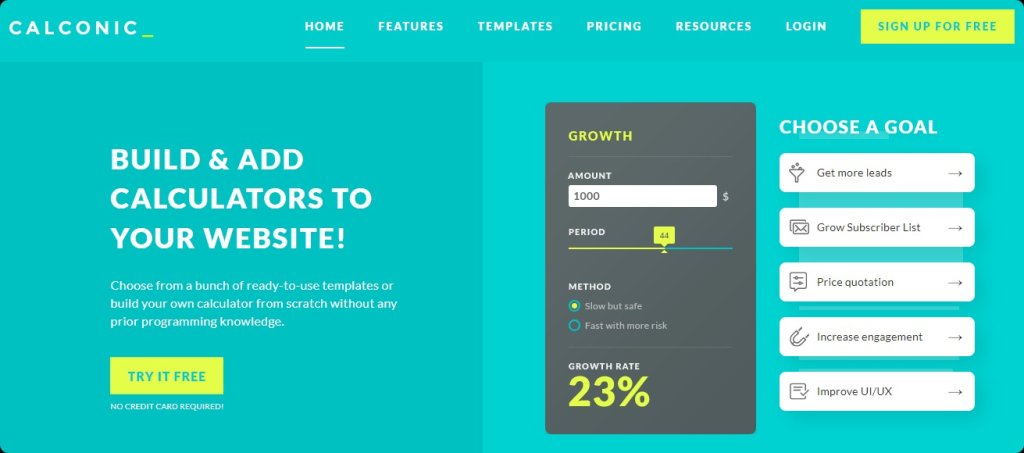 Key Features
Order form tool feature transforms your calculator into a lead-generating device by collecting customer details and sending you email alerts when new orders come in.

You can integrate your Calconic calculator with PayPal to facilitate one-time payments on your website.

Users can have their calculation summaries sent to their email addresses, helping you build a list of potential leads.

Advanced formula editor enables the creation of intricate calculations using various mathematical operations, logical operators, and conditional formula formatting.

Conditional element visibility, means show or hide calculator components based on user input or calculation results, adding an extra layer of interactivity to your calculator.

Personalize the aesthetics of your calculator with various color and text options.

Automate workflows by connecting your Calconic calculator to other web apps via Zapier.

Utilize customizable, ready-to-use calculator templates to speed up the calculator creation process.

Choose from a range of visually pleasing themes that can be applied with just a few clicks.

Use object embed, Iframe, pop-up, or sharable links to place your calculator on any web page.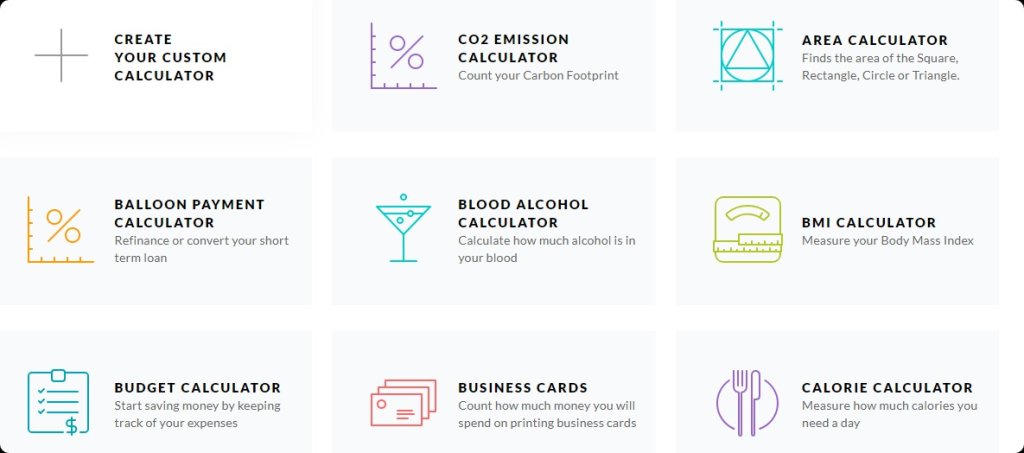 Pricing
Free: No cost, allows 5 active calculators and 500 monthly impressions.

Light ($5/month): Targeted at small businesses, offers 10 active calculators, 3,000 monthly impressions, and 750 email notifications per month.

Regular ($14/month): Designed for growing businesses, it allows 20 active calculators, 15,000 monthly impressions, and 3,000 email notifications per month.

Bold ($44/month): The most comprehensive package, offering unlimited calculators, 75,000 monthly impressions, and 15,000 email notifications per month.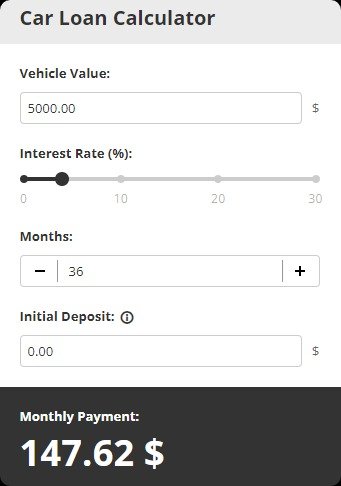 User Ratings
Capterra Rating: 4.6
5. ConvertCalculator
ConvertCalculator is an all-in-one calculator form builder, ideal for businesses looking to boost conversion rates and capture leads more efficiently. With this tool, users can create calculators that display a variety of metrics such as product prices, savings, ROI, and more. What sets it apart is its simplicity and adaptability; you can create advanced calculators for your website. It serves a range of businesses, including entrepreneurs, large enterprises, and even agencies in need of a robust financial calculator.

Key Features
Implement excel-like formulas to perform complex calculations. IF, AND, OR logical operators are supported.

Create variables to streamline and simplify complex formulas.

Import data from Excel and use functions like INDEX and VLOOKUP in your calculator forms.

Automated instant quotes can be generated, saving businesses the time they usually spend in manual quoting.

The tool boosts user interaction by enabling customers to input their own information for personalized quotes.

Providing instant, transparent pricing information to potential customers helps improve conversion rates.

Integrate large sets of data into your calculator using Datasheets.

Directly accept payments via the calculator, making it easier to turn leads into customers.

Integration with platforms like Hubspot, Google Sheets, and Mailchimp. Also supports 1000+ apps through Zapier.

No coding skills needed. Use drag-and-drop features for easy deployment.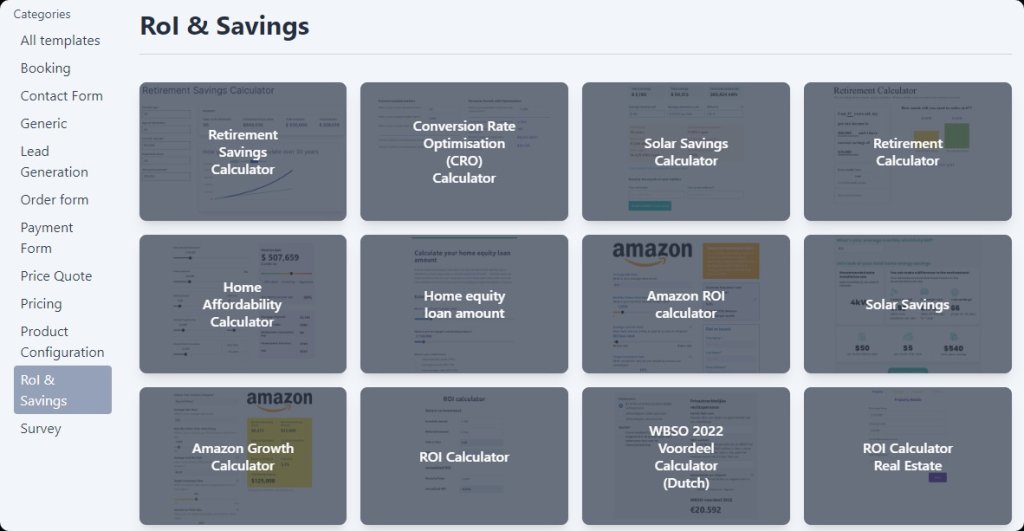 Pricing
Hobby Plan: Cost is $15/mo, includes 2,000 visits, no file uploads or submissions, limited to basic elements

Pro Plan: Cost is $35/mo, includes 10,000 visits and 200 submissions, allows 30 payments and 1MB file upload, advanced elements and integrations are available

Premium Plan: Cost is $65/mo, includes 50,000 visits and 1,000 submissions, allows 300 payments and 10MB file uploads, access to most advanced elements

Platinum Plan: Cost is $100/mo, includes 300,000 visits and 10,000 submissions, allows 3,000 payments and 100MB file uploads, custom domains and multiple workspaces available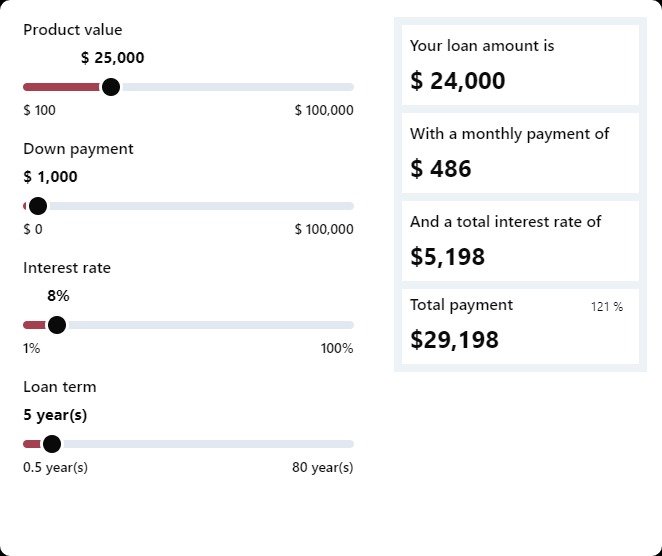 User Ratings
Capterra: 4.8
Why Opt for Online Calculator Builders, You Ask?
Well, let's start with the obvious: e-commerce businesses have their own unique set of challenges that can't be solved with just a basic calculator app. They may need to measure website ROI to scrutinize the effectiveness of their latest marketing campaign, or analyzing churn rates to understand customer retention, in fact, each e-commerce metric requires its own custom calculations. Online calculator builders are the Jacks-of-all-trades, capable of morphing into whatever type of calculator your e-commerce site needs.
But the benefits don't stop at customization. Traditional methods of creating a calculator involves intricate coding, which requires time, effort, and a certain level of expertise. Online interactive calculator builders are the shortcut on this winding road, eliminating the need for coding skills. They offer user-friendly interfaces where you can simply drag and drop elements, letting you focus on functionality and design instead of troubleshooting code.
So, it does not matter if you're looking to add a mortgage calculator for your financial product listings or an event planner and wedding price calculator to diversify your services, interactive custom calculators meet the multifaceted computational demands of modern e-commerce.
Final Words
The market is flush with online calculator builders, each with its own set of features, pricing, and target audiences. However, involve.me stands out as the most user-friendly, and feature-rich platform among its competitors. Its pricing is accommodating both small businesses and larger enterprises, while its no-code environment makes it accessible to all. From advanced formula builders to seamless CRM integrations, involve.me doesn't just make calculations—it builds bridges to better customer relationships and business success.
For an online calculator builder that truly goes above and beyond, there's no better choice than involve.me. Get started today!
Try involve.me for Free
Create Your Own Online Calculators
Get Started with 200+ Templates