Are you wondering how to get more value from student feedback collection forms? If so, you're in the right place!
As an instructor, it's important to make sure your students are engaged and satisfied with your online lessons. One way to do this is to collect feedback at the end of the course. Gathering feedback at this pivotal moment can help you identify areas where you can improve future lesson plans and develop a well-rounded learning experience for your students.
Today, we'll discuss several key benefits of creating student feedback collection forms and share several best practices for keeping your students engaged. We'll also provide some excellent resources and examples so you can start building your first student feedback forms.
So whether you're an instructor teaching a class of students or a business owner looking to help your employees hone their skills, read on for some helpful tips on collecting and using student feedback.
Let's begin! 👇
Why Gather Student Feedback? 
Before we get into best practices, it's important to understand why gathering student feedback is so vital to your success. Here are a few compelling reasons to ask people taking your lessons to share their thoughts: 
Improve Over Time: Feedback from users can help you improve your courses over time. Keep an eye out for common questions, pain points, and feedback so you can make the appropriate changes and keep users engaged. 

Boost Student Engagement: Your students need to feel like their opinions matter. People are far more likely to share their feedback with you in the future and attend more classes if you make an effort to ask them to share their thoughts.

Increased Course Satisfaction: There's a good chance your students will report feeling more satisfied with your course if you ask them to share their thoughts at the end. If someone says they had a lackluster experience, you can reach out via email and make things right. As a result, you can improve the overall satisfaction of everyone who decides to take your course. 

Better Retention Rates: Implementing changes based on feedback from your students can lead to higher course completion rates in the long run, which means you can reduce churn. 

Data-Driven Decision-Making: Gathering feedback will help you uncover concrete data about the goals, pain points, and challenges students face during your online classes. Review this data regularly and use it to make informed decisions about curriculum, materials, and teaching methods.
5 Best Practices for Creating a Feedback Collection Form
Now that you better understand the benefits of asking students to share their thoughts and opinions, let's go over several best practices you should keep in mind when adding a feedback collection form to the end of your course. 
Choose the Right Form Builder
Before you create a questionnaire, you need to choose the right form builder for the job. You don't want to select software that's too complicated or doesn't work with your learning management system (LMS). 
The interactive form builder here at involve.me is an excellent choice because it's designed for simplicity. You can easily build a multi-page feedback form and seamlessly embed it into your course. 
Here's an example of a feedback form you can create with a form builder and embed into your website (or share with students as a link): 🤓
The simple drag-and-drop builder means you can assemble your survey in less than an hour or speed up the process by choosing from a vast selection of premade templates. The templates come out of the box, looking good and ready for use, but you can customize them to your liking so they match your brand as well as the purpose of your course. 
Create Your Own Feedback Form
Start with a customisable template
Optimize for Smartphone Users
Believe it or not, nearly 70% of the global population (68.6%, to be exact) owns a mobile device. If your feedback form isn't optimized for these users, there's a good chance they will leave without taking action. 
The best thing you can do in this situation is choose a form builder that allows you to create a mobile and desktop version of your form. Here's a sample from one of our templates so you can see for yourself. 

Desktop view: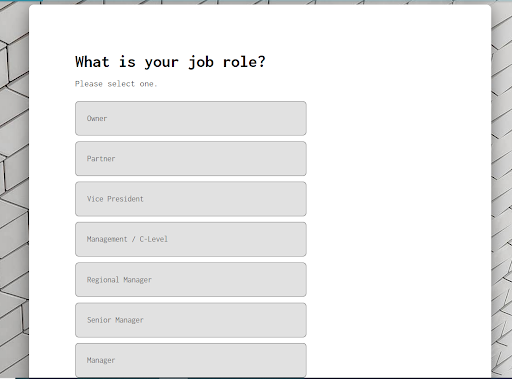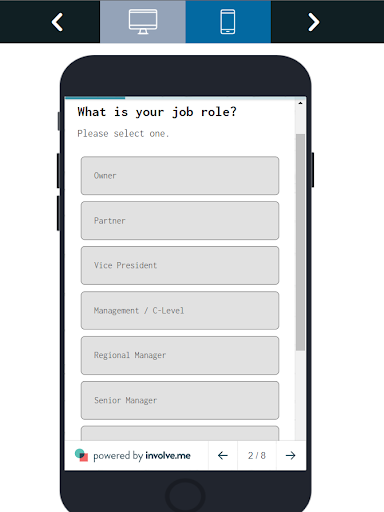 The ability to instantly switch back and forth between these versions will make it easier for you to get more people to complete your feedback collection form. 
There are other ways to keep your forms looking good for mobile users. Keep the following tips in mind during the design process: 
Keep your questions short and sweet.

Use heat mapping to ensure buttons are clickable and convenient for students. 

Test your surveys on multiple devices before it's live to the public. 
Use a Mix of Open and Close-Ended Questions
Now, let's talk about the type of questions you ask your students. It's important to use a mix of open and close-ended questions if you want to maximize engagement and gather plenty of actionable data. 
As the name implies, a close-ended question is designed for people to give a specific answer. For example, you may ask your students to rate your course on a scale from 0 to 5, like you see in the example below: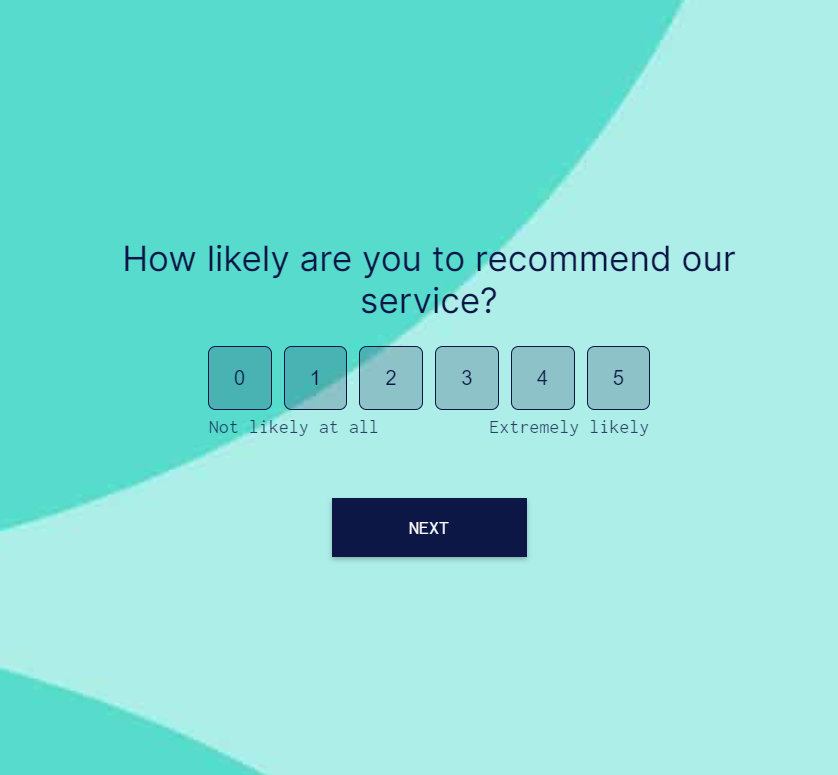 The next question may look like this; "What can we do to make our courses better next time?" This is an open-ended question and gives your students a chance to share specific tips and requests you can use in the future. 
Choose a strategic mix of questions for your feedback collection form, and you'll soon have enough data to make meaningful changes to your courses.

Give Students Flexible Options for Participating
If you want your students to follow through and participate in your survey, it's important to give them flexible options when choosing how they want to participate. 
For example, I highly recommend allowing users to choose whether they want to give their name or give their feedback anonymously. Making this one small adjustment to your form can noticeably impact engagement and help you get more meaningful feedback. 
It's also important to allow people to finish the survey at a different time. So, if someone wraps up your online course and doesn't have time to do your survey now, they should have an option to remind them later via email or push notification. 
A simple email or push alert can get students back on your site and ready to complete your course questionnaire.
Encourage Users to Stay in Touch
Finally, you should encourage students to stay in touch after completing their course and submitting their survey. You can ask them to follow you on social media, sign up for your newsletter, or otherwise engage with your company. 

Here's an example from our template so you can get an idea of how this should look at the end of your lesson: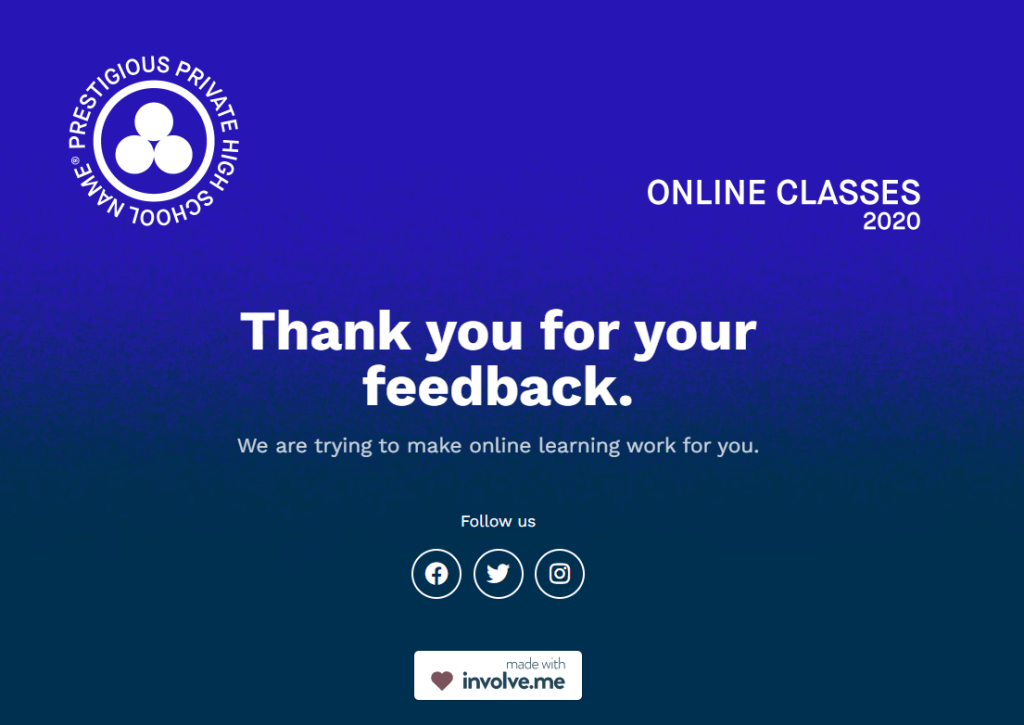 If a user had a positive experience while taking your classes, there's an excellent chance they will want to stay connected so they can continue learning. Failing to ask people to keep in touch may result in them forgetting about your website, which isn't good for your retention rate and building a base of passionate students.
Are You Ready to Add a Form to the End of Your Course?
It's easy to see that plenty of advantages come with adding a student feedback collection form at the end of your online course. The best practices outlined today will help you make the experience smoother for current and future users.
If you're ready to get started, check out our tutorials page and the rest of our blog! I also suggest browsing our survey creators and form builders so you can find the solution that matches your needs as well as the needs of your students. 
Create Your Own Feedback Form
Start with a customisable template
Author
Syed Balkhi is the founder of WPBeginner, the largest free WordPress resource site. With over 10 years of experience, he's the leading WordPress expert in the industry. You can learn more about Syed and his portfolio of companies by following him on his social media networks.