Long gone are the days when outbound tactics were marketers' first choice and the mainstream approach to lead generation.
Sure, in retrospect, customers did not wield that much power over the decision or purchasing processes just a decade ago. That led to the majority of enterprises sharing the opinion that utilizing outbound marketing tactics was the basis of a demand (or lead) generation strategy that works.
In 2021, market-leading B2C and B2B companies embrace the art of inbound marketing. They no longer rely entirely on advertising, cold calls, or mass emails to address and tackle their problems. Instead, they develop strategies that align with specific behavioral patterns, use actionable insights, and make educated decisions.
While there's no denying that adopting an inbound lead generation strategy is critical to the enduring success of any modern brand, outbound tactics can still play a role in the marketing mix.
In this article, we'll walk you through the basics of how a lead indicates an interest, investigate the dissimilarities between outbound and inbound, showcase the examples, and explore some of the proven B2B lead generation tactics.
Lead Generation with Surveys & Quizzes
Have you ever taken an online survey or quiz to learn which car model fits you best or to determine your zodiac sign based on your Friday night movie choices? It's safe to say that every person has done it at least once.
Here's an example of a quiz by Brooklyn Bicycle Co encouraging you to find your perfect bike. What you need to do is just answer several questions. Et voila! The company suggests an excellent bike based on your answers.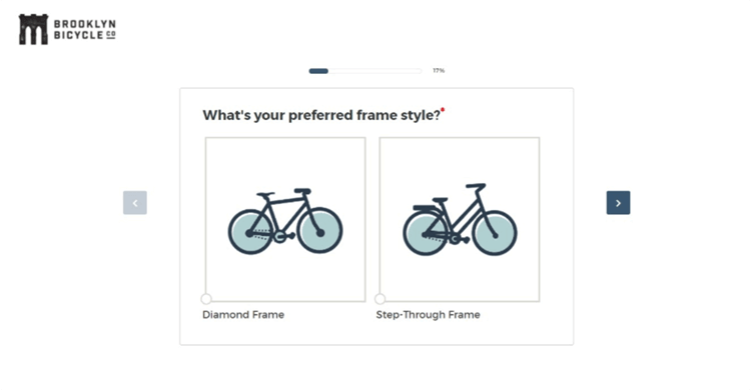 In most cases, such surveys and quizzes are designed by specific brands as a less intrusive form of establishing the first contact with prospects and bridging communication gaps. For instance, if you've taken a car survey, you're likely to receive an email from the car company the next day offering their help in choosing a new or taking care of your old auto. In a nutshell, that's what it means to be a lead.
From the business perspective, the information the brand collected from this survey helps them resolve the existing issues (if any) right away and personalize your experience before making that notoriously unsuccessful cold call. Let's face it: it's a more desirable experience for any human being than receiving a sales call out of nowhere.
Ultimately, becoming a lead means indicating some level of interest. But here's the thing: lead gen goes far beyond the simple generation of interest. Depending on the methods and topics chosen for data collection, marketers need to gauge the level and nature of interest and use various qualification approaches.
Let's look at the key takeaways:
Every person is a potential customer

Quizzes and surveys are examples of non-intrusive lead gen methods

Leads have different levels of interest and require additional assessment
Now that we've established what it means to be a lead, let's move on to distinguishing the principal differences between outbound and inbound.
Outbound Marketing Explained
Cold calls, trade shows, mass emails, and seminars are examples of outbound marketing in action.
In its essence, the outbound technique is about pushing out numerous marketing messages in the hope that they will resonate with prospective clients. Over time, such techniques became considerably less efficient for two reasons.
First of all, interruptive techniques are no longer a thing, especially when it comes to digital lead generation strategies. Today, marketers have to come up with more creative ways to reach their audience due to ad blockers, spam filtering, and numerous regulations like GDPR.
Second, most of the information is available online. Hence, people no longer have to purchase passes and plane tickets to expensive offline seminars and conferences. Besides, thanks to COVID-19, most conferences, trade shows, and seminars had no other choice than to go digital and adopt an online format.
Examples of Outbound Lead Gen Methods
It's no secret that outbound is generally more expensive and has a much lower ROI than inbound. Most outbound tactics require guaranteed delivery. Hence, utilizing paid channels or services. It means added costs, higher risks, and narrow campaign focus.
Here are some of the methods that are traditionally considered outbound:
Display ads

Mass email blasts

Cold calls

TV and radio ads

Direct mail

Social selling

Pop-ups and pop-unders
Pop-ups or opt-in pop-up forms, for instance, are becoming increasingly popular among brands. Here's an example of an opt-in pop-up by Varley. It incorporates a mix of outbound (otherwise known as interruptive) and inbound methods. The format is essentially outbound, but the content and intent have inbound features: an incentive and useful information on recent sales and updates.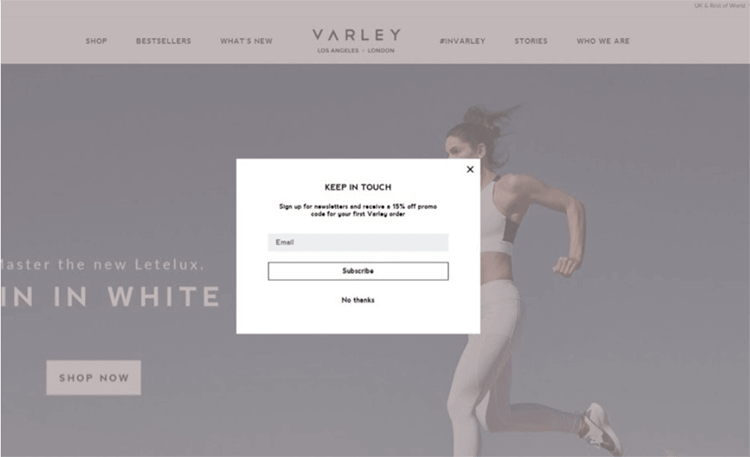 Inbound Marketing Explained
Inbound is known as a non-intrusive methodology that draws customer attention through useful content and tailored experiences.
It is a strategy that works toward establishing connections that prospects are initially looking for or resolving their issues. It's typically utilized to drive attention, build trust, and establish long-term connections with prospects and clients. In a nutshell, it's geared toward helping and assisting, not selling.
From the customer perspective, it is an opt-in lead generation strategy that allows controlling the channel and time of the engagement. In other words, they get to choose whether they want to exchange the information or not.
It is typically applied in three ways:
Driving prospects: drawing the attention of a target audience with useful content or meaningful conversations that establish a brand as a trusted advisor.
Engaging audience: showcasing insights and presenting solutions consistent with the goals and pain points.
Giving or causing delight: providing support or help to customers and empowering them to achieve success after completing the purchase.
Examples of Inbound Lead Generation Methods
Inbound helps marketers to chart a path to the bottom of the funnel that consists of useful information and incentives tailored for potential clients.
Such lead generation strategies leverage numerous channels, including social media, landing pages, podcasts, and search engines.
Let's look at the examples of inbound methods:
Live chat

SEO

Blogging

E-books and guides

Quizzes and surveys

Viral videos

Programmatic advertising
Here's an example of a quiz by Buzzfeed that promises fun to prospects and demonstrates the same efficiency as surveys. It offers to guess your zodiac sign (a fun part) based on your answers about the makeup routine (informational part).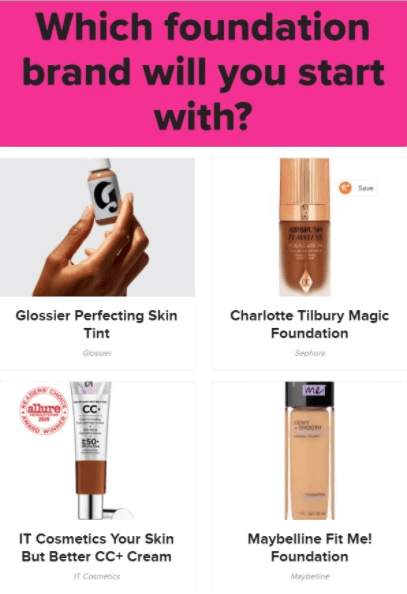 As mentioned before, quizzes matured into a powerful tool for personalized recommendations and building customer loyalty. So it is only natural that quizzes and surveys became an integral part of B2C and B2B lead generation strategies.
The Key Takeaways
Inbound methods chart a specific course of opt-in actions for prospective clients through useful information and incentives. Outbound is associated with intrusive lead gen methods. Inbound is geared toward being practical and assisting prospects, not selling. Unlike outbound, inbound is customer-centric. Quizzes and surveys are examples of powerful inbound methods aimed at building customer loyalty and personalizing recommendations
How to Transform Your Strategy from Outbound to Inbound
It's still a somewhat mainstream practice for B2C and B2B marketers to spend most of their budgets and efforts on outbound approaches. But rather than implementing exclusively outbound methods, brands are starting to look for proven mixed approaches and illustrations of great lead generation strategies.
For some of them, transforming their strategy to inbound becomes an even greater priority. Here are a few pointers on how to ensure successful transformation:
1. Flip the Ratios
If your B2B lead gen was mainly outbound and you want to use the mixed approach, consider spending 85-90% of your efforts on inbound and only around 10% on outbound methods.
2. Focus on Automation
Modern automation software enables brands to manage everything from tracking to routing leads and automating specific sales processes.
If you think of lead gen as a numbers game, automation can help you expand your reach and revenue through automated distribution and robust analytics like predictive insights or ping trees.
3. Become a Trusted Advisor
Never underestimate social proof. It's crucial to focus on drawing the attention of your prospective clients naturally and establishing trust through blogging, podcasts, SMM, viral videos, search engines, and reviews.
Once you gather enough social proof, share it on your website, landing pages, and social accounts. As one of the principal B2B lead gen approaches, it can help your prospects make more thoughtful and educated buying decisions.
4. Develop a Content Strategy
An all-encompassing content approach can help you develop a new or enrich an existing lead generation strategy that will propel your business. The goal is to create useful, engaging, and memorable content for every stage of your funnel.
At the same time, you need to develop and implement an SEO strategy. Here's the thing: SEO can complement your lead gen efforts or kill them. Obviously, the first option is preferable. There's no denying that having an SEO strategy in place is crucial. It can help you ensure that your site and blog are optimized, link building is in place, and the right keywords are identified.
5. Repurpose Existing Content
If you're not using videos for your B2B lead gen campaigns, your competition probably is. Let's face it: data doesn't lie. As many as 86% of brands use video as a marketing tool. It's only natural since video remains one of the biggest trends and versatile formats used to transmit information.
Unlike popular belief, you don't need to spend a lot of money or effort on video creation. Instead, you can use existing content and repurpose it. Repurposing means turning it into informative animated explainer videos or product demos.
6. Utilize Nurturing Tactics
Today, savvy marketers are executing omnichannel nurturing strategies to impact the decisions of prospective clients. Utilizing lead management software as a part of a multi-channel suite of solutions can help you take your lead tracking, distribution, and analytics to the next level. On top of that, it allows managing all your campaigns and efforts in one place.
The Choice Is Yours
That's all, folks! Now that you know more about both strategies, it's time to pick the one that fits your brand best.
Ultimately, your brand's goals determine which of the two lead gen strategies can yield more leads and drive more revenue. If you find yourself at a crossroads, we recommend testing to learn which methods perform better, empower your company, and help it grow.
Get Started with Lead Generation Quizzes
With One Of Our 300+ Templates