Customer intelligence is a deciding factor in almost all areas of business development. It's the key to coming up with more profitable business ideas, devising a suitable business plan, acquiring and retaining customers, and scaling your business. Without proper customer intelligence you're simply leaving these critical areas to chance and intuition.
Get Started with Online Surveys
With One Of Our 200+ Templates
Question is how should you start with customer intelligence? What is it and what are some ways to gain it? In this article, we're talking about 4 ways you can gain customer data and use it to improve customer experience.
Customer Intelligence and Its Importance
Customer intelligence is the process of gathering customer data feedback to pull insights from it. It's a necessity for every single business, for two correlated reasons:
Customer intelligence helps you get to know your customers and their personal preferences
66% of buyers expect personalization from the brands they use
CI allows you to find out who your customers are, what they want and don't want, where they're located, what their buying habits are, and so on. Its value lies in the knowledge it provides – the knowledge that you can use to tailor your interactions, and communication with customers on a personal level.
Now, the end benefits of gathering customer intelligence are:
Increasing Customer engagement

Retaining More Customers

Building Brand Loyalty
Since those are among the top priorities for all businesses across industries, every company needs customer intelligence.
So, how do you build customer intelligence? Here are 4 ways to collect customer intelligence.
1- Find the Best CRM Platform
Some people might think using a customer relationship management platform is a little unnecessary at an early stage of development. But that point of view is archaic in the year 2022. In fact, research shows just the opposite is true.
Salesforce's Small and Medium Business Trends Report finds that 62% of small businesses report they wouldn't have survived the pandemic using the technologies of a decade ago. And not surprisingly, more and more small businesses are investing in technologies that will strengthen their relationships with customers, considering the skyrocketing customer expectations. In 2021, 56% had already been using a CRM platform.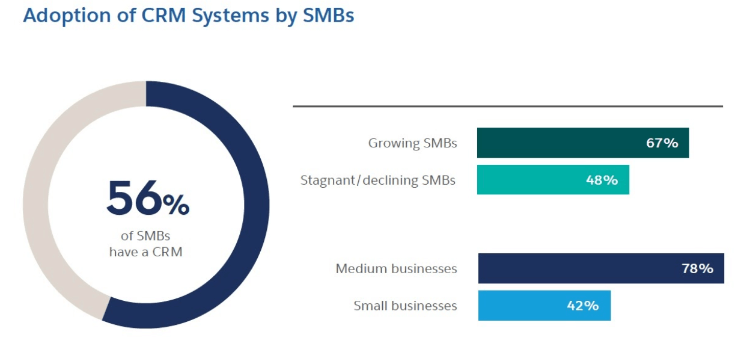 Another interesting finding is that while 67% of growing SMBs use CRM platforms, only 48% of stagnant/declining SMBs are benefiting from the technology. That tells us regardless how small or large-scale your operations are, you have to use a system that will store and analyze customer data you can derive insights from.
While behemoths like Amazon can—and often do—build their own internal engines when a need occurs, SMBs can't. Small and mid-sized businesses have only limited resources and must wisely choose the technologies they'll invest in.
That's why most of them work with multiple solution providers and therefore the data they obtain from each solution is siloed. Meaning, large amounts of data is lying everywhere from one tool's dashboard to another's excel report, but businesses can't bring together different data points from all those separated systems and tools to have a deeper understanding of their audience.
And CRM tools seamlessly overcome this problem. They allow decision-makers to reach and analyze a customer's every single interaction covering various touchpoints.
It's understandable if you don't want to spend too much from early on, so you can choose an affordable, even simpler CRM tool to start with. There are customizable solutions and countless new platforms out there, you've got more options than Salesforce or HubSpot. Check out this list of small business CRM platforms from FounderJar.
Of course, advanced CRM tools come with their own advantages:
You can integrate with the systems and tools in use, like email automation software, dynamic pricing software, ad management platform, accounts receivable software, chatbots, process analytics software, customer service software, and more, to deliver tailored offers and personalized content.
They provide in-depth data-driven reports that help you analyze the efficiency of your processes—like the speed and accuracy of your logistics operations—and the success of your marketing efforts.
This way or another, use a platform where you can see customer data coming from all sources including website analytics, social media, content, real-time data, email marketing, sms marketing and so on.
2- Build Online Only Focus Groups
In the good old days, one of the pillars of market research was forming focus groups to validate a certain assumption. A new feature that was thought to add to the customers' willingness to pay for instance, was tested with a focus group before its launch.
But in-person focus group studies do not suffice to meet marketers' needs today, for two simple reasons:
They're not scalable, you can't form focus groups on every fresh product or feature, or you'll have to exceed your budget to scale.

They're often subject to bias, because what people think and what they do can actually differ a great deal.
So, are focus groups irrelevant to the digital world? Certainly not.
In fact, it's just the opposite. One effective way of solving the scalability problem is moving online. Online form builders like involve.me are incredibly easy to use and not very expensive for collecting customer feedback through surveys.
And more importantly, online focus groups are traceable. So even if the results of the surveys are biased, you can continue collecting data and observing surveyees behavior, to see what might be the reason for such discrepancy. Another way would be using personality tests and quizzes (which are more engaging than typical surveys and forms) to gain insights.
You can further divide those focus groups and test discounts, coupons, or any other marketing and sales tool at hand. Eventually, you'll have a data-driven idea on whether and how you can influence your audience's behavior by observing what they initially report and how they behave after it.
In short, conducting online focus group studies can help you gain customer intelligence without paying too much on market intelligence reports or insights companies.
3- Run A/B Tests
The best marketing is data-driven marketing, because unlike what we tend to believe, expert opinion does not bring that much accuracy to the table.
Your audience is unique, so expert opinion has limits when making specific predictions about it. What's much more convenient is looking at what actually happens when customers are faced with two different circumstances.
Say for instance, you're not happy with your ad campaign performance. One thing you can try is to look for a different tone of voice you can adopt that will resonate better with your audience.
Luckily, the majority of SaaS and ecommerce tools in every category, including advertising management platforms, provide seamless A/B testing with customizable settings. All you have to do is determine what you want to test, and they handle the analysis and reporting.
When it comes to testing, sky's the limit. Gather customer intelligence as much as possible by running regular A/B tests everywhere on your website from the product sorting to the size of the price information, from bundles to your messaging, any elements on your leadpages, and so on.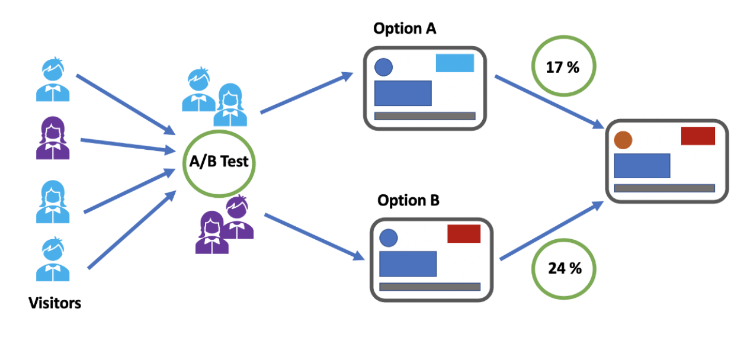 4- Conduct Interval Willingness
Willingness to pay, or WTP, is the maximum price a consumer is willing to pay to buy your products, solutions or services. It's an incredibly useful metric when pricing a product, simply because it allows you to approach as much as you can to your customers' expectations.
If you know about how much a customer is willing to pay, you'll be able to offer them a truly enticing deal. And if it turns out you can't offer them that attractive of a deal, it means that specific product is not profitable for you. This way or another, willingness to pay research is often revealing.
How do you conduct one?
4-1- Step 1: Segment Your Audience
The first step is segmenting your audience based on their:
Location: Neighborhood/District/Region/City/State/Country

Demographics: Level of Education, Income, Age, Employment Status, Marital Status, etc.

Behavior: Everything from how much time they spend on your website, what they've shown interest in, how frequently they buy, to their average basket size.
You can add to or remove from the criteria based on your objectives, but a basic segmentation will do enough for the purpose of this research.
4-2- Step 2: Randomly Select Sample Groups from Each Segment
Now, suppose there came 5 groups out of your segmentation. Suppose you have about 60000 people's data in your database, it would be too costly and time-consuming to survey them all. Instead, you can randomly select a subgroup from each segment.
The average ideal sample size is 10% of the total audience. So based on your segments' level of representation in the larger group, randomly select a total of 6000 people. If the first segment makes up for the 20% of the entire audience, for instance, randomly select 1200 people from that segment.
So, now that you're done with forming your survey groups, use involve.me's survey tool to ask these questions:
What's the maximum price you would pay for this product?

What do you think is the minimum price for this product?

What is a fair price for this subscription service?

Please rank-order the features below considering the benefit they offer.

What additional features/services would increase this product's value?
And finally, it's time to analyze the results.
4-3- Step 3: Analyze Your Findings
The questions you asked to the each segment reveal vital information:
What's the average willingness to pay among all segments?

Which segments are the perfect product market fit that will yield the highest profit?

Which segments would need encouraging discounts to buy your product?

Which additional features, services, perks would increase their willingness to pay?
Knowling all these is a significant step in building a long-term plan where you find the right target market, have strong relationships with your customers, build brand loyalty, get rid of unprofitable products and realize fast and scalable growth. Using dedicated data analytics tools can help you a lot in this process if you have multiple data pools and a lot of data to work with.
Get Started with Online Surveys
With One Of Our 200+ Templates
Conclusion
In a nutshell, customer intelligence is a safe haven from self-indulgent opinionated business ideas. When given free rein, these ideas would not only waste our resources but might be destructive to our growth. Think of all the well-intentioned but offensive ads that only stirred negative emotions and distrust against brands, and then imagine all the money and time spent to rectify this.
Taking advantage of customer intelligence, on the other hand, would reinforce the effectiveness of your strategies. If you're looking to expand your market share and your customer base, if you need to communicate with clients more efficiently in order to instill trust and make them loyal, then you need to know what tickles them and what repulses them. Using the tactics explained above to gather data alongside a suitable customer intelligence platform would be the best way to do so.
Author
Mostafa Dastras has written for some companies such as HubSpot, WordStream, SmartInsights, LeadPages and MarketingProfs. What keeps him up at nights is how he can help his clients increase sales with no BS content marketing. Visit his blog, LiveaBusinessLife, or connect with him on LinkedIn.