Marketers have known that quizzes are a great tool for marketing ever since BuzzFeed's wild success. Quizzes are engaging, entertaining, and informative. They can help you learn more about your customers, and they're a great way to generate leads. Plus, quizzes are a lot of fun, and people love sharing their results! In short, if you're looking for a way to spice up your marketing strategy, using quizzes is an excellent choice.
Get Started: Make A Lead Generation Quiz
Using One Of Our 300+ Templates
You may be wondering if the same applies to B2B marketing. In this post, I'll show you that it does. In fact, I'm going to show you 6 different reasons why quizzes are the perfect tool to make your B2B marketing strategy stand out and be as effective as it can be.
1. Intriguing Way to Capture Attention
Quizzes are addictive and attractive, and we're drawn to them by nature. This is because quizzes are interactive, and interactive content is fun engaging and will keep those who take them coming back for more. From a customer's standpoint, quizzes are a great way to learn new things.
They teach you something and then help you apply that knowledge to take further steps, whether sharing your results on social media or taking action to understand the subject matter better. We love completing quizzes because we value what we learn when we finish one.
Additionally, quizzes allow us to test, categorize and validate ourselves in terms of what we know or how we behave, and this applies to businesses as much as it does to individuals. Businesses are made up of people, after all.
2. Great Lead Generation Tool
Quizzes are particularly effective in generating top-of-funnel or ToFu leads. They're much better and more effective at it than white papers. The reason behind this is that, while white papers do remain the most common way to research B2B decisions, they're long, boring and take a lot of time to read through and understand.
A quiz is the complete opposite of a white paper. It delivers bite-size pieces of relevant information (that is most likely in the white paper) that are easily digestible in a fun and interactive way. By doing this, they manage to grasp your audience's attention long enough to get them to read your white papers or other important marketing copy.
For example, suppose you run a company that offers blockchain development services to help companies build DApps (decentralized apps) such as crypto exchanges, DeFi solutions etc. You could run a quiz in your marketing campaign titled "Does your company need blockchain?" that promises to assess how suitable this technology is for your potential customer's business.
After the quiz, you can show a CTA that invites readers to learn more and download a white paper about how companies in different niches can implement blockchain technology. If your reader's results suggest that their company does indeed need the tech, very likely they'll click on the link or CTA, filling in a form with their contact information while they're at it.
If you think only B2C businesses with a massive audience are bringing in a high number of valuable leads, think again! Unitrends, a data backup and recovery company, launched a Superhero personality quiz that generated 5,100 new B2B leads in just three months. Also, those leads generated over $1M in sales.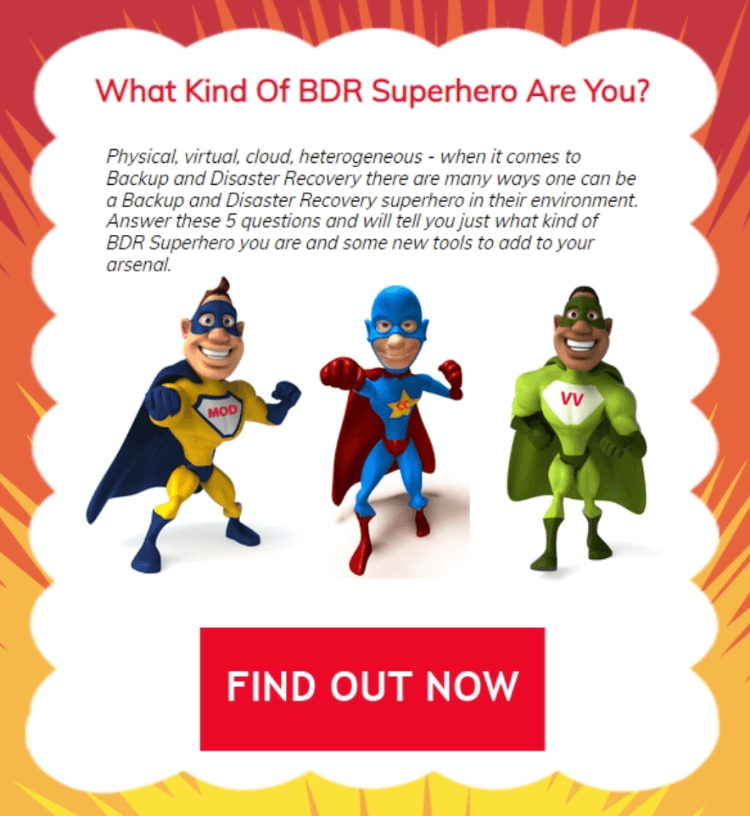 Pro-tip: How to Craft Quizzes to Increase B2B Leads
To make your quizzes better marketing tools, you'll want to include a lead-capture form at the end before providing results. As the name implies, lead-capture forms collect contact information from quiz takers. This will allow you to build your email list and also help you boost conversions.
Some strategies to make quizzes even better to build leads start with offering as much value as possible by offering a free weekly newsletter subscription, an eBook or free ticket to a raffle, for example. You should also request only essential contact information that you plan to use and be very clear and upfront about how you will use that contact information. Being honest with your potential customers goes a long way.
3. Get More Social Shares
While it's true that B2B marketing quizzes don't get nearly as much social attention as a quiz about personality type or choosing the perfect couple, they do get a lot more shares than the other content in your marketing campaign. Blog posts and white papers don't get nearly as many shares as quizzes.
Admittedly, businesses share quizzes and quiz results with a much more niche audience than the average Joe, but that's actually a good thing since it's more likely that others related to their industry will view those shares.
Pro-tip: How to Craft Shareable Quizzes and Results
Not all quizzes are shared to the same extent. Some are great performers that get hundreds to thousands of views, while others barely take off. Some key tips when crafting your quiz to make it more shareable include:
Focus on positive emotions and compliment your audience. Avoid criticizing bad results.
Make results as appealing as possible by including good quality images that are nice to look at. People tend to share results with images and nice style and formatting more than a bland block of unformatted black-on-white text.
Make sure your results are crafted in a way that represents your company's image. That will help build brand awareness when they're shared on social media.
Remember to add share buttons for social media. Make it as easy as possible for anyone who wants to share their results.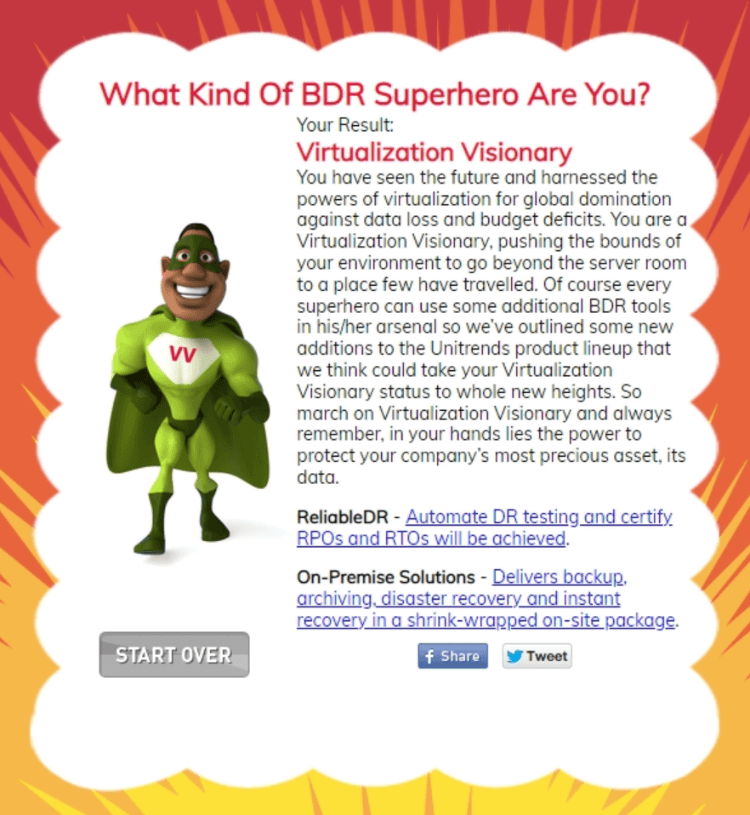 4. Increased Website Traffic
Getting more shares is as important for brand awareness as it is to drive traffic to a landing page, a blog post, a white paper or simply to your website's home page. No matter your conversion rate, more traffic means more conversions and more money coming in in the end.
5. Improved Business's Credibility
As the business that publishes a quiz, you position yourself and your brand as experts or authorities on that quiz's topic. It's an open opportunity to provide important insights your audience may not know.
Take a financial services company that offers business credit cards as an example. By crafting a quiz that asks key questions about the best ways to use credit cards for different types of businesses, they're likely to hit on some points that quiz respondents hadn't considered before.
While you can use this method to guide your audience to your business solution, this also nurtures your credibility and helps build trust with your audience.
This is critical for keeping prospects engaged and receptive to additional information. Following up with more quality content after gaining a prospect's attention and trust is much easier since it makes it more likely for prospects to open follow-up emails and click on them.
6. Valuable Insights
Quizzes are a fantastic approach to learning more about your clients. Not only are they entertaining, but you can craft your questions with the specific goal to better understand your customers' interests, actions, and preferences.
Knowing your target audience's thoughts about your products or services can help you develop future material. Personality quizzes are the most effective for obtaining this information since they provide useful data about your intended audience.
You can also score your leads, funnel them to the correct nurture track, and provide information to sales, all of it based on quiz responses. What a single quiz doesn't accomplish can be accomplished by two or more if you follow up with another quiz or link to a blog post or webinar that would be of particular interest to your prospect based on their answers to the first one.
The Bottom Line
In short, if you're looking for a way to boost your B2B marketing, quizzes are a highly effective marketing tool that you should start using today. They're popular, generate tons of TOFU leads, and help gather important consumer information.
They also get more shares, generate more traffic than other types of content and build credibility and trust. What's not to love? So go ahead and get started crafting your next viral quiz today—you may be surprised at just how successful it turns out to be.
Get Started: Make A Lead Generation Quiz
Using One Of Our 300+ Templates
Author
Jordan Bishop is the founder of Yore Oyster and How I Travel, two sites to help you optimize your finances while living an international life. He recently published his first book, Unperfect, an exploration of problem solving.