Creating a content calendar might seem intimidating, but it comes with more perks than you realize. Content planning will save you time in the long run. It will keep you accountable. And you can never make excuses again saying you have no content ideas.
Interactive Templates
200+ Editable Drag & Drop Templates
Behind every great social media strategy, there is an even better content calendar. Running an online business without having a content plan is like trying to fly to London without an airplane. It just doesn't work.
Having a content plan gives you direction, goals to reach, and gives you a structured view on exactly what value you are providing your customers and how over a long period of time.
Whether you are planning content for your blog, social media channels, newsletter, or podcast it doesn't matter - a content plan will make you 60% more effective than businesses who don't use one. And surprisingly from the B2B businesses that do content marketing which is 88%, only 32% have content plans.
Here's a very simple guide on how to make a content calendar.
Your content calendar can be as simple or as complex as you want it to be. It can literally be a piece of paper on your desk or an expensive content scheduling tool where you have everything ready a month in advance.
1. Match Content Type To Platform
Figure out what type of content you want to create and on which channels you want to distribute it. Here is where you would categorize your content. Common categories include educational, funny, inspirational, and promotional content types.
Other content categories can simply describe the actual type of content you will create like whitepapers, infographics, videos, etc. And distribution channels are pretty straight forward. Are you going to be publishing this content on your blog, YouTube, TikTok, in your newsletter?
Different types of content take different amounts of time to create, promote and track. So the sooner you know what to expect, the better you can plan and get more content out there.
2. Brainstorm Content Ideas
Most brainstorming sessions don't go anywhere. It's because most people do it wrong. Defining content categories and respective platforms for each will help you structure your thought process.
Make columns for each content type and start jotting down ideas. This is where you need to do a lot of research and planning. If you need ideas for content, it is always great to check out the latest trends. You can find this on websites like trends.google.com or another great website is answerthepublic.com.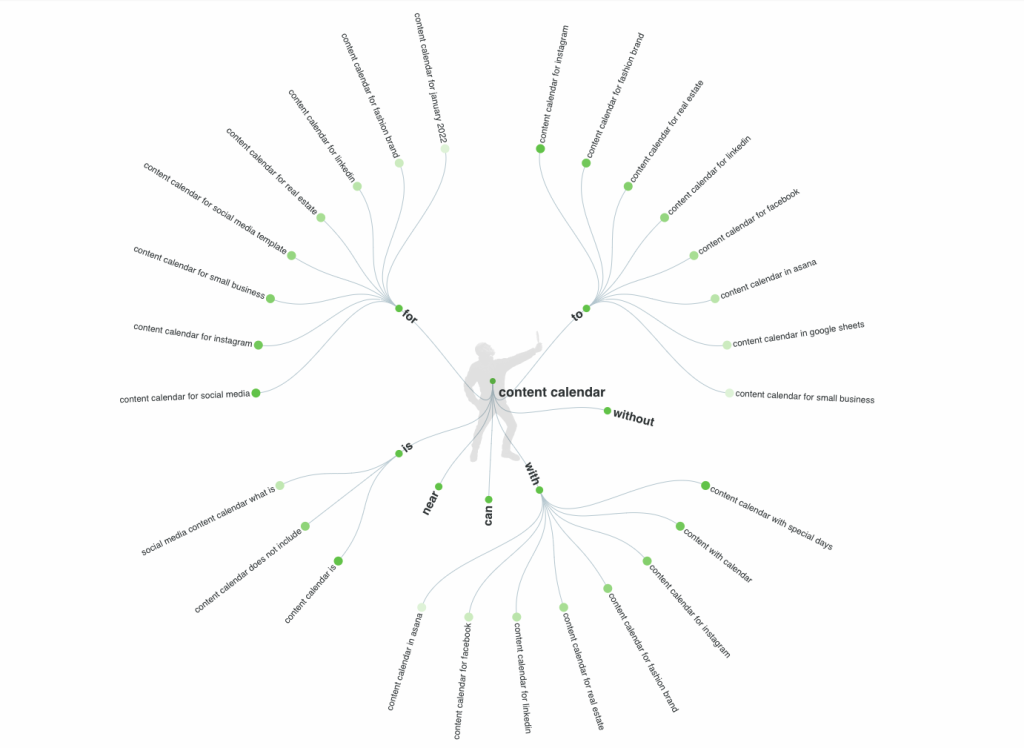 Alternatively, social media channels are starting to have their own trending pages like Pinterest and TikTok. You can also check out pages that are similar to your business for content inspiration.
3. Color Code Your Calendar
Find a color code system. This isn't necessary but it is very useful when you are looking at a full month's content. You can color code based on distribution channels or content types.
4. Find A Platform That Works For You
Once you have all your ideas in different categories, it's time to actually input these ideas into a calendar. I will be using Asana for this today but you can also create a content calendar in a Word document or in Google Sheets. Or you can literally just put it in your phone calendar!
This part of content planning is where you decide whether you want to post once a day, twice a day, or just three times a week and figure out what works best for you. The one thing I would recommend is to definitely do this digitally so you can always make adjustments as you go if you find that you are trying to do too much or if you feel that you can do more.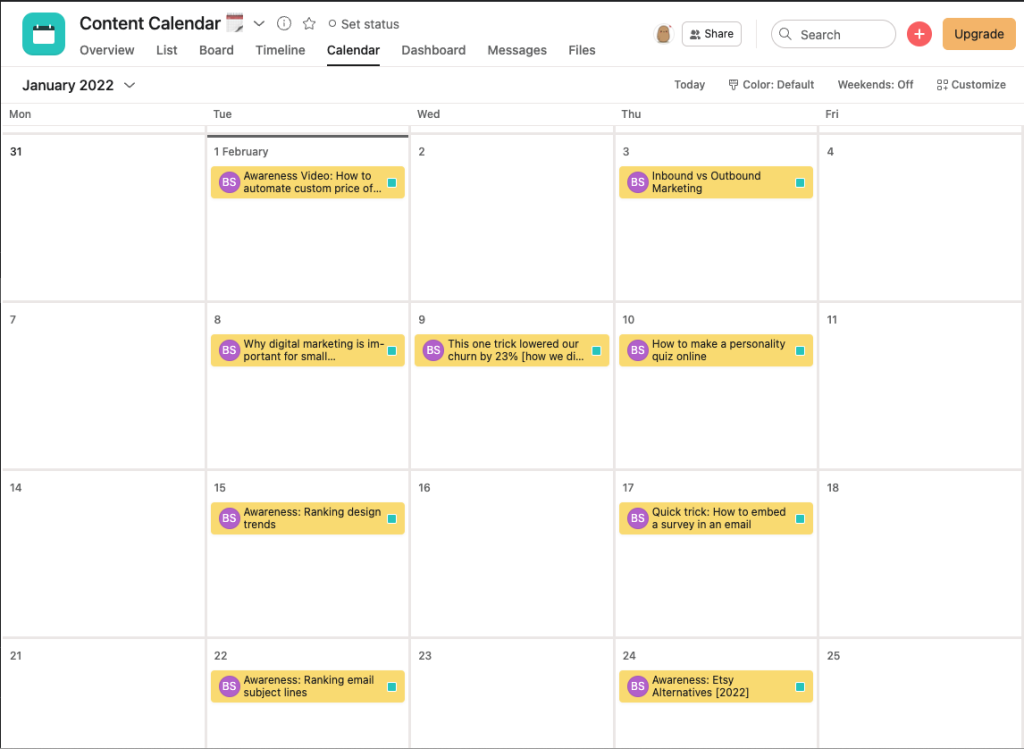 5. Check In On Content when Published
Lastly, once you start following your content plan make sure to always evaluate your progress. Check back in with your content calendar, see what content performed well and when and adjust for optimal performance. The great thing about a content calendar is that it gives you a lot of structure and organization, yet it is flexible and you can always adjust it along the way.
So that is how you create a content plan for 2022. It is a super simple process but it can really help you out in staying interactive with your audience and being able to plan ahead to deliver more value in your content.
Interactive Templates
200+ Editable Drag & Drop Templates