Did you know that companies skilled at lead nurturing produce 50% more sales-ready leads, and that too at a 33% reduced cost?
Lead generation in the Consumer Packaged Goods (CPG) industry is critical for brand growth. With the excess of products vying for consumer attention, effective lead strategies distinguish top-performing brands.
The challenge lies in selecting the right digital channel and employing an effective marketing strategy to reach your potential customer.
This article explores online tools in the CPG sector to generate leads and provide a step-by-step guide on creating impactful CPG quizzes.
Online Tools to Generate High-quality Leads in CPG Sector
Want to know about online tools that not only engage but also convert? Let's have a look at some of the top tools:
Order Form
A digital form designed to simplify the ordering process for consumers.
How it generates leads?
Customers are more likely to complete their purchases when it is easier to order. When they do, you can capture essential details, creating a basis for other marketing campaigns. 
Clothing Size Calculator
A custom calculator that helps users determine their ideal clothing size.
How it generates leads?
Users appreciate value-added tools. As they engage with the calculator, you collect valuable data, allowing for more personalized marketing efforts in the future.
Knowledge Quiz
A fun quiz testing users' knowledge about your brand and products.
How it generates leads?
Engage potential customers in a light-hearted manner. As they interact, gather insights into their preferences, tailoring campaigns to match their interests.
Gift Finder Quiz
A quiz that recommends gifts based on user preferences and needs.
How it generates leads?
Simplify holiday shopping for users, and in the process, capture leads that show a keen interest in seasonal offers and products.
Newsletter Signup Form
A digital form inviting users to subscribe to regular updates and news.
How it generates leads?
An immediate way to connect with a dedicated audience. Those who sign up demonstrate a proactive interest in your offerings, providing you their email address and expanding your mailing lists, making them prime leads for future engagements.
CPG Product Finder
A product finder quiz recommending hair products based on individual user needs.
How it generates leads?
It guides users to products that suit their specific needs. This enhances their shopping experience and also gather data on customer preferences, shaping future digital marketing strategies.
NPS for CPG
A metric tool measuring customer satisfaction and loyalty.
How it generates leads?
Beyond just gauging satisfaction, the Net Promoter Score helps identify your brand's promoters. These are engaged customers who can be nurtured further and possibly turned into brand advocates.
Create Your Own Lead Generation Tools for CPG
Get Started with 300+ Templates
Crafting an Engaging CPG Quiz: A Step-by-Step Guide
So now we understand the significance of lead generation in the CPG industry, it's high time to use interactive tools to captivate your ideal customers and convert them into qualified leads. Use involve.me, a no-code platform tailored for this exact purpose.
This platform stands out for its intuitive drag-and-drop feature, AI-enhanced content elements, insightful analytics reports, and a rich suite of integrations. Moreover, its extensive library of pre-built templates makes it even easier to kick-start your quiz creation process.
As a demonstration, I'll be designing a "Hair Product Finder" quiz using one of involve.me's handy pre-built templates.
Step 1: Get Started with Sign-Up
Begin by setting up your account on involve.me. A simple registration process, it's your ticket to accessing the platform's rich suite of features. Simply input your details, verify your email, and voila, you're in!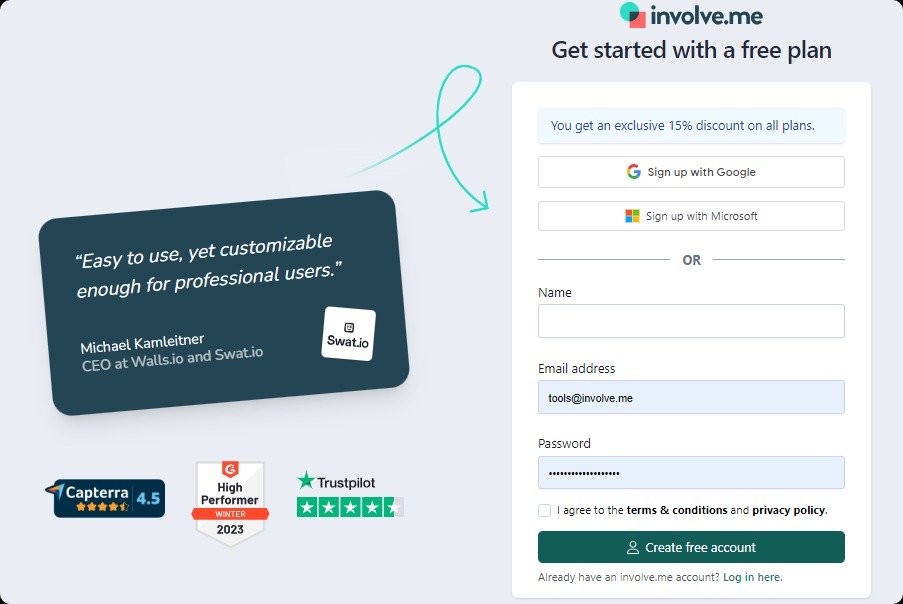 Step 2: Select a Template
Once registered, check out the vast collection of pre-built templates.
For our "Product Finder" quiz, sift through the library and pinpoint a template that resonates with your vision. These wide range of templates are designed by marketing experts and sales team, ensuring they are not only aesthetically pleasing but also optimized for user engagement. Choose one that speaks to you, and you're ready to customize.
Try involve.me for Free
Create Your Own Product Finder Quiz
Get Started with 300+ Templates
Step 3: Personalize Your Project
Give your quiz a unique identity by naming your project. This could be something catchy like "Hair-o-Matic Quiz" or straightforward like "Hair Product Finder".
Remember, this name will be the first thing users see, so make it count! After naming, you'll be prompted to choose a project type. For our quiz, we'll opt for the 'answer-based project'. This ensures that the quiz dynamically responds based on the answers given by the participants, creating a tailored user experience.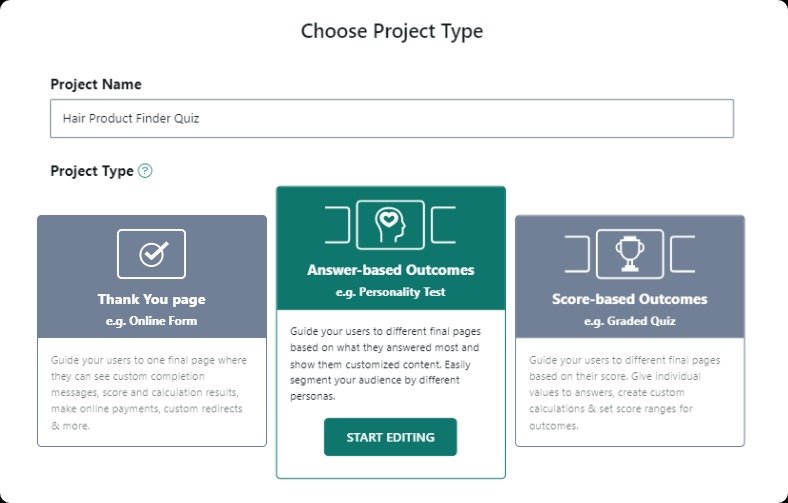 Step 4: Craft Result Pages
These are the pages your target audience will land on after completing the quiz.
Whether it's a product suggestion, a fun fact, or a discount code, your result pages should be designed to resonate with your target audience. Craft multiple result pages if you wish to provide a range of outcomes.
For instance, different result pages could suggest various hair products tailored to unique hair types or concerns. Ensure these pages are engaging, informative, and encourage the user to take the next step, be it making a purchase, signing up for a newsletter, or sharing the quiz with friends.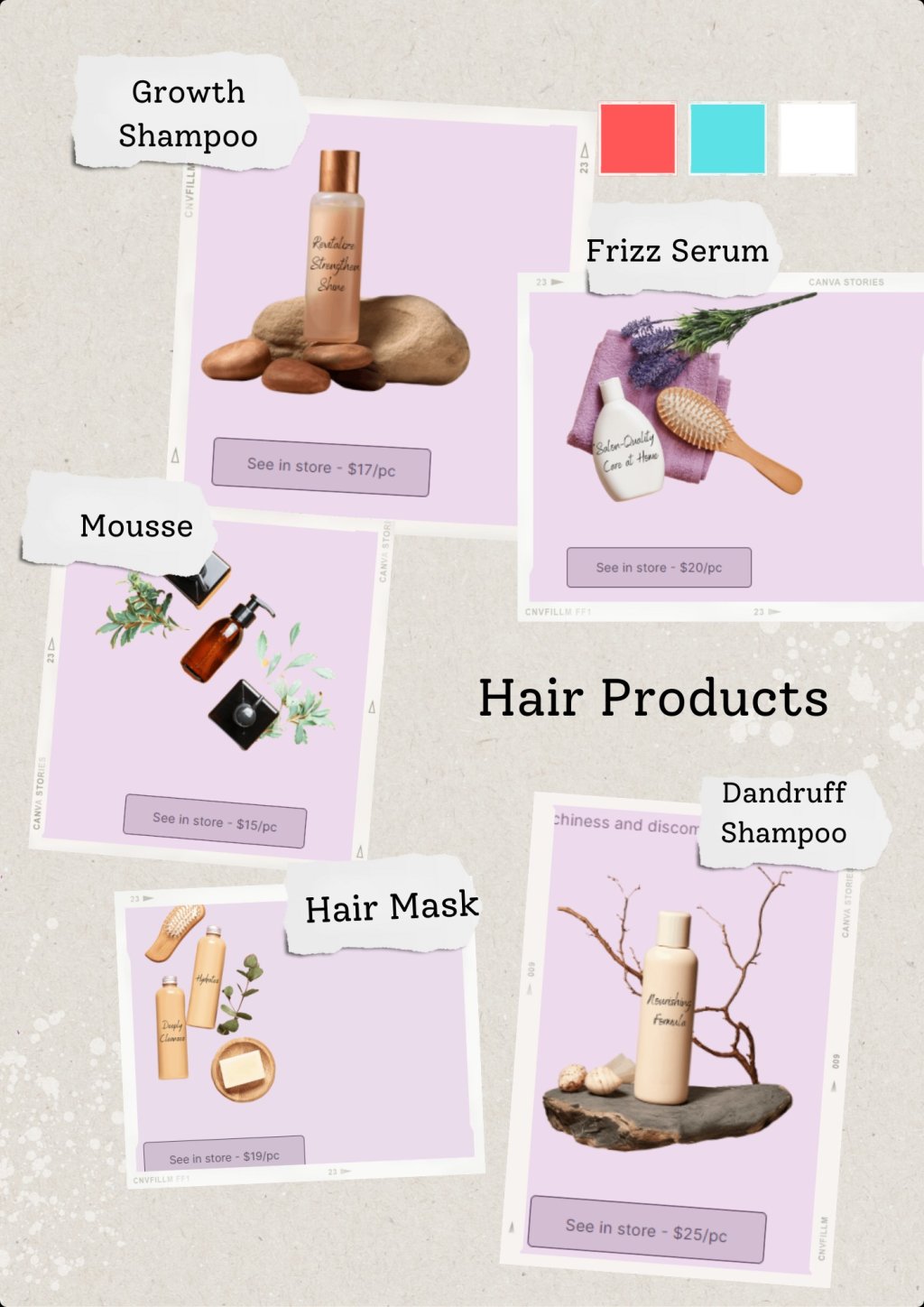 Step 5: Create Relevant Questions
When designing your questions, focus on making them relevant to your target audience. For our "Hair Product Finder" quiz, questions could revolve around hair type, daily hair care routine, primary hair concerns, preferred hair product types, and so on. It's essential to strike a balance between fun and functional.
Engaging questions will ensure participants stay hooked, while functional questions will ensure you gather the necessary information to provide accurate product recommendations. Also, consider mixing up the question types – multiple choice, sliders, or image-based selections – to keep things interesting.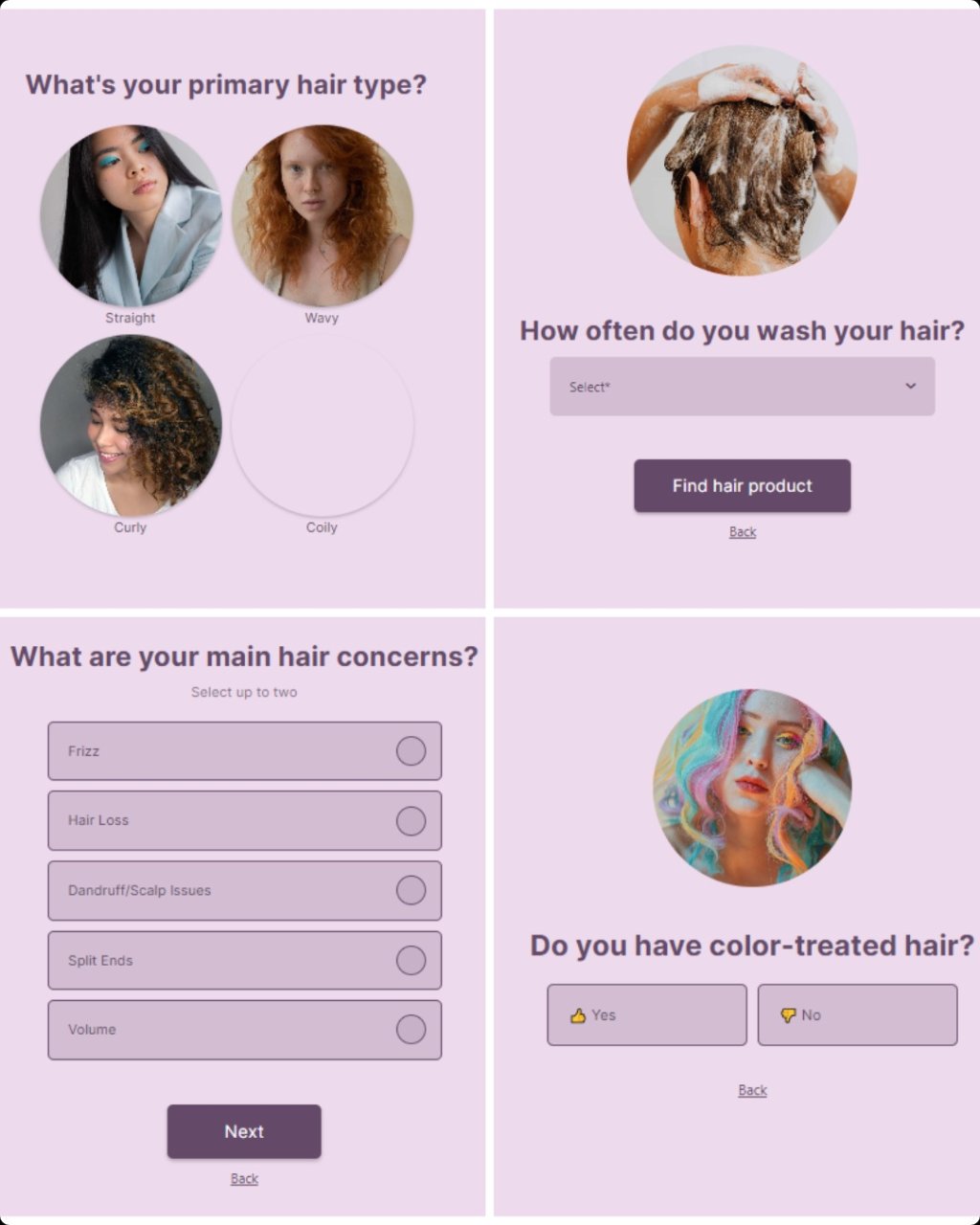 Step 6: Map Outcomes
Now that you have your questions and result pages ready, it's time to connect the dots. Mapping outcomes means setting rules or criteria that determine which result page a participant sees based on their answers.
For instance, if a participant indicates they have curly hair and are concerned about frizz, they could be directed to a result page suggesting anti-frizz products tailored for curly hair. Ensure each possible answer has a clear pathway to a result page.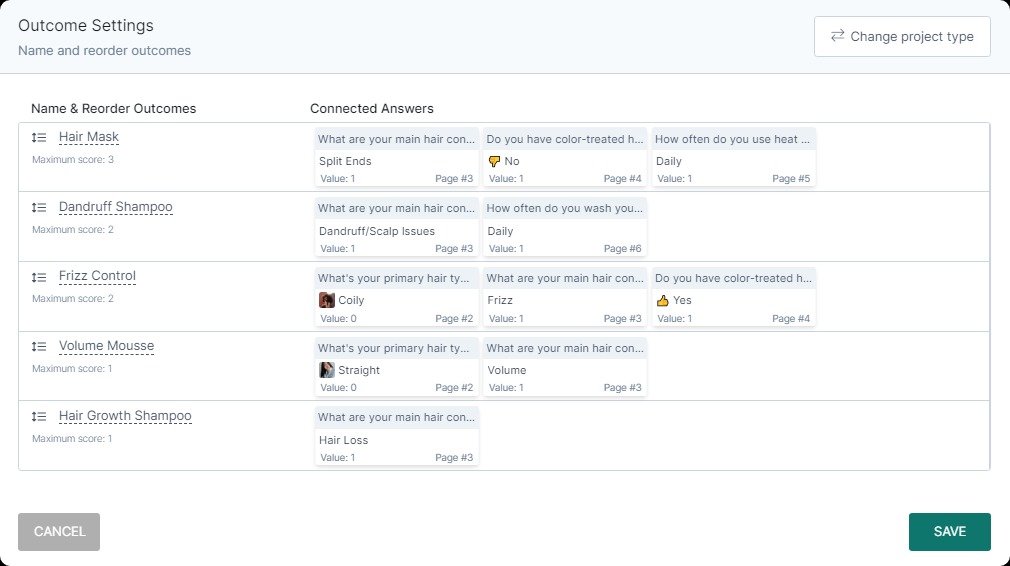 Step 7: Preview and Publish
Before making your quiz live, use the preview feature to go through your quiz, ensuring that everything flows smoothly, from questions to results. Check for any glitches, grammatical errors, or areas of improvement.
Once you're satisfied with the look and feel, hit the 'publish' button. Your "Hair Product Finder" quiz is now live and ready to engage potential customers!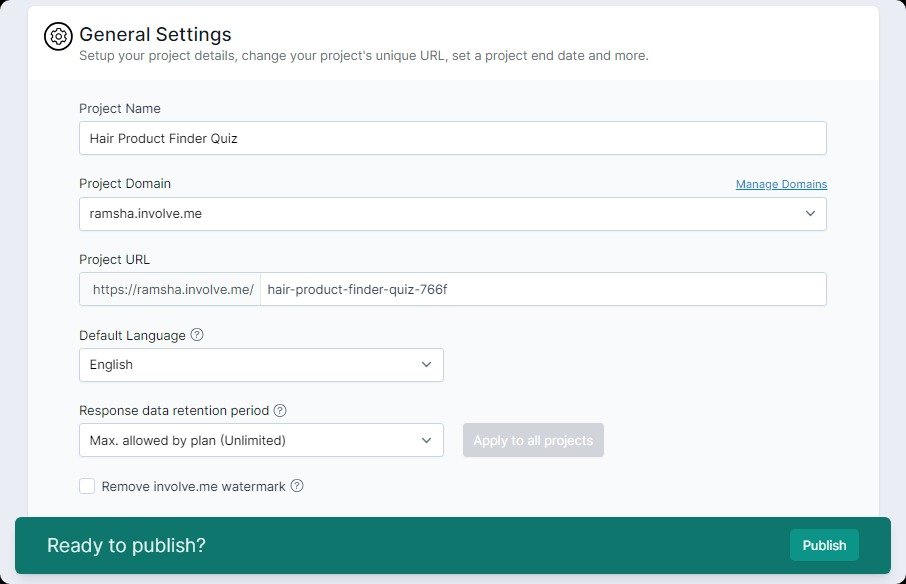 Step 8: Share and Embed
Boost the reach of your CPG quiz via social media marketing. Share your quiz on different social media platforms like Facebook, Twitter, Instagram, and Pinterest. Craft engaging captions that entice your followers to participate, and consider using paid promotions to reach a broader audience.
For those who visit your website, embedding the quiz directly can enhance their browsing experience. Use the provided embed code to place the quiz on product pages, blog posts, or even a dedicated landing page.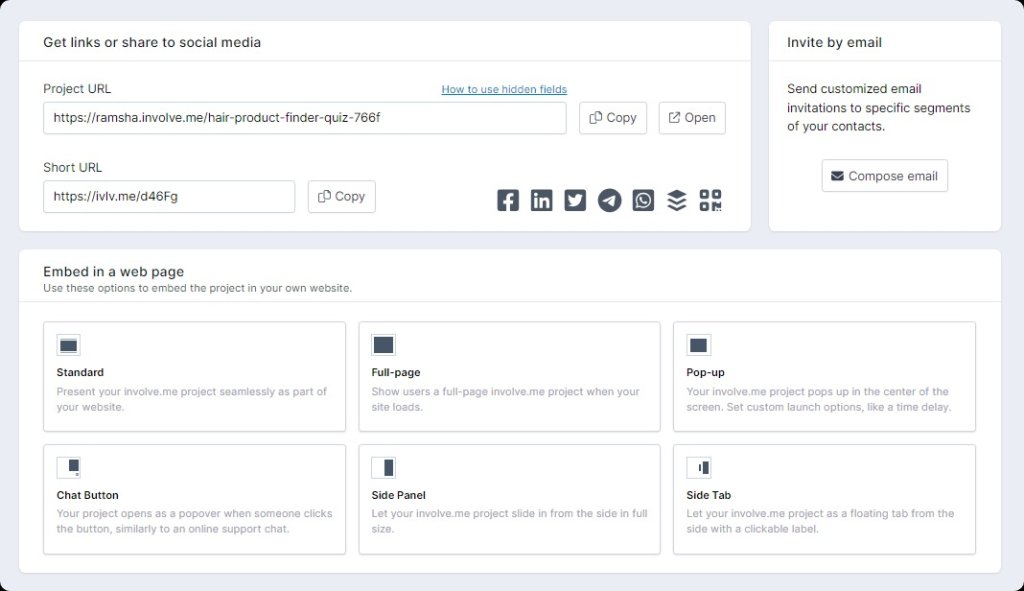 Step 9: Integrating with Your CRM and Email Marketing Tools
The true potential of a quiz goes beyond just the engagement it offers; it's the valuable data and leads it captures. involve.me offers several excellent integration options for this purpose.
Thus, integrate your email lists into CRMs and email marketing tools to analyze consumer behavior, monitor click-through rates, for seamless data transfer and to nurture prospective customers through personalized email campaigns.
Step 10: In-depth Analytics
Every interaction with your quiz provides insights. The built-in analytics dashboard of involve.me offers a comprehensive view of user behavior. Track metrics like participation rates, drop-off points, and average completion times. This information can guide tweaks and optimizations, ensuring your quiz remains effective over time.
Not only this, you can also download AI generated analytics reports. These reports provide quick insights that can help you refine your quiz and marketing strategies for even better results in the future.
Wrapping Up
The right lead generation strategy can make all the difference!
As we've explored, interactive quizzes are among the powerful tools to engage with and gather valuable insights about potential customers. With platforms like involve.me, the process of crafting these quizzes is seamless. This allows brands to use interactive content to drive engagement, capture leads, and foster lasting customer relationships.
Start with involve.me today to create captivating quizzes that resonate with your target audience and yield tangible results.
Your next big lead generation success story awaits!
Try involve.me for Free
Create Your Own Lead Generation Forms for CPG
Get Started with 300+ Templates